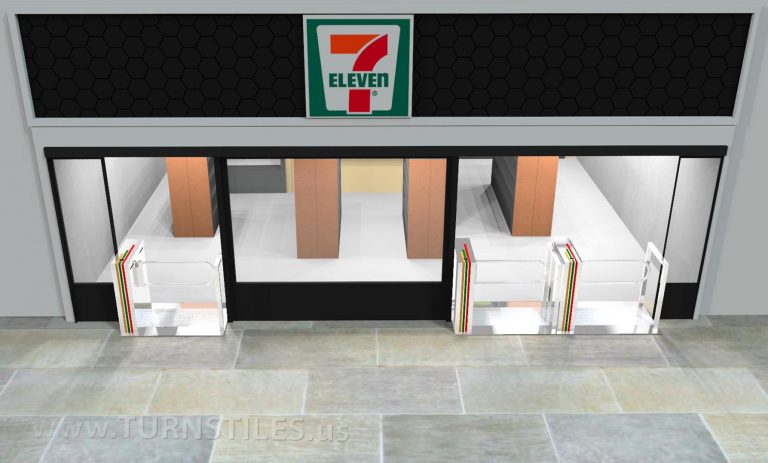 Contactless Turnstile Solutions
Submitted to:
7-Eleven
Submitted by:
Patrick McAllister
www.TURNSTILES.us, Inc.
www.TURNSTILES.us is pleased to present 7-Eleven with the following entrance management solutions. Components and concept images are shown below for your consideration – and is further customizable to serve your requirements. We appreciate the opportunity to partner with you. Please review the details below and feel free to contact us with any questions.
Controlled Access EX300 Series
Optical Sensors Inhibit Tailgating
Fast and Precise Swing Gate Performance
Built-In Bar Code Readers
Shipped Fully Assembled and Programmed
Fire Alarm Integration for Emergency Egress
Three Year Parts Warranty
One Year Remote Desktop Warranty
Option: Custom Powder Coated Colors
Option: Glass Wings Etched with Logo
Outlaw OPTIC-BASE Optical Turnstile Base:
Use with Optical Turnstile Lanes.
These portable bases contain channels for turnstile wiring, allowing turnstiles to be mounted without drilling into the floor.
Walkway surface is made of non-skid rubber over an ADA slope ramp.
Custom sizes support your turnstile array.
 Can be fitted with a collapsible wheel system for maximum portability.
Controlled Access FP500 Series
Controlled Access FP500-ADA-P:
Fast and Precise Gate Performance

Bidirectional Swing Arm

Removable Wheels
Wire-Concealing Platform and Rail
ADA Compliant Passage Width

Fire Alarm Integration for Emergency Egress

Three Year Parts Warranty
One Year Remote Desktop Warranty
Custom Powder Coat or Vinyl
Optional Glass Panel with Logo Etching
Built-In Code Readers
Photo Beam Optical Sensors
Red/Green Indicator Lights
TURNSTILES.us Added Value
We are a One Stop Shop
We provide Turn-Key with Value Added Engineering

We provide Access Control Elements integrated with the Turnstiles
31 Years of Experience
Pride in Craftsmanship
WARRANTY:
All equipment is covered by our three-year parts warranty.
Labor is not warranted.
ENGINEERING / DRAFTING / PROGRAMMING:
You will receive a set of Construction Drawings that include:
               – AutoCAD 2D and 3D Device Location Details with Cable Routing
                – AutoCAD Point-to-Point Schematic with Cable Color Coding
At the end of the project, we will take your marked-up drawings and send you a formalized set of as-built drawings.
Included is our One-Year No-Cost Remote Support Session Assistance.
Thank You 7-11
Financing Available
Equipment leasing and financing
Project Financing
Asset-Based Lending
Medium and Large Ticket Lending
Contact Vince Barauskas
Merrimac Capital Services
781-933-1381
We appreciate the opportunity to work with you on this project.
Please feel free to contact us with any questions - 303-670-1099