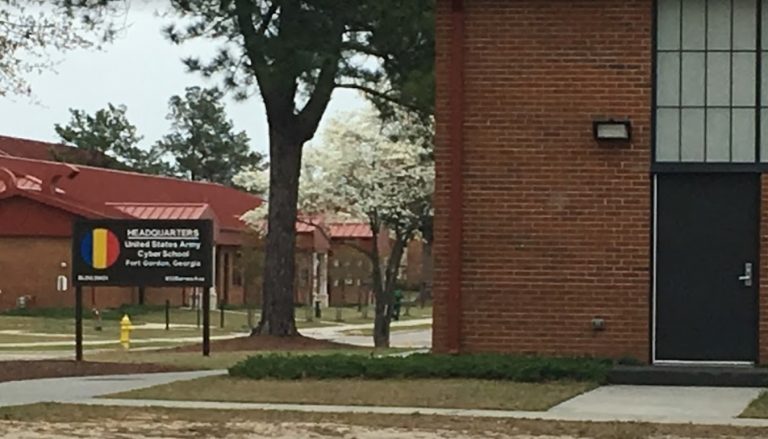 Drop-Arm Turnstiles for
Fort Gordon Cyber Instruction Facility -
Fort Gordon, GA
www.TURNSTILES.us is a professional organization dealing with the physical and electronic securing of building entrances with Turnstiles, Mantraps, EntraPASS Access Control Hardware, and Software since 1989. We are a U.S. Federal Government Contract Holder (GS 07F 9239S) and are registered with the U.S. Federal Government System for Award Management (#181428611).
TURNSTILES.us is honored to provide our Turnstiles and Gates for this project. Please find the selected equipment information listed below. We appreciate the opportunity to present our solutions to secure the Fort Gordon Cyber Instruction Facility in Georgia.
Background: The U.S. Army Corps of Engineers has studies, projects, and programs that will be initiated in Fiscal Year 2022 with the $22.81 billion in supplemental funding provided in two recently enacted laws — the Infrastructure Investment and Jobs Act (IIJA); and the 2022 Disaster Relief Supplemental Appropriations Act (DRSAA). 

Turnstile and Gate Solutions
EQUIPMENT
Outlaw Optical Drop Arm Turnstiles and Glass Swing Gates
Area 1 – Two Optical Lanes, One Glass Swing Gate
Area 2 – Three Optical Lanes, One Glass Swing Gate
Area 3 – Five Optical Lanes, One Glass Swing Gate
Area 4 – Six Optical Lanes

Made in the USA with locally sourced materials
GSA Approved and HUBZone Certified Equipment
SERVICE
(2) Factory Installers
(6) Days of Field Labor
(2) Days of Travel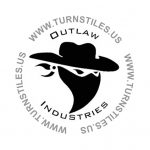 SCOPE OF WORK
Outlaw Industries/ TURNSTILES.us Scope of work at the Fort Gordon Cyber Security Facility
Manufacturer will ship equipment from Calhan, CO using a dedicated truck.
Contractor will supply a forklift or pallet jack to offload and store the equipment until Installers arrive.
Contractor will supply a forklift or pallet jack to move the equipment to the install site when the installers arrive onsite.
The Installers are factory technicians and have OSHA 30 Certificates and will clear all Federal background checks.
 We will need at least two-weeks Prior Notice to schedule an installation. The job site must be ready with concrete cured and level, conduit and electrical supplied to junction box as shown in shop drawings, and room to work.
We will install turnstiles and gate in approximately 6 Days onsite. If coordination with an electrician or other service provider is necessary, the Contractor will arrange for them to be onsite at the time of installation.
We will need communication and cooperation with the electrician to supply Conduit and 120 VAC to the master of each lane.
We will complete the wiring of the turnstile-to-turnstile communication and show electrician where to land the AC wiring to the turnstiles.
Electrician is responsible for conduit and 120VAC install up to turnstiles as well as conduit for access control.
Provided there is power at that time of the installation, we will test and show Contractor functionality of the product and instruct a liaison in the maintenance and programming capabilities of the turnstiles.
Contractor signs our documents and at that time warranty on the product begins.
We will dispose of our pallets, trash, and debris in a dumpster provided by Contractor and leave our work area cleaner than when we arrived.
Drop-Arm Optical Turnstiles
Featuring a sleek architectural design, our drop-arm turnstiles provide unsurpassed beauty and performance.  These units use sensors to monitor building entrances, dropping the barrier arms down into the cabinet upon authorized passage.
Waist-High Drop-Arm Turnstile with Optical Sensors
For Interior Use
Throughput of up to 20-30 people per minute
Lower section optical sensors prevent crawling
Multiple alarms provide an audible tone, as well as a solid-state output
Standard or ADA compliant passage width
Standard Casing: #4 brushed 304 Stainless Steel
Made with pride in the USA
The OL-MSG Motorized Swing Gate is designed for managing pedestrian flows at entrance points of industrial facilities, banks, administrative buildings, retail outlets, railway terminals, airports, etc. It is recommended to meet the highest requirements for design and comfort.
Waist-High Swing Gate
One Way or Bi-Directional Swing Modes 
Programmable for entry and/or exit
Cylindrical Steel Pedestal and Glass Wing
Motorized for no-touch, fully controlled rotation
ADA Compliant Passage Width
Standard Casing: #4 brushed 304 Stainless Steel
Made with pride in the USA
AutoCAD Equipment Location Details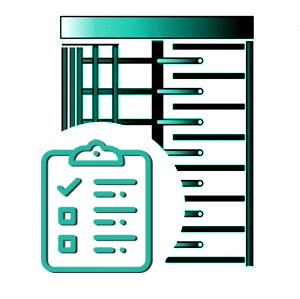 We are a One Stop Shop
Over 33 Years of Installation Experience
Pride in Craftsmanship
We provide Turn-Key Service with Value-Added Engineering

We provide Access Control Elements integrated with the Turnstiles
U.S. Federal Government GSA Contract # GS-07F-9239S
SBA Small Business HubZone Certification # 64753
We appreciate the opportunity to work with you on this project.