Description
Our Control Head Unit for Full Height Turnstiles is a modular mechanism that can update or retrofit any existing turnstile or be built-in with a new turnstile. Configure to fit your needs. Buy the complete unit with all the options, or just the parts individually. This versatile, high-quality control head allows you to actuate a maintenance-free and high-quality turnstile. Great for full-height industrial turnstiles. This is a complete (electro) mechanical unit solution, easy to install and use. Thanks to the 100% modular design, you can adapt the control mechanism to your desires. A comfortable and safe operation is guaranteed by the optional damping system that is unaffected by temperature changes.
User Manual – Controller for Turnstiles
Features
Made up of base module with optional welding plate, mechanical or electromechanical module, and damping module
100% modular system: composition according to customers' desires and expandable at any moment
Optional interchangeable left/right mechanical or electromechanical modules (fail-open or fail-close)
Automatically return to starting position (by means of industrial pressure springs) after every passage, regardless of the force applied for passing
Anti-pass back security (locking after half a motion): prevents the simultaneous passing of 2 persons
Very robust implementation and strong connection with the turnstile by a 1-3/8″ diameter spline axle (length 12-3/4″)
Manufactured completely in stainless parts (stainless steel and aluminum)
Optional welding plate in black or stainless steel enables an easy mounting on every turnstile
The optional damping system guarantees smooth and gradual movements. Damping is continuous and unaffected by temperature changes (patented system)
Possible to set signal duration
IP55 housing protects the mechanism against water, dirt, wind, dust, and vermin
Notes
The KT-400 SPI port maximum current draw, when the 12V AUX terminals are not used, is 500 mA.
An external power supply (12 VDC, 2 Amps) is required when the total current draw exceeds 500mA on the SPI Port.
There are already 4 relays available on the KT-400. Make sure to check the relay number assignments to prevent redundancy unless it has been planned on purpose.
Specifications
Weight: 35lbs
Dimensions: 17 W x 12 D
Maximum Current Draw: up to 330 mA per module
Each relay supports the 2 conditions, NO (Normally Open) and NC (Normally Closed). The C (Common) terminal is +12 VDC.
Each relay has its own LED to indicate status, ON for active.
Eight (8) programmable relay contacts rated 30 VDC, 3 A
It can be used for elevator control
Can be mixed with output module KT-MOD-OUT16 in the same group
Operating Temperature: -10C to +55C, 0C to 49C for UL Listed product
Maximum Humidity: 93% (non condensing), 0 to 85% (non condensing) for UL Listed product
IP Class 3X, IK Rating 04 (when mounted in a KT cabinet). IP and IK ratings are not evaluated.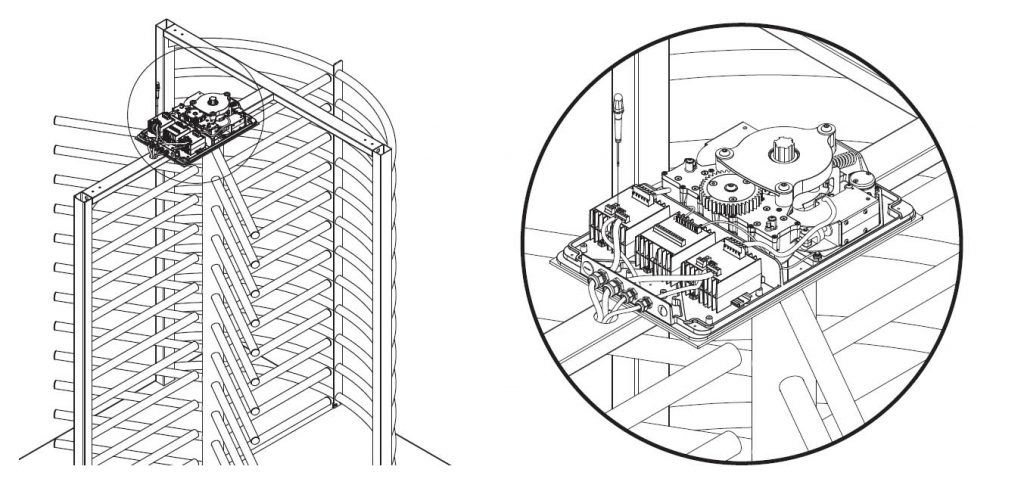 *Contact us for a custom personalized quote.