Description
Data Sheet 
The TUSDS7300 speed gate is designed with a super-fast, slim, and artistic style to provide access control at places with elegant architecture
The body is made of brushed stainless steel and the arm is transparent Plexiglas/acrylic.
The housing is specially designed only to 120mm.
LED light shows the current working mode (open/close) on the top cover.
The system is with a quick open and close rate (0.2S) and 50 persons/minute throughput.
It's with 6 pairs of infrared sensors to ensure the security of passage at high throughput.
It can integrate with different third-party access controllers or (e.g.: RFID card reader, biometric reader device, and counter).
FEATURES
Fast open/close rate of 0.2 seconds results in high throughput
The whole system runs smoothly, low noise, no mechanical impact
Single directional or Bi-directional is selectable
Automatic reset function: turnstile arm will lock automatically within 5s (can be setting) if passenger delays to enter
Anti-tailing function: only one person passes at a time
When power is off, an emergency fail-open setting ensures arms will rotate freely
LED indicator (red × means no entry; green → means entry)
Easy to install and maintain
Infrared sensor alarm function, in case of illegal intrusion and reverse intrusion
Anti-intrusion function, the turnstile is locked automatically until valid opening signal input
Anti-reverse function, the turnstile alarms if someone wants to enter in the reverse direction
Anti-trailing function, the turnstile alarms if someone attempts to push through without permission
Glass arms will give (so as to prevent damage to the machine or person) and reset automatically if they get accidentally knocked out of position.
It has the fastest open and close speed rate, 0.2 seconds. The open and close speed rate can be adjusted.
Easy to install and maintain.
DIMENSIONS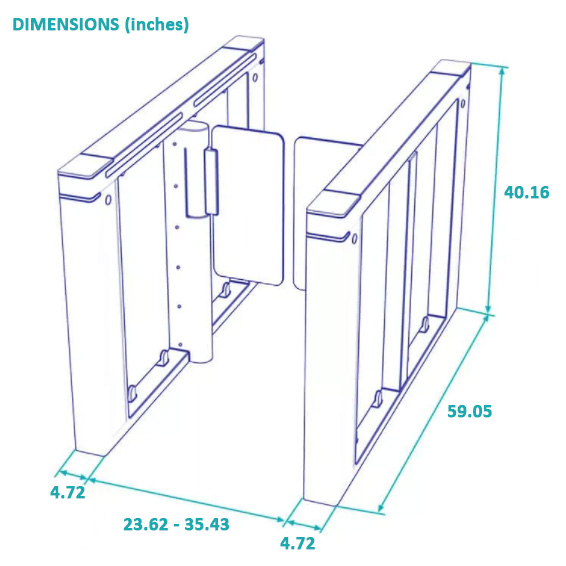 *Standard or ADA Passage widths are available.
When planning for your space, usually cabinets are placed with 2-3″ of space between the glass gates.
SPECIFICATIONS
| | |
| --- | --- |
| Model No. | TUSDS7300 |
| Vendor | TURNSTILES.us |
| Framework Material | 304 Full Stainless Steel |
| Arm Material | Plexiglas-transparency |
| Dimension | 1500 * 120 * 1020mm / 59.05 * 40.16 * 4.72 in cabinet |
| Weight | 176 lbs/pcs (single-wing), 220 lbs/pcs (double-wing)  |
| Passage Width | 600mm / 23″  (standard), 900mm / 35″ (ADA) |
| Passing Direction | Single directional / Bi-directional |
| MCBF | 15 million |
| Power Supply | AC220V/110V, 50/60Hz |
| Operation Voltage | 24V DC |
| Power Consumption | 90-100W |
| Operation Temperature | -20 °C – 75 °C |
| Operation Humidity | 0 ~ 95% (No freeze) |
| Working Environment | Indoor / Outdoor(shelter) |
| Flow Rate | 45-55 people per minute |
| LED Indicator | Two LED indicators on top: green → entry, red × no entry |
| Infrared Sensor | 6 pairs (standard) |
| Emergency | Automatic arm open when power off |
| Communication | Dry contact, Relay signal, RS485 |
INSTALLATION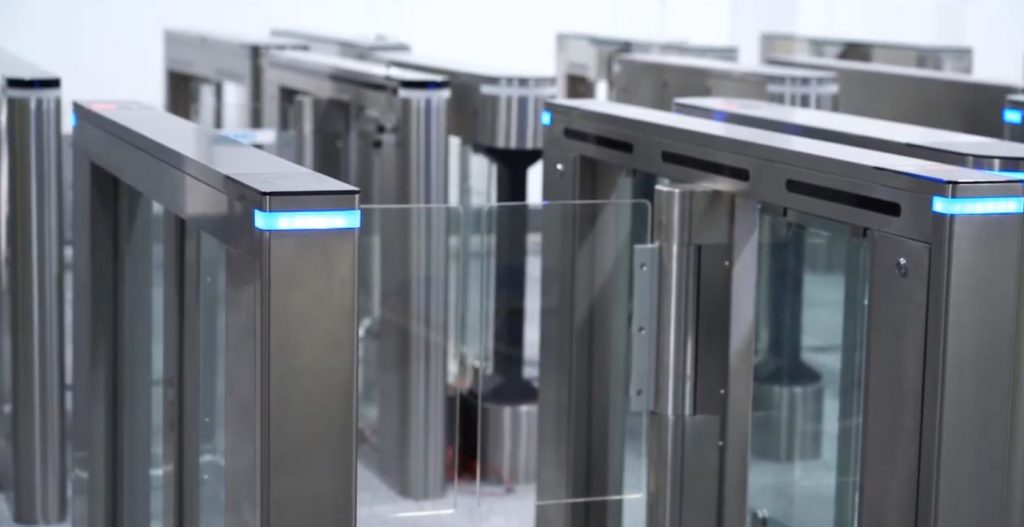 Contact TURNSTILES.us for a delivery quote and freight information.
See our Turnstile Installation Portfolio