Description
ZKVAMS is the 1st Visitor Management System with Authentication!
It is a SIMPLE & EFFICIENT visitor authentication system that ensures ALL visitors are approved, tracks their location, reduces visitor wait time, and makes it possible to ban unwanted visitors!
Data Sheet – ZKVAMS Visitor Management Software
FEATURES
Saves Money:
Eliminates the need for employing a receptionist to process & allow visitors entry
Fast & Error-free:
The automated system processes visitors much faster than manually checking ID and making log entries.
Promotes Safety:
Automated Body-Temperature & Mask Detection combined with health screening questionnaire to ensure visitors are safe to access the meeting location (when used in combination with a SpeedFace+ reader)
Secure:
Ensures only visitors having valid identification & appointment are permitted entry to the meeting location.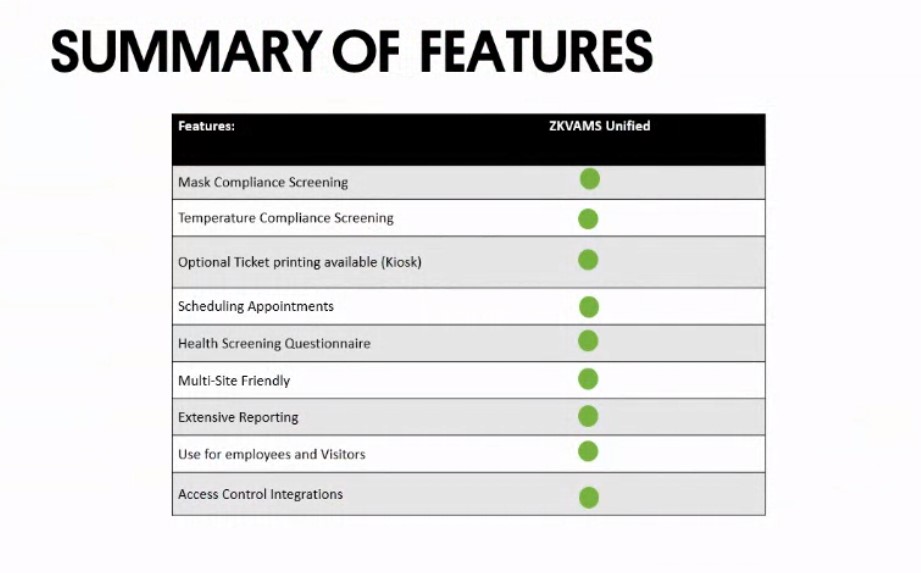 SPECIFICATIONS
Easily Log Visitors Details
Plan visits in advance & approve authorized visitors
Reduce wait time
Automate check-in process
Maintain audit trail of up to 5 years
INTEGRATION WITH ZKBIOSECURITY
Authorized employees can schedule visitor appointments and control their visitor's access rights to the meeting location
ZKVAMS synchronizes visitor's access rights with ZKBioSecurity which in turn unlocks the door when the visitor arrives at the meeting location
A variety of user credentials can be used for visitors to unlock the door including QR code, driver's license, RFID badge, PIN, and multiple biometrics
Supports MSSQL for storing information to allow access to extensive reporting
Part Numbers:
ZKVAMS-SER: ZKVAMS server license for on-premise installations
ZKVAMS-CLI: ZKVAMS client license for each reader/kiosk
ZKVAMS-HSN: ZKVAMS health screening module
ZKVAMS-SMS: 10,000 text message package for notifications
ZKVAMS-AD: Active Directory module
ZKVAMS-SSO: Single sign-on module
ZKVAMS-ACC: Access Control Integration
ZKVAMS-STP: Installation & set-up
ZKB-API: Integration to ZKBioSecurity
ZKB-AC-P10: ZKBioSecurity License