Financing/Leasing Available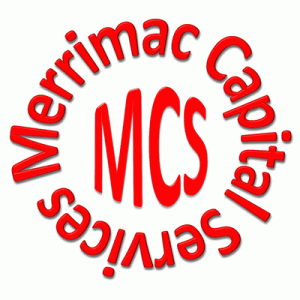 Merrimac Capital Services
Merrimac Capital Services, located outside of Boston, MA, is an independent finance company whose principals have more than 30+ years' experience in the finance industry. We specialize in facilitating and originating Leasing and Financing programs for a wide variety of customers.
Our clients are both public entities and private companies in need of equipment leasing & financing, Tax Exempt Bond Financing, blemished credit financing, project financing, credit facilities, working capital lines of credit, etc. They range from the Fortune 100, Municipalities, Non-Profits, Federal Government and American Tribes to privately held companies, representing a wide array of industries in every state in the US and Canadian provinces (and in selected countries).

Some of the programs that we offer are:


Equipment leasing and financing transactions (International from $250K up)
Lease Agreements & Financing programs, app only or structured programs
New, used, titled and non-titled equipment
Lease transactions as low as $5,000 with no ceiling
Tax Exempt Bond Financing for Municipalities, 501(c)3 non-profit organizations
Providing financing for capital projects, i.e. buildings, stadiums, dorms, etc.
Refinancing of existing debt
Municipal Leasing (Non-Profit, Federal & Am. Tribal programs are also available)
Lease transactions as low as $10,000 (with NO ceiling)
Various payment programs; monthly, quarterly, semi-annual & annual
Non-Appropriations Clause (Muni)/Waiver of Sovereignty (Tribes)
Asset-Based Lending (financing the growth of a company by using a company's
current assets to collateralize the transaction), Credit Facilities
Establish "lines of credit" utilizing accounts receivable and inventories
Working Capital loans (short term or long term) for as low as $10,000
Factoring receivables (Commercial & Municipal) from $250K (cumulative) on up
Medium and Large Ticket Lending, Project Financing
Medium size transactions that don't meet conventional guidelines
Large projects (no ceiling) that require unique structure or a financial blend
Project Financing of equipment & services
100% project financing with tax exempt bonds for 501(c)3 or non-profits
SBA 504 and USDA B&I programs from $1M on up
Contact Vince Barauskas at 781-933-1381 about your specific financing/leasing needs.
Financing Under $ 100,000.00
American Express Business Blueprint
These can supply you with the funds to place your order while giving you time to make payments.
Thank you for visiting TURNSTILES.us
Questions? Contact Us 303-670-1099