Fiberglass Secure Modular Buildings
Our exclusive EntraBOX Secure Modular Buildings are durable, insulated structures designed for housing an access control system and equipment. Made of lightweight and highly durable fiberglass, they function beautifully as a turnstile shelter, security checkpoint, guardhouse, site management office, and time & attendance station. Roll-down doors are across from each other, forming 'lanes'. Choose access control features such as Time & Attendance Tracking. 
This unique product from TURNSTILES.us is an excellent solution to your site security needs – with value-added engineering. Our buildings ship in pre-fabricated,  pre-drilled panels, saving on freight costs.  Enjoy all of the benefits that EntraBOX has to offer: save time and money and safeguard your site.
Site Management
Save time and payroll costs
Crews clock-in and out quickly
Prevent buddy-punching
Remote live monitoring and reporting
Know who is on-site or off at any time
Secure, lighted space for personnel on duty
Expand or relocate as needs change
Building Features
Modular Wall Panels
Standard & Roll-up Doors
Windows, Shelves, Counter, Storage
Non-slip Flooring
Electrical Panel & Accessories
Internal & External Lighting
HVAC Climate Controlled
Custom Options Available
System Features
Time & Attendance Tracking
All-In-One PC Computer Workstation
EntraPASS Global Edition Software
Vast Tracking & Reporting Capabilities
Red/Green Stop and Go Lights
Choice of ID mode: Card, QR, Fingerprint
CCTV, HD Cameras, Audio/Video Intercom
EntraBOX SMB Secure Modular Buildings
EntraBOX Equipment Options
EntraBOX Secure Modular Buildings are as versatile as you can imagine. Start with a body made of insulated Fiberglass Panels. Mix any color ink into the fiberglass during fabrication – your building can be the perfect color to match the surroundings or company color. Flooring can be enhanced with nonslip surfaces. Add standard doors, roll-down doors, windows, entrance with turnstiles and access control, office, restroom, and more. Turnstiles, gates, and access control components make these excellent time and attendance buildings.
Our fiberglass buildings with turnstiles are permanent structures that stand on a flat foundation. See EntraBOX Portable Buildings for mobile buildings, and Portable Turnstiles for mobile equipment offerings.
Fiberglass Building Assembly
Our buildings have been designed to be easily assembled on or off site!
Fiberglass Prefabricated Buildings General Assembly Manual and the Mini Door with Spring Tension Installation booklet contain important information that you may require to assemble our modular buildings and portable building kits. Guides are available through the links below.
EntraBOX prefabricated buildings, fiberglass equipment enclosures, and cabinets can be mounted at our factory or in the field. Some of our mounting options are shown in the photo gallery.
Electrical & Accessory Mounting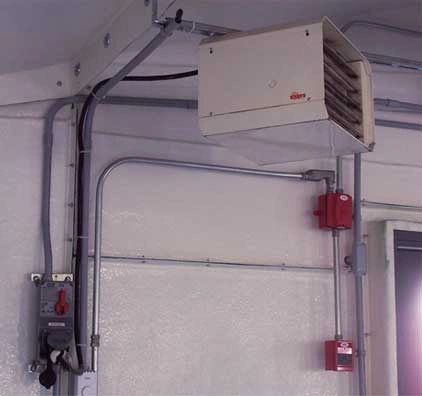 Easily install value-added components to the interior of RM's fiberglass buildings. The internal structural flanges provide a convenient place to fasten or mount electrical boxes or cable clips for wiring.
Holes can be easily cut to mount through wall equipment such as exhaust fans and a/c units.
Panels can be reinforced to hold the weight of larger HVAC systems that may be required.
Components such as heaters, lights and surface mounted utility boxes can be either glued or screwed to the interior surface of the insulated fiberglass panels.
Cable clips and conduits can be mounted to the interior surface of the insulated panels as well as the interior flanges of the parts.
Turnstiles & Access Control
Our AG30-T Full Height Single Turnstiles fit into EntraBOX SMB Secure Modular Building lanes.
These are particularly heavy-duty security devices for single-file pedestrian access control. Turnstiles are controlled mechanically or electrically in one or both directions. Various configurations and access control devices are available to accommodate your security requirements.
The EntraPASS Global Edition Workstation comes with Award-Winning EntraPASS Global Edition Security Management Software loaded onto a powerful All-in-One PC. 
It is pre-configured for a variety of security levels so other users can view and manage alarms, time zones, access control points, and reports.
Powerful features support remote live monitoring and reporting.
Additional Options and Licenses – including easy web and mobile apps – are available to expand the functionality of your access control system.
Print your own secure IDs with our ID Card Printer Package.
The Photo ID Badging Kit enables you to produce secure, personalized Access Control Badges in one single, seamless step. 
The direct-to-card printer and encoder also has an intuitive, user-focused graphical display, enabling efficient set-up, operation and maintenance of your technology investment. 
The ideal card printing solution for small businesses, schools, and local governments, this is the fastest printer in its class, allowing you to produce 50% more visually-rich, full-color credentials in the same amount of time.