Each system we design moves through a process of discussion, visualization, and finally actualization. Our in-house Artists and Draftsmen create detailed 2D and 3D images to help you plan and execute your entrance control solution. See examples of our documentation and learn more about the process.
Contact TURNSTILES.us. Let us know your requirements.
Send Us Photos! We'll evaluate your current site and help you find the right entrance management solution.
Select and Customize. Select products, options, services, scope, and discuss your engineering requirements. We provide design development services to help you envision custom products before they're built.
Finalize. Sign off with confidence on the finished proposal.
See Your Project Come to Life. Our technicians complete the onsite installation, test equipment, and provide user training.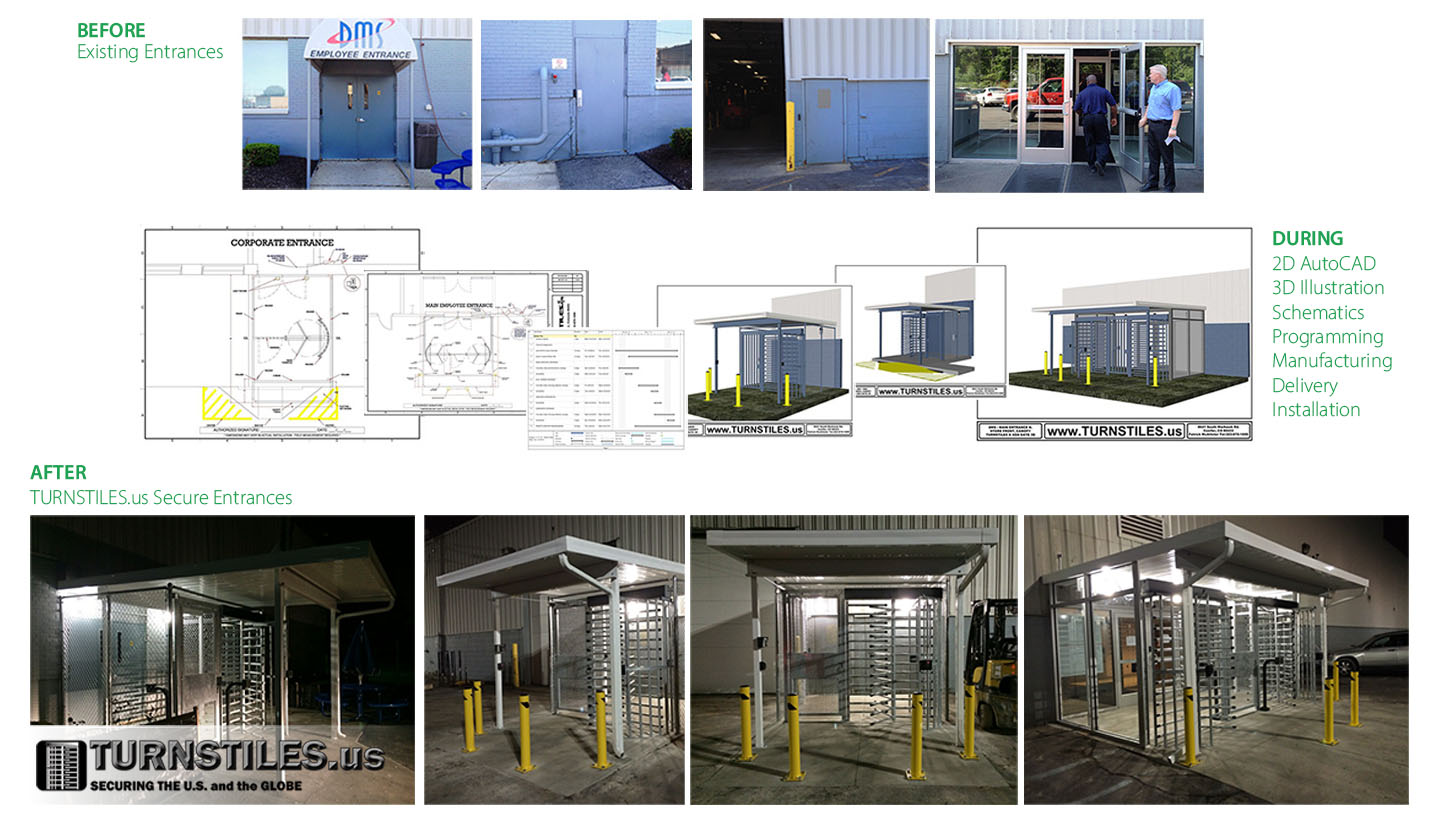 Drafting and Design Services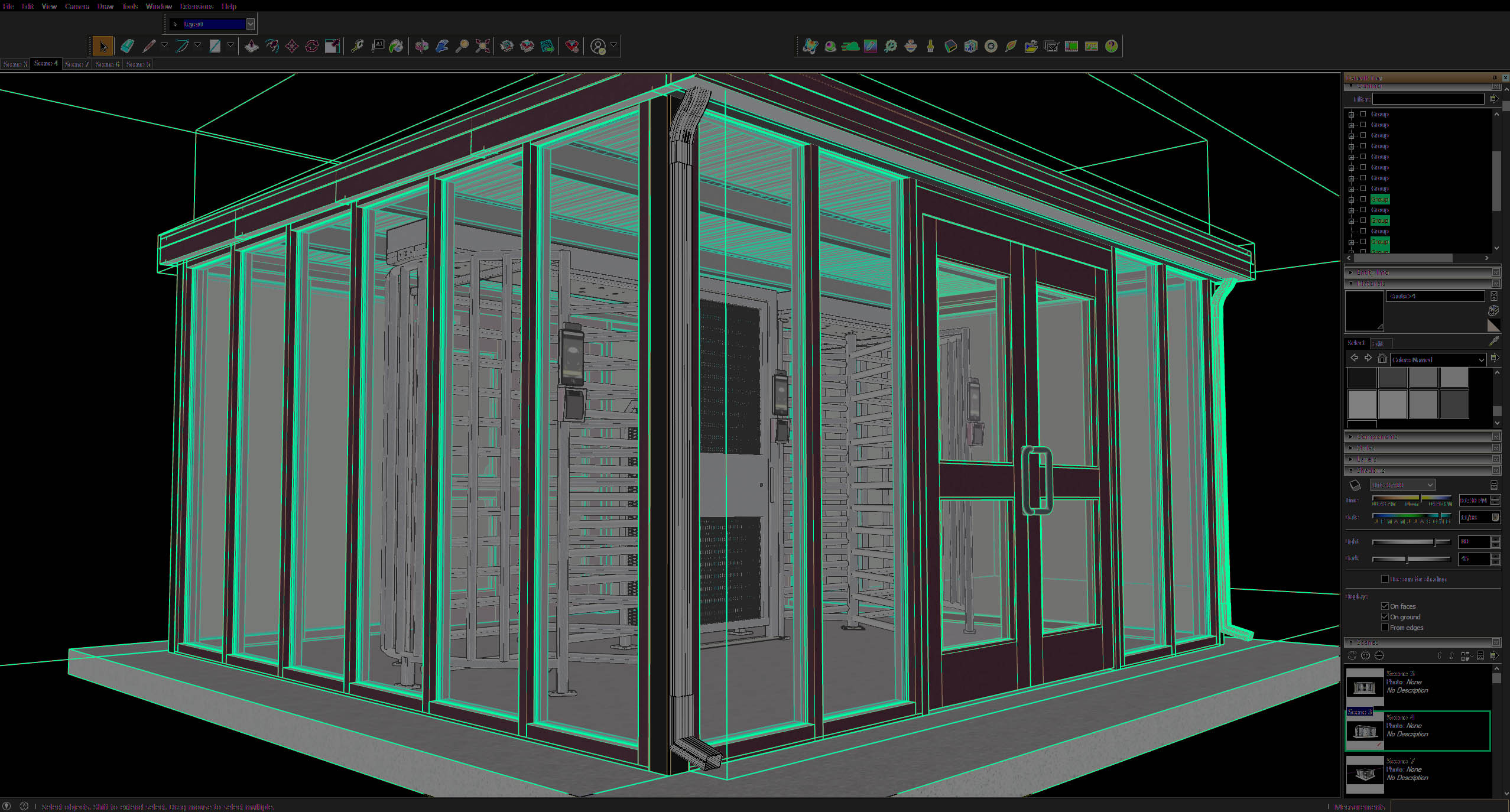 We are proud to offer drafting and design services with your equipment purchased from TURNSTILES.us. Our in-house draftsmen are dedicated to providing the documentation you need to execute your project with ease and confidence. Different types of work, with varying complexity, are performed for specific purposes. Please read the service descriptions below to determine which types of drawings will benefit your project the most.
Equipment Detail and Dimensions (EDD) – An Equipment Detail and Dimensions is a 2D preview line drawing of the product labeled with dimensions. This is typically found in product documentation. 
Equipment Location Detail (ELD) – An Equipment Location Detail is a 2D PDF dimensional diagram of the equipment that indicates the orientation and physical location of the equipment to be installed relative to defined site coordinates. This can include one or more pieces of equipment in a single location. *Also referred to as Device Location Detail (DLD) in the context of Sound Masking (SM).
Wiring Diagram (WD) – A Wiring Diagram is a 2D PDF drawing that depicts a simple flow chart of the equipment's electrical connections. This information is useful for connecting other devices. 
Point-to-Point Schematic (P2P) – A Point-to-Point Schematic is a 2D flow chart diagram depicting two or more electrical connections of your equipment and device(s) at each endpoint. 
Concept Illustration (ILL) – Concept illustrations are realistic images created to develop and convey an idea of how your project will look before it is made into the final product. Our artist works with 3D modeling, rendering, and retouching software to create your concept illustration. Receive up to three views (with or without background elements) as necessary to convey the concept. Additional viewpoints are available for purchase.
As-Built Drawings (AB) – These drawings depict our equipment after the installation is complete, and are often ordered with the closing of a project for future use and record-keeping purposes.
*Native file types are available at an additional charge with a signed NDA.
*Please note: www.TURNSTILES.us draftsmen are not licensed as architects and do not provide advanced construction drawings beyond our scope of product offerings. Our submittals on request includes product documentation as needed for your installation. Drawings show conceptual plans (as accurately as possible) for your review and approval before we proceed with the installation. These services are limited to depictions of equipment provided by TURNSTILES.us.
*Copyright © TURNSTILES.us All rights reserved. Reproduction or translation of this work without the express written permission of TURNSTILES.us is unlawful and an infringement of intellectual property belonging to TURNSTILES.us. All drawings and/or designs are restricted for use exclusively with a purchase, installation, and/or support from TURNSTILES.us. Any other use of those materials is a violation of copyright law. Request for additional information should be addressed to the legal department, TURNSTILES.us.