Providing Exceptional Turnstile Security Systems
www.TURNSTILES.us, Inc. and Outlaw Industries, LLC have been serving the Turnstile Industry for decades, offering a variety of solutions for federal, state, and local agencies. We have the advantage of being able to help you establish your secure entrance from the ground up with design-build systems, AutoCAD Drafting, 3D Rendering, and our Installation Services. Browse our selection of Security and Protection equipment and supplies.

www.TURNSTILES.US, INC.  and  Outlaw Industries LLC are delighted to provide our Government with Exceptional, High-Quality Product, and Pride in Workmanship. Our joint venture in the security turnstile industry has a long history of bringing the highest quality products to every one of our GSA Contracts. See more about our history below. See our supplies and services including Turnstiles, ADA Gates, Speed Gates, Optical Turnstiles, Man Traps, Turnstile Canopies, EntraBOX Modular Buildings, EntraPASS Security Systems, Electronics, Locks, Door Controllers, ID Card Access, Biometric Access Control, and Turnstile System Installation Services.  
HUBZone Certified Business
HUBZone Certified Businesses operate and employ people within Qualified regions of the U.S.A. Outlaw Industries is a HUBZone Certified Business – our products are manufactured in Calhan, CO – a beautiful and remote Midwestern area. We employ local craftsmen, builders, and suppliers – proud to support families and protect people by providing excellent products and services to our government contracts.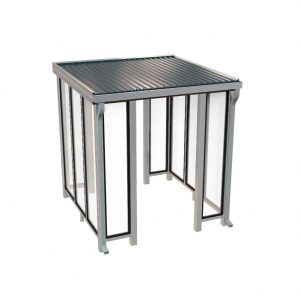 Protect your turnstiles and gate equipment from the elements with the Outlaw EGC Enclosed Glass Canopy. The EGC is a hand-fabricated shelter that features a steel frame, beautiful storefront glass, and heavy-duty roofing with built-in gutter and downspouts. Let in the light or get the glass tinted. Choose galvanized steel or have it painted with RAL or custom colors. Select-A-Size by the foot. These canopies outperform the highest wind and snow load requirements in America. The glass panel walls provide side and roofline security while adding sophistication to your turnstile entrance.
Read More »
Contact Us For More Information 303-670-1099