EntraBOX Portable Buildings
Mobile Time and Attendance Stations for Construction Site Management
EntraBOX is the smart solution to your Construction Site Management needs. These strong, portable, modular steel units are designed for optimal utility, economy, and comfort. The electronics system inside has vast capabilities including global Time & Attendance Tracking. Enjoy all of the benefits that EntraBOX has to offer: save time and money, reduce paperwork and errors, streamline workflow and safeguard your job site.
EntraBOX ships assembled as much as possible with electronic accessories packed inside.
Site Management
Save time and payroll costs
Crews clock-in and out quickly
Prevent buddy-punching
Remote live monitoring and reporting
Know who is on-site or off at any time
Secure, lighted space for personnel on duty
Expand or relocate as needs change
Building Features
Portable Steel Container
Standard & Roll-up Doors
Windows, Shelves, Counter, Storage
Non-slip Flooring
Electrical Panel & Accessories
Internal & External Lighting
HVAC Climate Controlled
Custom Options Available
System Features
Time & Attendance Tracking
All-In-One PC Computer Workstation
EntraPASS Global Edition Software
Vast Tracking & Reporting Capabilities
Red/Green Stop and Go Lights
Choice of ID mode: Card, QR, Fingerprint etc.
CCTV, HD Cameras, Audio/Video Intercom
Mobile Office
1 Standard Door (window optional)
2 Windows (3′ x 5′)
2 External flood lights
2 Internal light fixtures
Electrical Panel and Supplies
Power Outlets, Light Switches
HVAC Unit
Desk/Counter top
8′ W x 10′ L x 8.5'H
Two Lane
4 Roll-Down Doors (2 on each side)
2 External flood lights
2 Internal light fixtures
1 Partition (full height or pony wall)
Electrical Panel and Supplies
Power Outlets, Light Switches
8′ W x 10′ L x 8.5'H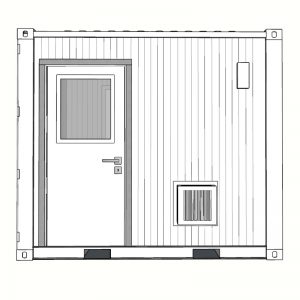 - Main station for management and guards on duty
- Link to other units or our portable turnstiles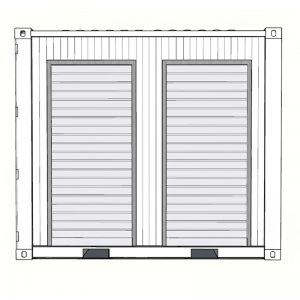 Two Lane >>
- Recommended for crews of 60 or less
- Crews clock-in and out in 5 minutes
- Save time, ensure accuracy, track labor hours
- 4 doors (2 on each side) create two passage 'Lanes'
Office/Two Lane
1 Standard Door (window optional)
4 Roll-Down Doors (2 each side)
2 Partitions
2 Windows (3′ x 5′)
2 External flood lights
4 Internal light fixtures
Electrical Panel and Supplies
Power Outlets, Light Switches
HVAC Unit
Desk/Counter top
8′ W x 20′ L x 8.5'H
Four Lane
8 Roll-Down Doors (4 on each side)
2 External flood lights
4 Internal light fixtures
3 Partitions (full height or pony wall)
Electrical Panel and Supplies
Power Outlets, Light Switches
8′ W x 20′ L x 8.5'H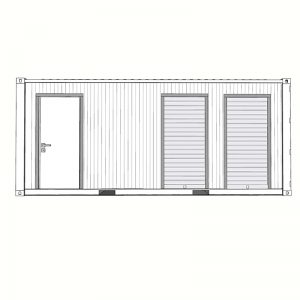 Office/Two Lane Combo >>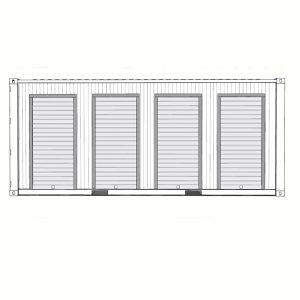 Four Lane >>
- Recommended for crews of 120 or less
- Medium/large crews clock-in and out in 5 minutes
- Save time, ensure accuracy, save costs, track hours
- 8 doors (4 on each side) create four passage 'Lanes'
Office/Four Lane
1 Standard Door (window optional)
8 Roll-Down Doors (4 on each side)
4 Partitions
3 Windows (3′ x 5′)
4 External flood lights
6 Internal light fixtures
Electrical Panel and Supplies
Power Outlets, Light Switches
HVAC Unit
Desk/Counter top
8′ W x 30′ L x 8.5'H
Six Lane
12 Roll-Down Doors (6 on each side)
4 External flood lights
6 Internal light fixtures
5 Partitions (full height or pony wall)
Electrical Panel and Supplies
Power Outlets, Light Switches
8′ W x 30′ L x 8.5'H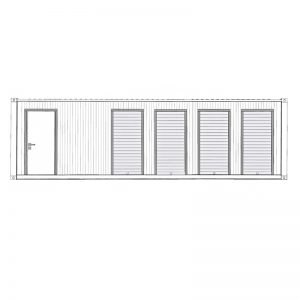 Office/Four Lane Combo >>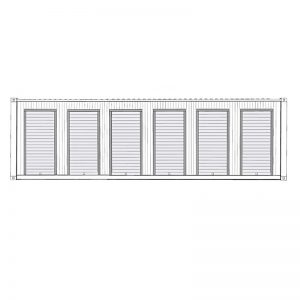 Six Lane >>
- Recommended for crews of around 200
- Large/extra large crews clock-in and out the fastest
- Save the most time and payroll costs
- 12 doors (6 on each side) create six passage 'Lanes'
Office/Six Lane
1 Standard Door (window optional)
12 Roll-Down Doors (6 on each side)
6 External flood lights
8 Internal light fixtures
6 Partitions
3 Windows (3′ x 5′)
6 External flood lights
8 Internal light fixtures
Electrical Panel and Supplies
Power Outlets, Light Switches
HVAC Unit
Desk/Counter top
8′ W x 40′ L x 8.5'H
Master Station
2 Standard Doors (window optional)
12 Roll-Down Doors (6 each side)
7 Partitions
3 Windows (3′ x 5′)
6 External flood lights
9 Internal light fixtures
Electrical Panel and Supplies
Power Outlets, Light Switches
HVAC Unit
Desk/Counter top
Storage Shelving
8′ W x 40′ L x 8.5'H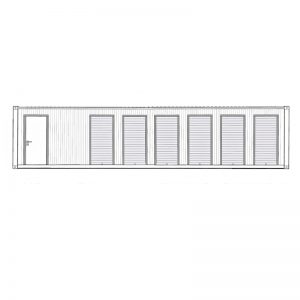 Office/Six Lane Combo >>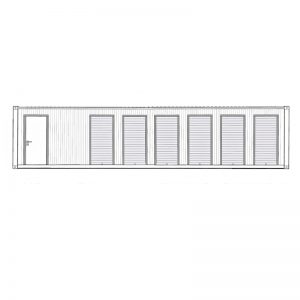 EntraBOX Master Station
Office/Restroom/Storage/Six Lanes >>
- Recommended for crews of around 200
- Large/extra large crews clock-in and out the fastest
- Save the most time, money, and space with one master unit
- Office with extra storage shelves
- 12 doors (6 on each side) create six passage 'Lanes'
- Restroom with toilet, sink, mirror, light and standard door
Construction Site Time & Attendance Tracking
– Driven by Award-Winning EntraPASS Global Edition Security Management Software
– Powerful features to support remote live monitoring and reporting
– Conveniently on Desktop, Web and EntraPASS GO Mobile App 
– Green/Red Stop and Go Lights
– ID Card Access using Proximity Cards, Contactless Smart Cards, Magnetic Stripe, Bar Code, QR Code
– Print your own secure IDs with our ID Card Printer Package
– Biometric Access with Fingerprint Scanners or Facial Recognition
– Controllers for Doors, Turnstiles, and Readers
– CCTV with high-detail security cameras
– Video/Audio Intercoms, Desk and Door Stations
– Cables, Switches, Relays and Connections made easy
– Industrial Duty, Weather-resistant and Vandal-resistant Equipment
Call Now to Order Your EntraBOX 303-670-1099