Description
The EntraPASS EMS Equipment Monitoring System uses the latest condition-monitoring technologies to track the status and performance of access control equipment to detect vital functions, leading to increased equipment reliability and significant cost savings.
Equipment monitoring is the process of tracking the status and performance of equipment to assess and diagnose faults and take corrective action before they become a problem.  The use of our system also allows for the identification of new opportunities for savings and efficiency improvements. Companies can reduce equipment downtime, improve safety, and optimize performance by monitoring equipment.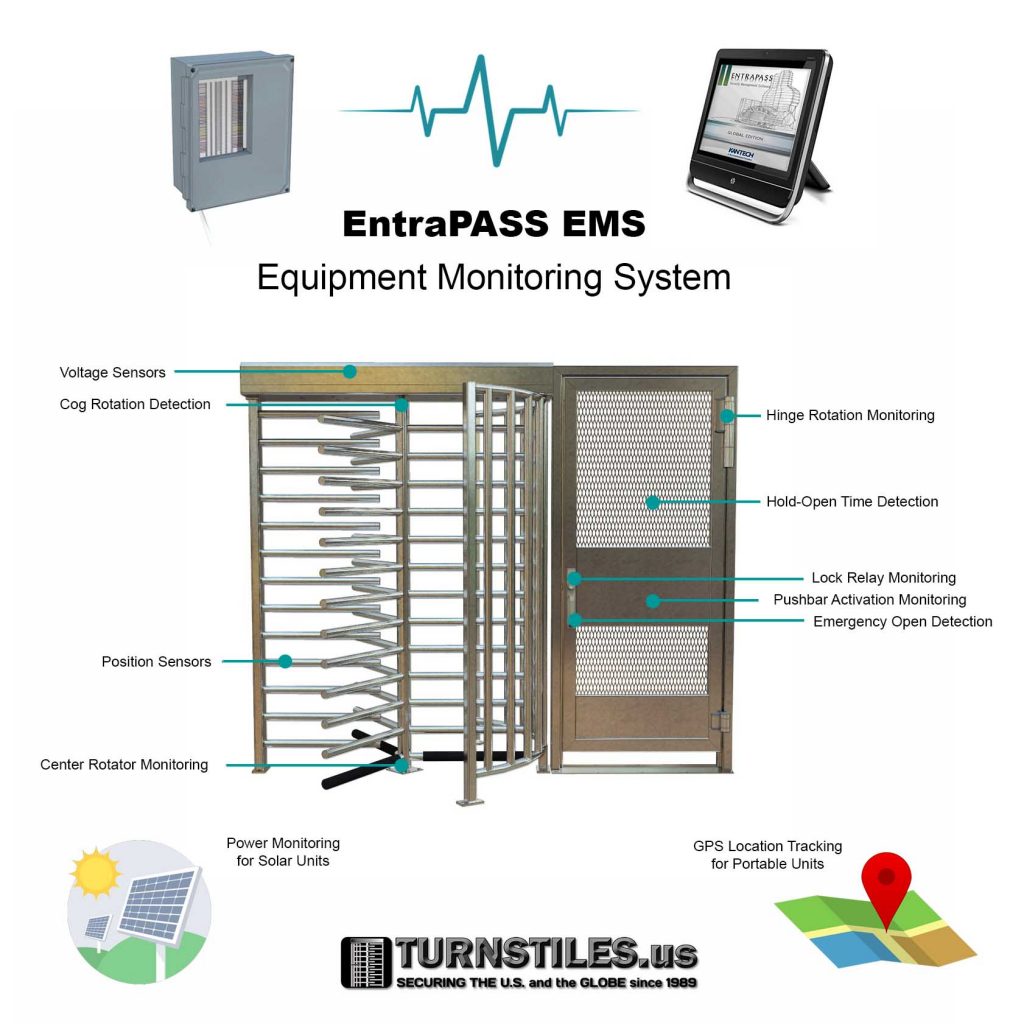 APPLICATION
Turnstiles, Gates, Portable Offices, and other industrial equipment can come in all shapes and sizes, and it can all be tracked and monitored, no matter its form or function. We break down the types of equipment to monitor by category:
Manual Turnstiles and Gates
Can be tracked and managed more effectively with the help of rugged battery-powered trackers.
Electronic Turnstiles, Gates, and Door Locks
Can be tracked and monitored to optimize usage before renting or purchasing new equipment.
Portable Heavy Equipment
Address issues quickly through remote access. Equipment eventually wears down and needs maintenance. A condition monitoring system looks at specific aspects of machinery to see if any problems are developing. Scheduled, predictive maintenance can prevent equipment failures and need for repairs.
FEATURES
Equipment Monitoring System
Equipment Location: Track valuable equipment anytime, anywhere.
Equipment Utilization: Work smarter knowing how equipment is utilized.
Remote Management: Automated workflows integrated with your access control system.
Machine Service: Data insights to drive maintenance for every part of the turnstile.
Theft Protection: Real-time notifications when machines move.
Fast, reliable wired LAN, wireless LAN, or cellular connection
Employee and attendance instant cellular mustering
Annual preventative maintenance contract subscription
Gather data from meters, sensors and other remote equipment and trip a relay when voltage goes above or below threshold
Its reception penetrates buildings extremely well and also covers longer distances. This unit is equipped with a terminal block for secure power installation in turnstiles.
EntraPASS Global Platform
Reliable Enterprise Security Software
Supports up to 128 workstations and controls hundreds of thousands of doors
Operates on Windows platform with available integrations for user convenience
Import/synchronize operators and users (cardholders) for centralized management
Embedded Sybase SQL database engine
Global virtual alarm system, anti-passback, guard tours, and muster reporting
Supports up to 250 concurrent logins of EntraPass web and/or EntraPass go
Redundant server and gateway to enhance fault tolerance capabilities
Available as
8-point system monitoring with the KT2 (wireless LAN)
16-point system monitoring with the KT400 (wired, allows for unlimited expansion of monitoring points)
Pricing is per unit plus low monthly monitoring subscription fee. The EntraPASS EMS provides stable, secure, and reliable connectivity. EMS is designed for the best performance on all technical levels. Proven designs, trusted software, and innovation make a safe choice for a future-proof solution with global coverage.