OLED Display Doors and Turnstiles
Providing an eye-catching & immersive experience using a unique display, OLED Display Doors and Turnstiles from TURNSTILES.us bring new opportunities for presenting messages to customers, communicating with employees, and unobtrusively delivering advertising content to consumers.
OLED Display Entrance Systems
The new OLED Display Doors and Turnstiles in combination with LG Transparent OLED Signage will put customers at the forefront, providing them with a fantastic new solution when it comes to customizing brand and customer experiences.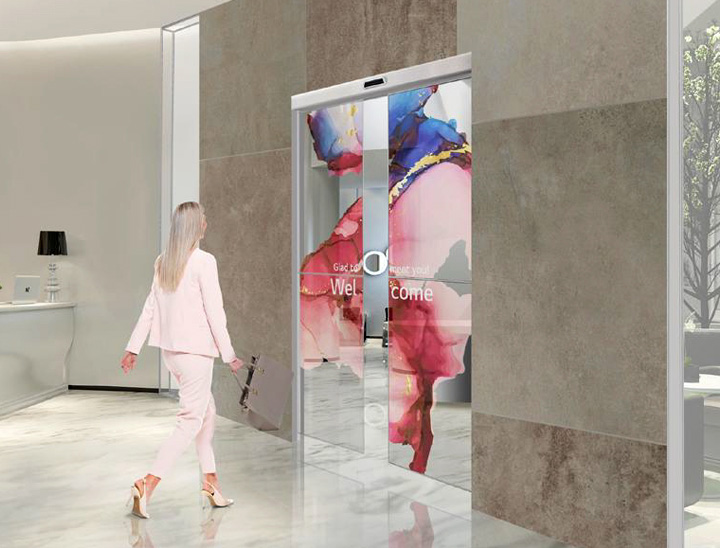 Wide Selection of Turnstiles and Gates
Low, Medium, and High-Security Entrance Control Devices are all available in a variety of styles. TURNSTILES.us offers complete systems with the aesthetic and functionality you are looking for. Our turnkey solutions include design, manufacturing, installation, maintenance as well as integration with biometrics, timekeeping systems, and other personnel management systems that you wish to incorporate.
Protective Glass, Lexan and Polycarbonate
Touching a display directly can cause damage or scratches. The clear turnstile and door panels protect the display from external impacts and its anti-shatter glass is designed to minimize issues. The display is installed with optically clear adhesive and/or double-pane designs.
Accurate and Vivid Colors
Featuring self-lighting pixels, the display maintains vivid colors and high contrast ratio. It brings content to life from wide viewing angles, and the content blends into its surroundings seamlessly and naturally.
Unprecedented Transparency (Option)
Transparent T-OLED offers 38% transparency, whereas the highest transparency that's been achieved with LCD is 10%. When viewed head-on, objects behind the screen integrate with the content.
Installation possibilities
The T-OLED was designed to look good with seamless installation. Displays are light weight and are sized to the model of turnstile.
Content possibilities
The most exciting thing in this new level of transparency is the myriad of futuristic content possibilities. The high-contrast resolution creates an immersive appearance. Combine that with artfully placed objects behind the display and it becomes content you think you can touch. 
Add Our OLED Option To Your Turnstile Array
Other Innovative Entrance Solutions
Enhance the security standpoint of your facility today.