Description
The UV Light Series Turnstile and Gate germicidal fixtures create a curtain of ultraviolet rays that effectively control the airborne transmission of microorganisms between areas. The units direct light energy into a narrow beam, providing coverage within the passage. The width, depth, and distance of the beam can be controlled to create a balanced germicidal barrier from fixture to floor.
Users will normally pass through the UV beam in less than two seconds, so protective clothing is not required and in fact inhibits the reach of light. To maximize germicidal effectiveness, our 100% cotton gowns allow light to penetrate. Safety goggles are also available as one should not look directly at the bulb. Average lamp life is rated for 12,000 hours and bulbs can be easily refilled without removing the fixture.
The UV Germicidal Access Control Package is an integrated entrance solution including Full Height Turnstiles and ADA Gates with UV Lights built-in, and tablet-style terminals for access control with Temperature/Mask Detection and Facial Recognition. The device verifies a normal temperature and identifies users by face (or face+card) before unlocking the entrance. This all-in-one equipment package serves the health and safety of personnel in protected, enclosed spaces such as a ship, hospital/operating room, lab, airplane, bus, etc. Germs, mold, and viruses do not go through with you!
Data Sheet- UV Series Turnstiles and Gates
ULTRAVIOLET LIGHT
Kills mold, spores, viruses, and bacteria
Safe, effective, chemical-free clean
Of the 3 types of ultraviolet light (UVA, UVB, and UVC) UVC has the most energy
Fixture housing built into turnstile or doorway
Multiple units can be used on the top and sides of the turnstile to protect critical areas
UVC curtain directs energy straight down
TURNSTILE FEATURES
Full-Height Single Turnstile
Electronic Two-Way Controls for touchless passage
All 304 Stainless Steel Construction and Hardware
Rubber End Caps
Bidirectional Key Set
Modular Locking Mechanism (fail-safe or fail-secure, clockwise or counterclockwise)
Spline Shaft, Collar, Bearing, and Bottom Flange are Corrosion-Resistant Stainless Steel
Extra Thick Mounting Brackets for added Security
Proudly made in the USA
Electrical Specifications:

Input voltage: 100-220 VAC

Frequency: 50/60 Hz
Operating Voltage: 30 VDC
Operating Current: 0,2A
GATE FEATURES
Full-Height ADA Gate / Security Door
Stainless Steel Construction
Electric Lock
Motorized (opens and closes on its own)
No-Touch Passage
ADA Compliant
Premium self-closing hinges
Deadbolt with handle, latch and keep
Mount an access control reader to the frame
UV-CVX021 Germicidal Access Control Package
Facial Recognition, Mask, and Temperature Detection Reader
Stainless Steel UV Light Turnstile
Stainless Steel UV Light ADA Gate
UVC Beam Fixtures with Steel Housing Hand-Built-In
Garments and goggles optional
Add a Portable Base Plate
Additional system functions with EntraPASS Access Control Software
Installation services available worldwide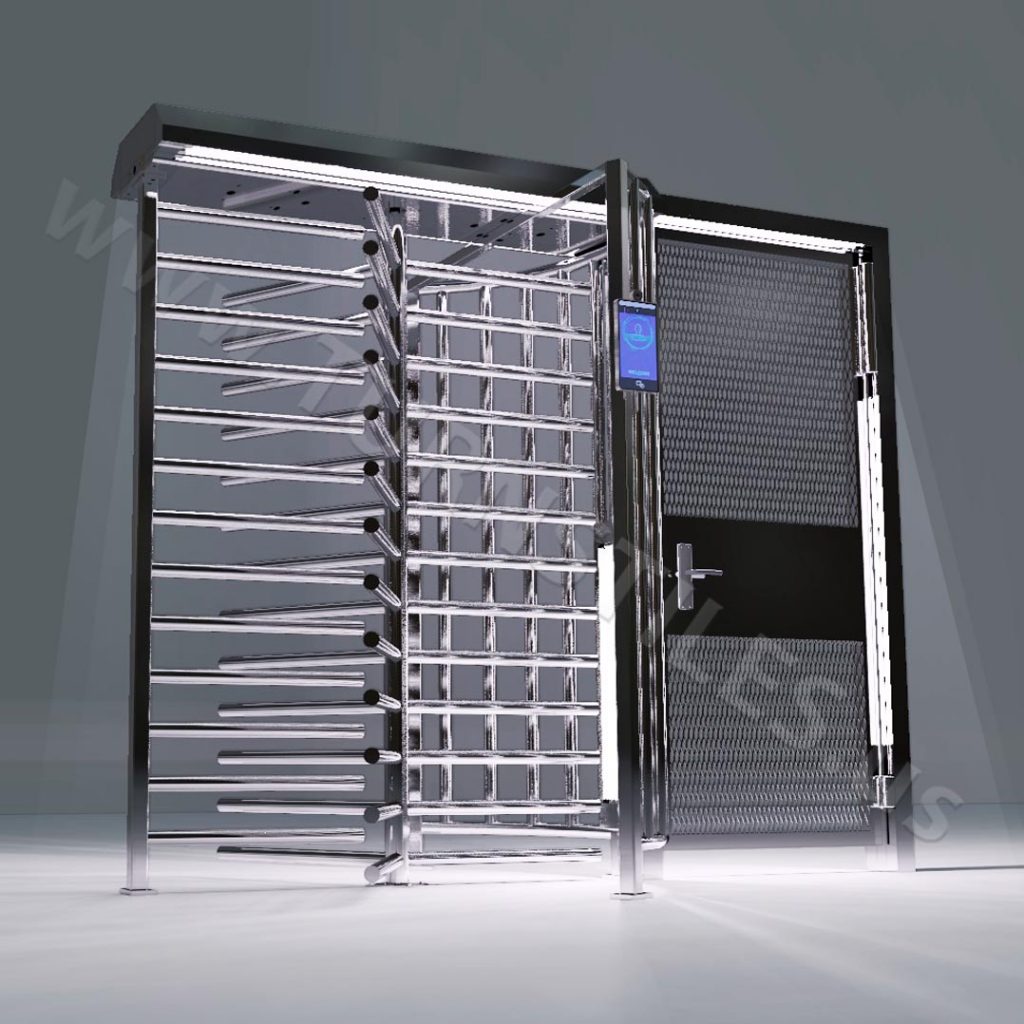 Above: UV Germicidal Access Control Package, Single Turnstile, and ADA Gate