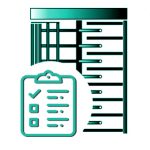 Please read these policies before using the website www.turnstiles.us operated by www.TURNSTILES.us, Inc. ("us", "we", or "our"). Your access to and use of our services is conditioned on your acceptance of and compliance with these terms. These terms apply to all visitors, users and others who access, use, or make a purchase from www.TURNSTILES.us, Inc. By accessing or using the services you agree to be bound by these terms.
Returns and Refunds
Thank you for taking a moment to review our Return Policy. 
We do our absolute best to provide our products and services with accuracy and precision the first time, and to gracefully handle any circumstance with the shared goal of providing the best quality turnstiles and installation services possible. 
These terms constitute an agreement between all 
visitors, users and others who access, use, or make a purchase from www.TURNSTILES.us.
All sales are final. No refunds or returns. Goods are custom made to order
 once they are submitted for production. Turnstiles, gates, canopies, and drafting services are custom built and documented for each order we work on. 
Engineering, drafting, and installation on-site hours are estimated and subject to change. Original designs and up to 3 revisions are included with the option for more revisions.
Our services are provided on a custom built, as arranged, as-is, as-available basis. Products and services are provided without warranties of any kind unless expressly stated, including, but not limited to, implied warranties of product availability, fitness for a particular purpose, non-infringement or course of performance. Manufacturer warranties are honored in many cases, please contact us with inquiries about a specific warranty. Freight and Shipping is Ex-Works. It is the buyer's responsibility to insure shipped goods if desired.
Changes
We reserve the right, at our sole discretion, to modify or replace terms and our live website pricing at any time. Any changes are effective upon publishing. By continuing to access or use our service after those revisions become effective, you agree to be bound by the revised terms. Formal quotes sent from us remain valid for 30 days. 
Contact Us
It is our collective goal to exceed the expectations of our customers with outstanding products and services.
If you have any questions or concerns, please contact us.
Thank you for visiting TURNSTILES.us