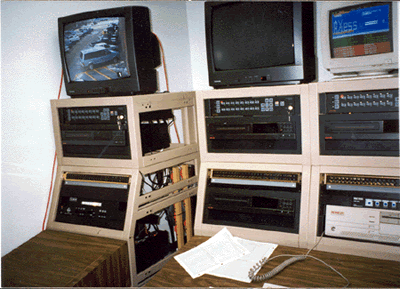 TURNSTILES.us began as AVLELEC in 1979. Today, AVLELEC proudly serves as the Soundmasking Privacy division of www.TURNSTILES.us, Inc.
TURNSTILES.us Corporate President of Engineering, Patrick McAllister, has owned and operated his own businesses since 1979. TURNSTILES.us began as a company called AVLELEC and it focused on sound systems before evolving into access control.
Patrick has designed and installed systems for Corporate, Government, Performing Arts, Stadiums, Concert Halls and more. He studied Soundmasking with one of the inventors of the art – White Noise, Pink Noise, Brown Noise — Analyzation, Db Levels – Speech Privacy – learning what these terms mean, and how to implement Soundmasking effectively. Learn about the installation of our early sound masking systems below.
Patrick started Audio Tech Systems, Denver, CO in 1979. Some of his more prominent installations were the Interim Sound System at Mile High Stadium ( Home of The Denver Broncos ) in the early 80's, Boulder's Coast, Club LA, Westminster, Atchison Topeka and Santa Fe Railway, Denver. Our first client was Moore Business Forms, Lake Forest, IL. Moore was bought out by R.R. Donnelley, and we are still doing business with R.R. Donnelley to this day.
See our first system installations here! – Old School 80's and 90's Electronics and Technology – without which we would not have the capabilities we have today. Every step of the way is important – and wonderful to look back on! 
1. Moore Business Forms: Lake Forest, IL
CEO Smart Presentation Room

Moore Business Forms supplied the paper forms for a number of national entities such as the Yellow Pages and IRS / US State official forms. Their state-of-the-art conference room setup included the works.
Press a single button and have the room ready for an elaborate video presentation.

The Lights Dim, Motorized Drapes Close, Surround and Projection Goes On, and the DVR plays the viewer a welcome video.

Lexicon 10-Channel Surround Sound

Hand-Built 10″ Coaxial Loudspeakers

TV Screens and Projector
Hand-Built Wooden Frame/Screen Assembly
Custom Table and Control Podium w/rear projection presentation booth
Conference Phone
Fully Engineered, Wired, and Installed
2. Abbott Labs: Abbott Park, IL
Two fully-loaded presentation rooms for employee training and seminars. The rooms each have their own full equipment racks, and there is a large centrally located rack connecting them with master controls. In the earlier times of surround sound systems and theater systems, we manually adjusted EQ and tuning to achieve perfect sound distribution around a large room. 
Full Audio Racks with TV
Ceiling Mounted TVs
Overhead Projector
Roll-Up Screens
In-Ceiling Speakers
Installation Included a Lapel Microphone
Tuning and Equalizer calibrated and tested
Hand-Engineered, Built, and Installed
3. McCormick Place South Expansion
$14M Complete Sound System
Fifty Seven (57) A/V and Room-Combining Audio Racks
5,000 Floor Ports,
Over 2,000 Speakers
 AutoCAD Drawings of the Wiring Boxes
Integration Scheme putting together rooms
Tuning and EQ programmed and tested with working controls and latest performance
Unbelievable Wiring Accomplishment – See Zip Ties Organizing Sections of Cable
4. Atchison Topeka: Denver, CO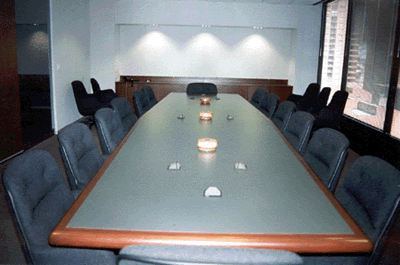 Full Microphone and Sound Balancing System
Perfect acoustics system for holding meetings in large conference rooms.
Microphones pick up someone speaking around the table, and speakers project their voice across the room at a balanced volume.
First job completed under AVLELEC name
 Check out the Videos at the below for more photos
Video Conferencing by Internet
The internet had barely been established, and video conferencing was not as simple as using today's platforms.
This Conferencing System had Video Cameras capable of Live Streaming to multiple TV screens by internet – NEW!
ISDN Channels (Integrated Services Digital Network) are early Internet Communication channels first defined in 1988.
Video Camera and Tripod
XL Flat Screen TV
Hand-Built Audio/Video Media Racks
Soundmasking System Videos