EntraPASS
Meal Tracking Systems
The EntraPASS Meal Tracking System (MTS) combines the latest hardware and software technologies to help food service officers track cafeteria usage. With some institutions estimating as many as 30 percent of diners double back through food lines, or otherwise skipping payment at some point, the potential savings by eliminating this practice is enormous.
The MTS is composed of a powerful combination of network-ready EntraPASS security management software, heavy-duty turnstiles for access control, and accurate identification methods. All this is set up on a highly secure internal network, with the main server located in the Food Service Administrator's office. The Administrator can run any number of reports on users' meal history.
MTS works as a standalone system or in conjunction with existing access control. The software works in real-time even when new users are added to, or removed from the system. This exclusive system helps to prevent tailgating and repeat visits to the meal service area using an anti-passback feature.
The Meal Tracking System includes a server with EntraPASS Software in the Food Service Administrator's office or another secure location. The database is loaded to this server, along with any reporting functions the facility requires. Additional computers can be set up for new employee intake into the system or for other Administrators. User information is linked to a numbered card which will be their meal card (or – choose biometric readers for face, palm, or fingerprint can be linked to their ID). At the beginning of each food line to be monitored, a scanner is installed and connected to a turnstile. As the identification is scanned, data is transmitted to the server. If the user has been through the line already during that mealtime, the turnstile stays locked and passage is denied. If this is their first visit during that mealtime, access is granted.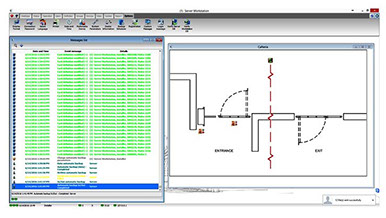 Monitor the movement of people through the meal service area
No card required when using fingerprint or other biometric ID

Allow or deny access based on defined parameters

Better manage operations by prohibiting theft
Software: EntraPASS Global Edition, award-winning access control software with powerful capabilities. Receive real-time data on desktop or mobile, automatic email distribution for reporting, the option of exporting to Excel with Able2Extract15, and scalability to meet your needs. This package includes one fully loaded Global Edition Computer Workstation. 
Identification: Choose an access method. Fingerprint identification is the most popular biometric method due to its superior combination of strength, affordability, convenience, and ease of use. Enrolling new users takes only moments. When this option is used, an additional scanner is installed in the enrollment area. Bar code cards are also very popular, simple, and low-cost.
Engineering and Drafting: The entire system is engineered to the specifications of the facility. The customer is provided detailed AutoCAD schematics for all wiring, placement and assembly requirements. Facility personnel gets all of the information needed to manage the system for years to come.
Add Post and Rail / Post and Glass: There are a variety of barrier options sold separately to complement any turnstile.
Add Computers/Monitors: Monitors can be added at the turnstile location if the facility is closely monitoring traffic. These provide an on-screen identification of the user who is accessing the turnstile at that moment. It helps to identify internal problems such as Meal Card theft. The workstations feed the information directly to the server for real-time updates. A linked external LCD monitor can be added (via HDMI cable) near the ingress/egress point to display the user's photo, along with identity and attributes which would also be seen on the EntraPASS workstation desktop. This adds a layer of security for buildings in which the entrance is not visible at the destination, letting people in the cafeteria know when someone is entering.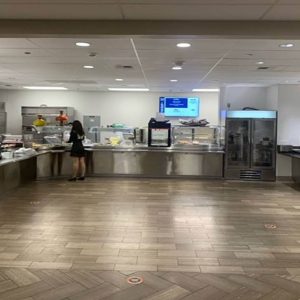 Employee Meal Service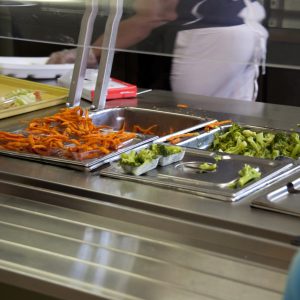 School Lunch Lines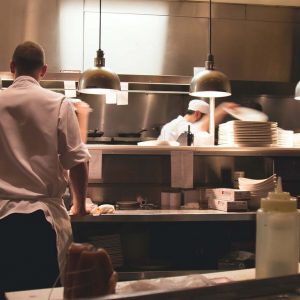 Hotel Restaurants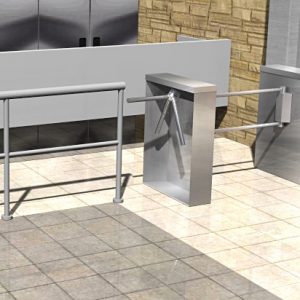 Hospital Cafeterias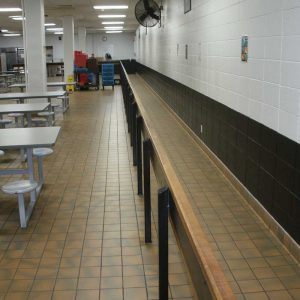 Inmate Food Service
Installations & Testimonials
Thank you! We certainly have seen savings and they are greater than what I had projected. We were only averaging 70 purchases per day on the honor system but now average over 110. Improving payments by over 50% alone is a strong enough ROI to justify the expense. I do think more properties could benefit from this style system." (TURNSTILES.us meal tracking system with turnstiles and EntraPass software)
"The food service administrator reports he's already seeing an improvement in the amount of food he's having to prepare for the noon meal. The system will pay for itself sooner than expected. I think we're making 200 fewer meals per day at lunch."
"I worked first hand with this system through the installation and three years of daily use while I was stationed at the Manchester Prison. Loved it, very user friendly, I believe it paid for itself in a year. The info you sent is perfect it shows exactly what I need them to see. Hope to talk to you again soon."
Order Your EntraPASS Meal Tracking System
TURNSTILES.us is a leading provider of security access control solutions including
Turnstiles, Access Control, CCTV, Engineering, and Turnkey Installation.
We hold a GSA Contract, and our manufacturing is in a certified SBA Tract.
Enquire with us about a custom solution for your facility and we'll provide quality installations, whatever your requirements.