Turnstile Selection Guide
One of the best options for improving the physical security of buildings and facilities is the use of turnstiles to control employee and visitor access. Besides improved security, turnstiles offer many benefits over the use of doors, including effective integration with the facility's access control system and increased operational flexibility. It is our goal to provide the highest quality turnstiles in the industry and to match you with the best products that serve your needs.
If you are not sure which type of turnstile is right for your situation, consider the following questions.
If you have additional questions or concerns, don't hesitate to contact us.
1. What purpose will your turnstile serve?

Considerations may include managing shift changes in a work environment, parking lot entry, etc. It's important to consider where the unit is installed and how frequently people are using it. Also, is there a need for credential access (by ID, barcode, ticket, or coin, for example), or is the turnstile only there to count how many people pass?
We can help you figure out the best access control and turnstile combination for your facility.
2. In what environment are you placing the turnstile?

We offer a variety of turnstile models with different functions and visual aesthetics. Some are suitable for interior OR exterior environments, and others are designed with a specific application in mind.
For example, If your turnstile will be located in a corrosive environment, (snow, wind, rain, salt, etc.) then a model made in 316 stainless steel will likely provide the best protection. On the other hand, a prestigious indoor environment like a bank or university would likely utilize a glass turnstile and gate, which are aesthetically beautiful in addition to being secure. 
3. Will you need to provide ADA (Americans with Disabilities Act) Accessibility?

All of our units can either be combined with a full-size ADA passage gate, come in an ADA-compliant model, or can provide flexible-width passage lanes to accommodate this type of traffic. This common compliance requirement is an important consideration – as U.S. building code requires an ADA access way within 10 feet of a turnstile. We have several units to fit your needs and experience in this specific area.
4. How many people need to pass through in what amount of time?
Picking the right model and the right quantity are important factors to consider when determining what will eventually become a successful crowd management solution. Realistically, five seconds is a fair approximation/average on how long it takes for a person with an ID to go through a turnstile – however, passage times will vary depending on credential type used as well as user training. To determine the right quantity of turnstile lanes you will need for efficient passage times, read more here.
Types of Turnstiles and Gates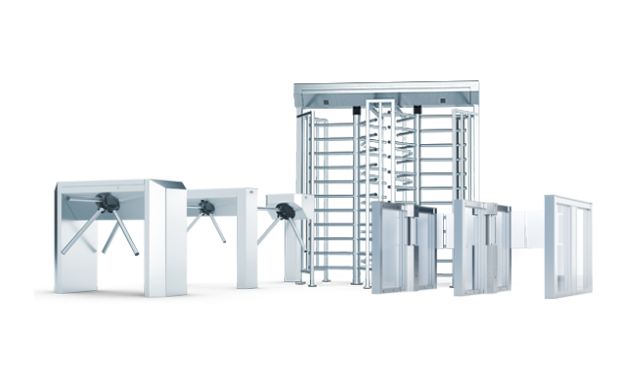 Equipment Types List
Full-Height Industrial Turnstiles
Waist-High Turnstiles
Optical Barrier Turnstiles (Glass Swing, Slide, or Retractable Gate)
Optical No-Barrier Turnstiles (Speed Gate)
Full-Height Glass Turnstiles (Revolving Door Type)
Full-Height ADA Gates (Man Doors)
Waist-High ADA Swing Gates
Tripod Turnstiles
Drop-Arm Turnstiles
Swing-Arm Turnstiles
Portable Turnstiles
Vehicle Barriers
Turnstile and Gate Configurations
Manual Mechanical
Electronic One-Way
Electronic Two-Way
Electronic Turnstiles need to receive a one-second dry pulse to activate each direction (entry and exit). Most Electronic Turnstiles have a Programmable Logic Controller that can be customized to provide inputs and outputs specific to each project – and, you can expand to an unlimited number of in/outs.
Finish Types Priced Low to High:
Turnstiles are made of steel and can be finished in a number of ways.
Galvanized Steel
Powder Coated Steel
Powder Coating over Galvanized Steel
Aluminum
#304 Stainless Steel
#316 Marine-Grade Stainless Steel
Exotic Metal (Brass, Copper, 280 Muntz, etc.)
Standard Common Passage Widths:
27", 30", 36″, 39", 48"
*Important: U.S. Building Code states that you must have an ADA Man Door within ten feet of a Turnstile – the ADA Man Door can also be used as an emergency egress door. The clear passageway of a door or gate entrance must be at least 36″ wide to be ADA Compliant.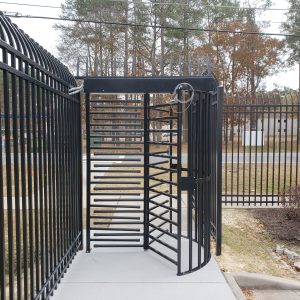 The most secure of all turnstiles, full height turnstiles look and function like a revolving door. They are suitable for high-security buildings and facilities such as embassies, government buildings, prisons, bank vaults, military bases, nuclear plants, and warehouse distribution centers. Depending on the application, you can use one-way or two-way full-height turnstiles. You can operate these gates using card readers, infrared sensors, and also manually.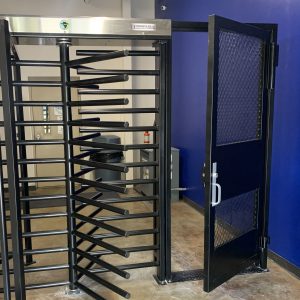 The most secure of all gates, full height ADA gates are suitable for high-security buildings and facilities such as embassies, government buildings, prisons, bank vaults, military bases, nuclear plants, and warehouse distribution centers. You can operate these gates using card readers, infrared sensors, and also manually.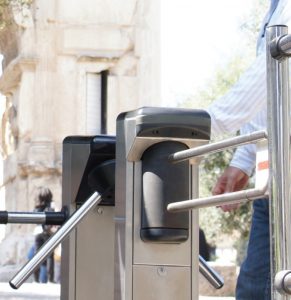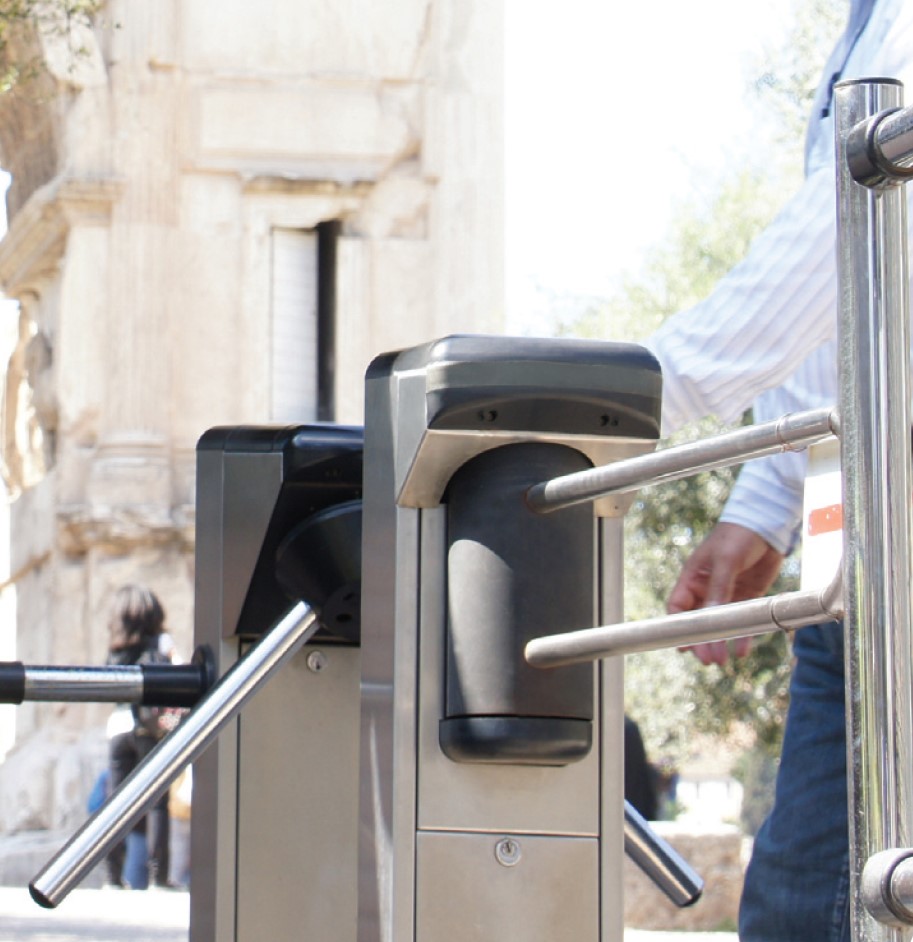 As the name suggests, these are waist-high pedestrian entry barriers. Highly economical and effective, they are often found in public places such as sports venues, universities, retail sites, theme parks, and museums. The primary goal of these turnstiles is to control a large flow of people via integrated ticketing, building pass, and key card systems.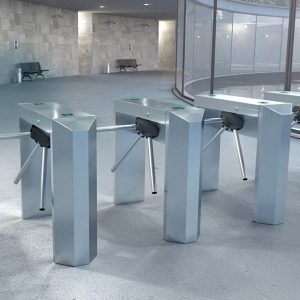 Tripod turnstiles are a type of waist-high pedestrian barrier that usually consists of three horizontal arms that rotate as people pass through. There is a safety feature on many models that lets these spinning arms 'drop' out of the way in case of emergency or loss of power. You can see both types in bus terminals, metro stations, parks, stadiums, and museums. They are often used in combination with an automated coin and bill acceptor or ticket checking system.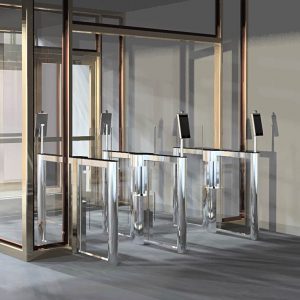 Optical turnstiles come with or without an entry barrier like an arm or a swing gate. They primarily use infrared sensors to detect whether or not the person passing through is authorized. Audio and visual interfaces like alarms and security cameras identify intruders. Optical turnstiles are often used indoors where aesthetics matter.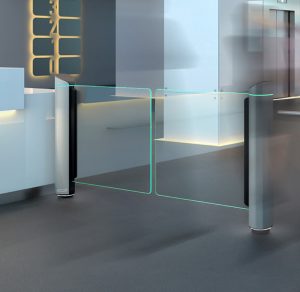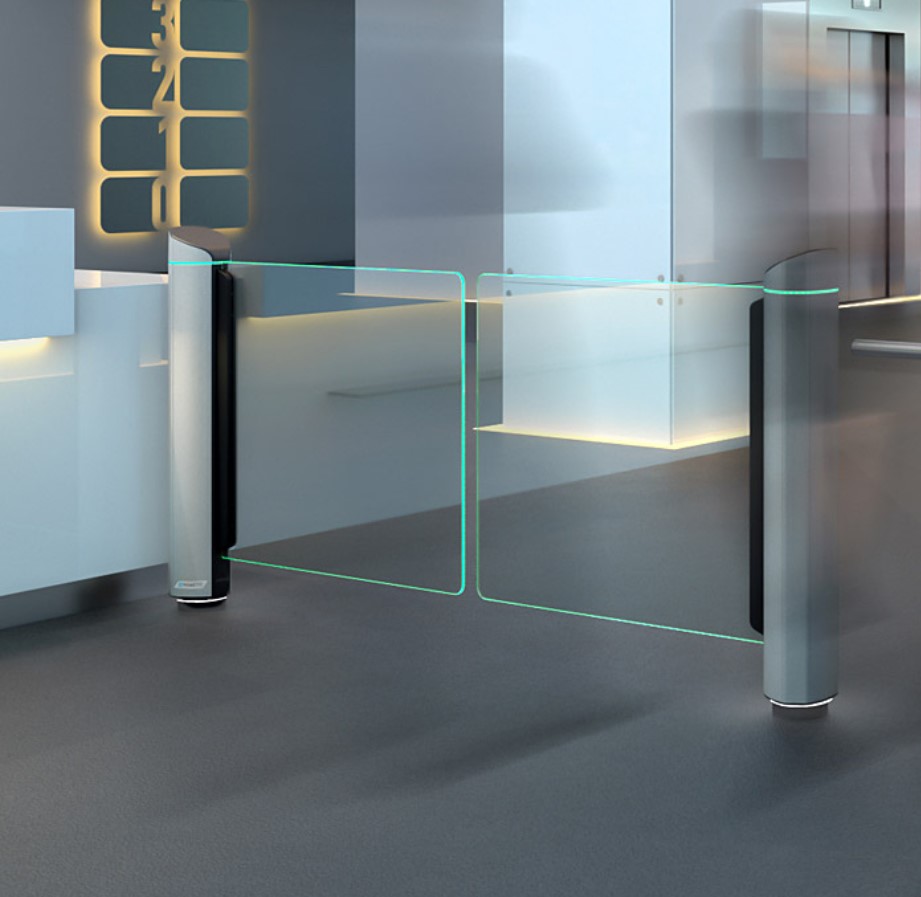 You can use swing gate turnstiles as single or bidirectional access points. They are usually used inside buildings as they are not as secure as full-height turnstiles. They are also aesthetically pleasing. You can find these in malls, shopping centers, superstores, hotels, clubs, and lounges. ADA accessible gates are a building requirement in the USA.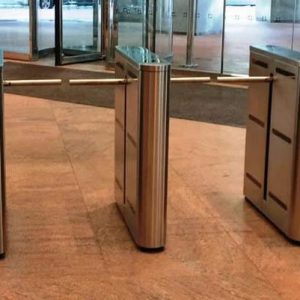 Drop Arm Turnstiles
Drop-Arm turnstiles are a type of waist-high turnstile that has a single arm that raises and lowers into the cabinet to allow passage.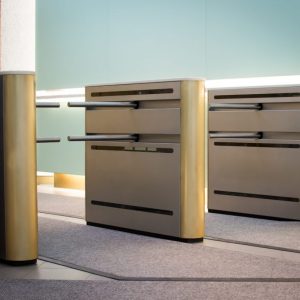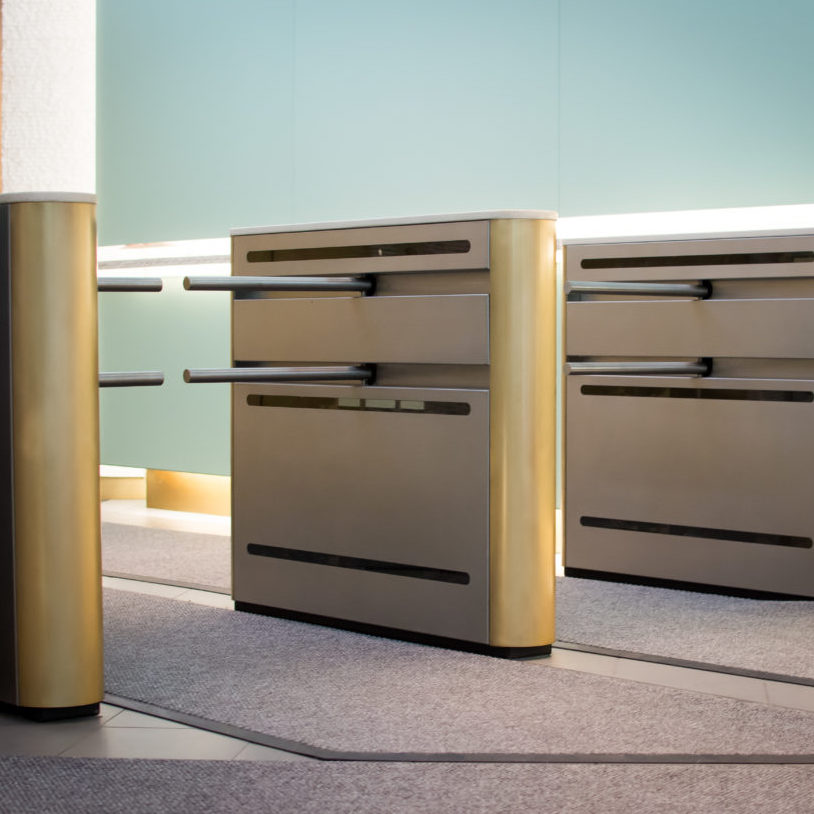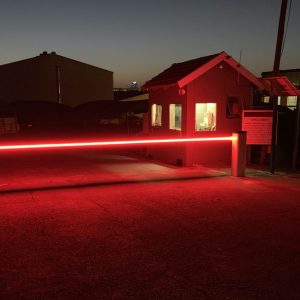 Access Control: Getting the Most Out Of Your Turnstiles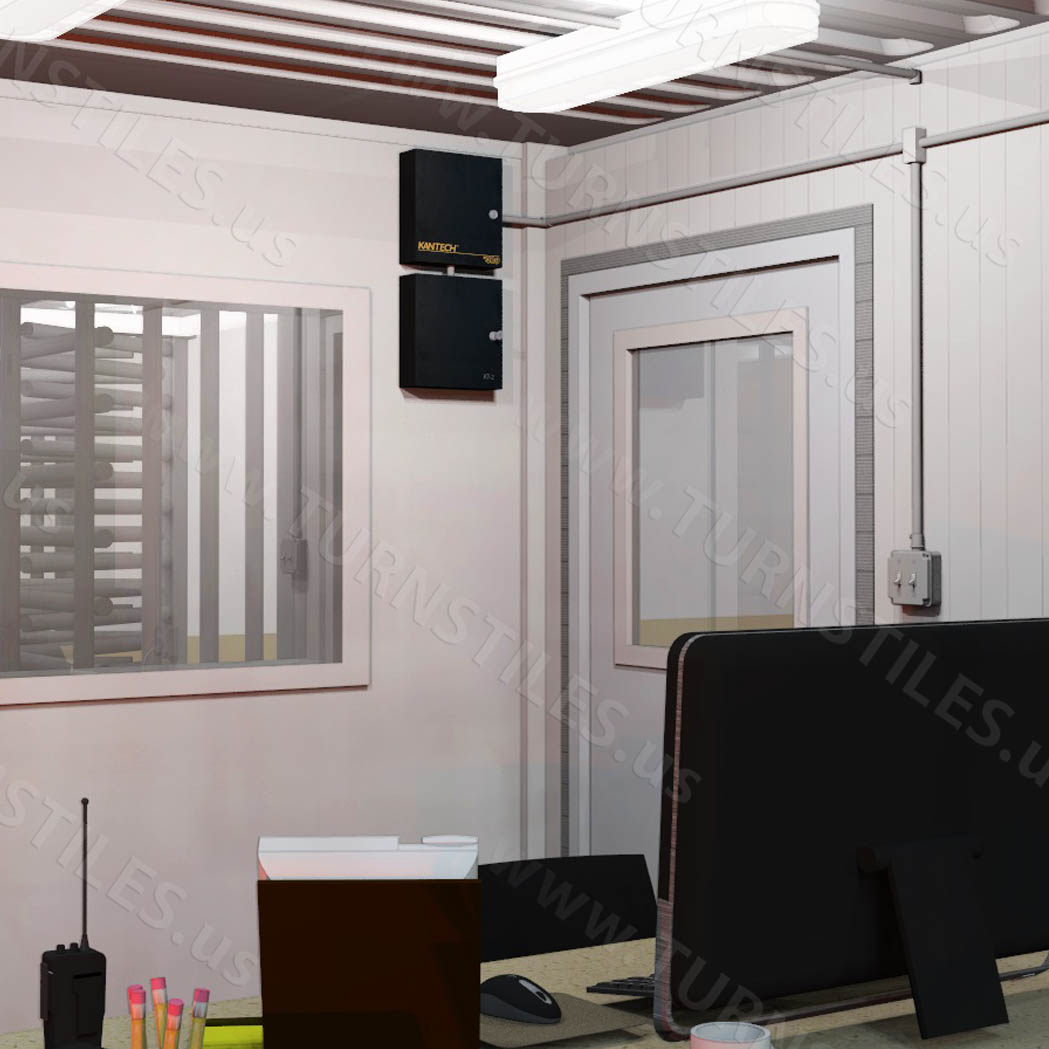 Readers


Bar Code Readers
Magnetic Stripe Readers
Breathalyzer Entry Control
 Cards and Credentials


Photo ID Badge Printing
Proximity Cards
Proximity Keytags
Contactless SmartCards
Magnetic Cards
Canopies and Enclosures: Properly Securing an Area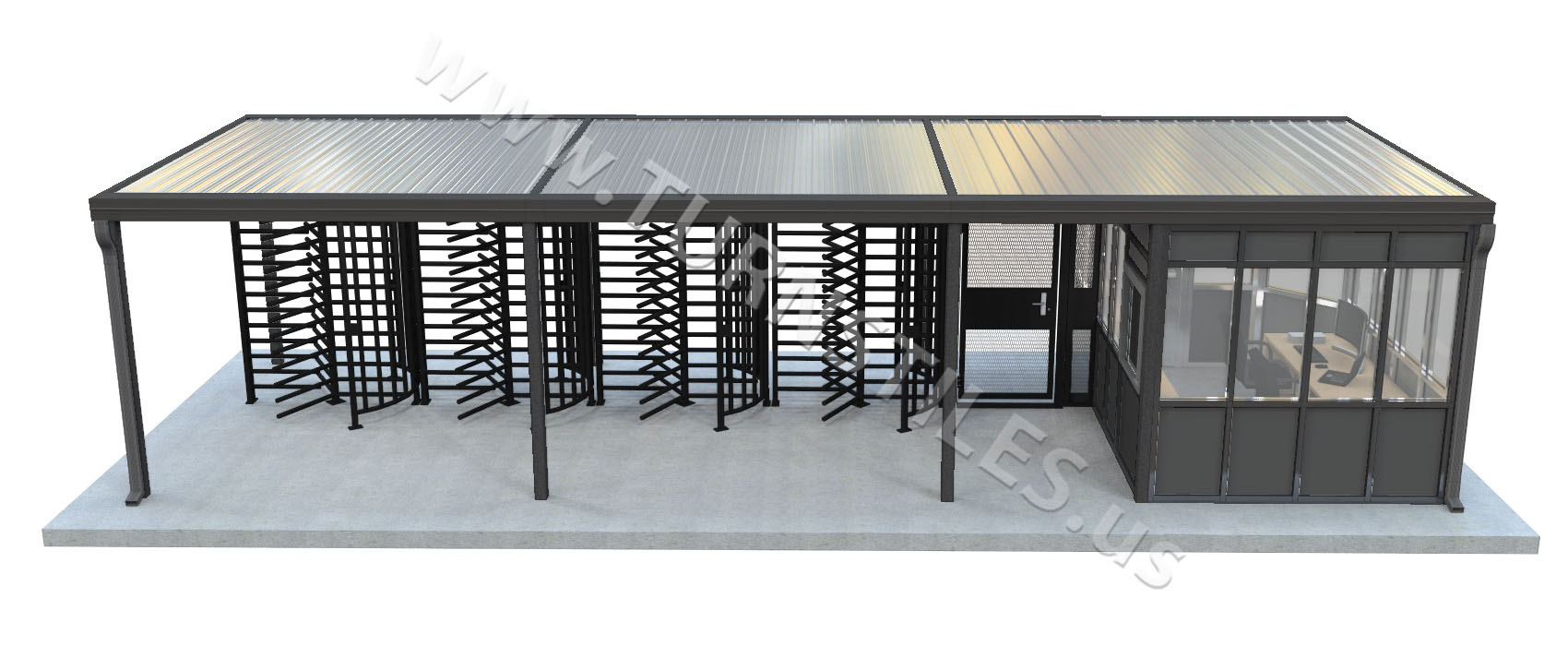 High-Security Entrances
Man Trap Cubicle Enclosures
What are some of the benefits of having turnstiles? Every building needs an entrance. To add security and control to a typical door, you may add keys, locks, cards, etc. While readers and locks require a valid credential to gain access, they cannot control how long the door is open or how many people enter through it once it is open. A turnstile only allows one person to pass through an entrance at a time.
What are Tailgating and Anti-Tailgating? 

Unauthorized individuals can follow authorized personnel through an open door, resulting in a common security issue referred to as 'tailgating.' Further, a door cannot isolate the direction of authorized passage. For example, if a door is activated for an exit, it will not prevent an unauthorized user from entering through the open door. Anti-Tailgating applies the principle of a turnstile to a door, by sending an alarm if someone comes in through the 'exit' door, or otherwise tries to enter unauthorized.
How many people can pass through a turnstile per minute? The average time it takes a person with an ID to enter a turnstile is five seconds. Throughput of a full height turnstile is about ten people per minute (ppm). More information on this topic can be found here: Turnstile Throughput Rates.

What are the services offered by TURNSTILES.us? We supply industrial grade protection and security equipment and provide turnkey turnstile services including concept design, drafting, engineering, compliance, and installing turnstile systems with access control. 
What is the average lead time for a turnstile? Production, testing, crating, and shipping of turnstiles may take 4-10 weeks, depending on the level of customization required for your order. Timelines for complete system solutions vary by complexity of the project – we stay with you through every step of the way. Some units are currently in stock and can ship much sooner. Contact us to find out the lead time for a particular product. See our In-Stock page for updates on inventory available soonest.
What is the average lead time for installation? Book an installation day that works with your project schedule. We advise that you consult with us early on, and depending on the complexity and location of your project, book an installation accordingly. On average, technicians are 30-90 days out to perform an installation. Rush jobs are possible which require a minimum of 14 days notice.
What support does TURNSTILES.us offer after my purchase? We provide telephone and remote desktop support and software updates free for one year after the purchase of our EntraPASS Software and other qualifying products. If you book an installation with us, we train you and your staff on equipment operations to ensure you are satisfied with your new system and are familiar with its features.
What is the most common shipping method? FedEx Freight and DHL are frequently used within the continental US and internationally. Ground, Sea, Air. We transport turnstiles and gates worldwide and can provide a quote for shipping your site on request.
What are the available financing options? Financing is available; we refer clients to Vince at Merrimac Capital, who specializes in industrial equipment lending at great rates – with outstanding personal service. Click Here to read more.
Thank You for Visiting TURNSTILES.us