Turnstile Selection Guide
One of the best options for improving the physical security of buildings and facilities is the use of turnstiles to control employee and visitor access. Besides improved security, turnstiles offer many benefits over the use of doors, including effective integration with the facility's access control system and increased operational flexibility. It is our goal to provide the highest quality turnstiles in the industry and to match you with the best products that serve your needs.
If you are not sure which type of turnstile is right for your situation, consider the following questions.
If you have additional questions or concerns, don't hesitate to contact us.
1. What purpose will your turnstile serve?
Considerations may include managing shift changes in a work environment, parking lot entry, etc. It's important to consider where the unit is installed and how frequently people are using it. Also, is there a need for credential access (by ID, barcode, ticket, or coin, for example), or is the turnstile only there to count how many people pass? We can help you figure out the best product for your application.
2. In what environment are you placing the turnstile?
We offer a variety of turnstile models. Some are suitable for interior OR exterior environments, and others are designed with a specific application in mind. Letting us know the environmental conditions of your project will help us match the ideal unit to your needs. 
3. Will your turnstile be located in a corrosive environment? (snow, wind, rain, salt, etc.)
If so, then a model made in 316 stainless steel will likely provide the best protection against corrosive surroundings. 
4. Will you need to provide ADA (Americans with Disabilities Act) Accessibility?
All of our units can either be combined with a full-size ADA passage gate, come in an ADA-compliant model, or can provide flexible-width passage lanes to accommodate this type of traffic. This common compliance requirement is an important consideration – as US building code requires an ADA access way within 10 feet of a turnstile. We have several units to fit your needs and experience in this specific area.
5. How many people need to pass through the entry point in what amount of time?
Picking the right model and the right quantity are important factors to consider when determining what will eventually become a successful crowd management solution. Realistically, five seconds is a fair approximation/average on how long it takes for a person with an ID to go through a turnstile.
There is misleading information about how many people can really move through a barrier in a given amount of time. Much of it is based on technical data – from the speed of the reader to the database, to the gate. However, practical experience has shown us that the slowest portion of the entry/exit cycle isn't the technology, but the pace of the people moving through it – those searching for credentials in their wallets and purses! Of course, user training and the type of ID used – proximity cards are faster than swipe cards for example – will improve passage times.
Another way to reduce passage time is to add more turnstile lanes side-by-side, or when space is a concern, to use tandem turnstiles. These units allow more people to pass from one area to another while taking up less physical space. Send us dimensions of your area and we can help you fit equipment optimally – for speed of passage, use of space, and comfort of passage.
Types of Turnstiles and Gates
Access Control: Getting the Most Out Of Your Turnstiles
EntraPASS Software


Intelligent pedestrian flow control
Time and Attendance Tracking
Employee Meal Tracking
Numerous applications and integrations
Readers


Bar Code Readers
Magnetic Stripe Readers
Breathalyzer Entry Control
 Cards and Credentials


Photo ID Badge Printing
Proximity Cards
Proximity Keytags
Contactless SmartCards
Magnetic Cards
Canopies and Enclosures: Properly Securing an Area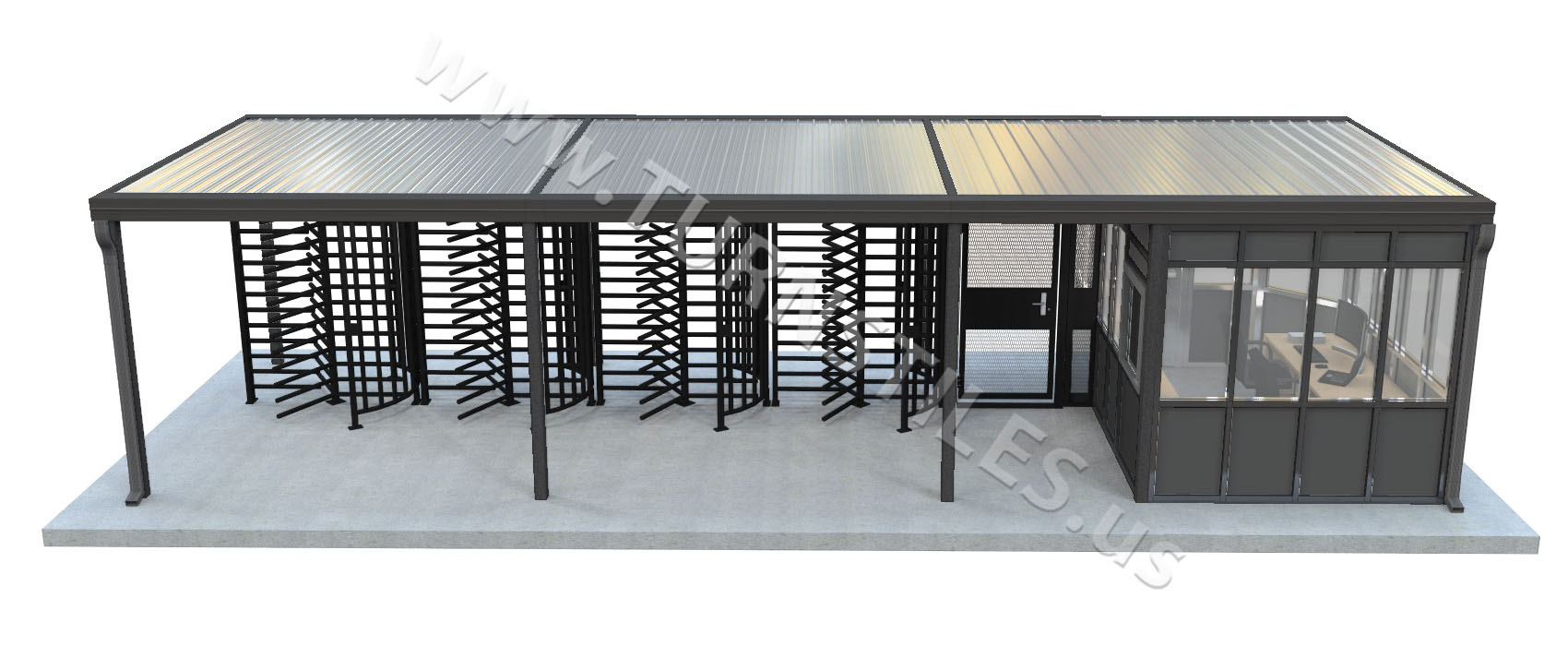 High-Security Entrance and Exit
Man Trap Cubicle Enclosures
What are some of the benefits of having turnstiles? Every building needs an entrance. To add security and control to a typical door, you may add keys, locks, cards, etc. While readers and locks require a valid credential to gain access, they cannot control how long the door is open or how many people enter through it once it is open. A turnstile only allows one person to pass through an entrance at a time.
What are Tailgating and Anti-Tailgating? 

Unauthorized individuals can follow authorized personnel through an open door, resulting in a common security issue referred to as 'tailgating.' Further, a door cannot isolate the direction of authorized passage. For example, if a door is activated for an exit, it will not prevent an unauthorized user from entering through the open door. Anti-Tailgating applies the principle of a turnstile to a door, by sending an alarm if someone comes in through the 'exit' door, or otherwise tries to enter unauthorized.
How many people can pass through a turnstile per minute? See the answer to question 5 above. The average time it takes a person with an ID to enter a turnstile is five seconds. Throughput of a full height turnstile is about ten people per minute (ppm), Full Height ADA Gate is 12 ppm, a Full Height Man Trap 3 ppm. Motorized waist-high gate about 6 people per minute. Typically, motorized gate timing is programmable – It takes 2 seconds to open and 1 second to close; we recommend ADA gates be set to stay open for 7 seconds. Optical sensors respond immediately and offer faster throughput than motorized automatic gates without optics/photo beams. Optical speed gates can allow 30 people per minute with a walk-through passage.

What are the services offered by TURNSTILES.us? We supply industrial grade protection and security equipment and provide turnkey turnstile services including concept design, drafting, engineering, compliance, and installing turnstile systems with access control. 
What is the average lead time for a turnstile? Production, testing, crating, and shipping of turnstiles may take 4-10 weeks, depending on the level of customization required for your order. Timelines for complete system solutions vary by complexity of the project – we stay with you through every step of the way. Some units are currently in stock and can ship much sooner. Contact us to find out the lead time for a particular product. See our In-Stock page for updates on inventory available soonest.
What is the average lead time for installation? Book an installation day that works with your project schedule. We advise that you consult with us early on, and depending on the complexity and location of your project, book an installation accordingly. On average, technicians are 30-90 days out to perform an installation. Rush jobs are possible which require a minimum of 14 days notice.
What support does TURNSTILES.us offer after my purchase? We provide telephone and remote desktop support and software updates free for one year after the purchase of our EntraPASS Software and other qualifying products. If you book an installation with us, we train you and your staff on equipment operations to ensure you are satisfied with your new system and are familiar with its features.
What is the most common shipping method? FedEx Freight and DHL are frequently used within the continental US and internationally. Ground, Sea, Air. We transport turnstiles and gates worldwide and can provide a quote for shipping your site on request.
What are the available financing options? Financing is available; we refer clients to Vince at Merrimac Capital, who specializes in industrial equipment lending at great rates – with outstanding personal service. Click Here to read more.
Thank You for Visiting TURNSTILES.us