Description
The RD70 Monitor is a stylish, three-vane, revolving-door-type high-security portal. It's designed for locations requiring improved visitor security, or as the barrier between production and office areas. Instead of a traditional physical barrier to prevent passage in the wrong direction, this model features an ultrasonic sensor to enforce traffic flow, and also reduces wind and noise transfer between connected areas. These units will perform the same way a traditional full height turnstile does with a less imposing look. It's available in a clear anodized or dark bronze finish (Clear Lexan). Ideal for many indoor applications, this unit can have a significant impact on reducing the effects of noise and wind.
DOCUMENTATION
Data Sheet
Installation Manual
Footprint Drawing
Assembly Drawing
Accessory Documentation:
Data Sheet – T-36 ADA Door
​Data Sheet- Anti-Tailgating
Drawing – RD70 with Anti-Tailgating

DRAWINGS & DIMENSIONS
Dimensions

| | |
| --- | --- |
| EXTERIOR HEIGHT | 91.000″ |
| INTERIOR HEIGHT | 84.000″ |
| DIAMETER | 72.284″ |
| PEDESTRIAN CLEARANCE | 29.750″ |
APPLICATION/USE
Interior Use
Ideal for separating offices from production areas, lunchroom entrances, call centers and is used to enhance lobby vestibule entrances
Three-vane, tamper-resistant with the aesthetic appearance of a revolving door
These units offer a modern, open feel while providing a secure full height portal
Designed so that inbound and outbound traffic flows through in the same area of the portal
An ultrasonic sensor is installed into the canopy to act as a barrier preventing wrong-way passage
Can be interfaced with optional LCD counters, computer attendance systems, card readers, push-button and wireless remote controls
Access control system integration
OPTIONS FOR THE RD-70
Home Position Switch – Additional limit switch provides a SPDT output while at home for security integration
Proximity Sensor Upgrade – Replaces limit switches with proximity sensors for part longevity
Bi-directional Key Override Set – Only available as fail-open
Card Reader Mounting Plate/Enclosure (1 per electronic direction) – For mounting most standard card readers
Daylight Visible Indicator Lights – A tri-color (R/G/Y) indicator light. Most models only use R/G.
Single or Double Push Button (installed on-site)
One Channel 900 MHz Wireless Receiver (one per direction)
One or Two Button Wireless Key Fob Transmitter
Metal Detection Portal – HI-PE walk-through multizone metal detector integrated into turnstile with a remote relay unit that locks the turnstile upon alarm to disallow entry
Optical Anti-Tailgating Detection – Adds an extra level of security by locking the unit and sounding an alarm in the event of a second person following another without presenting credentials (available on the inbound direction only)
Cold Weather Package – Includes thermostat-controlled heater and insulated mainframe
*Additional options are available upon request.
CONTROLS / CONFIGURATION
Electronic Both Ways only
Due to the unique design of this unit, it should either "fail open" or "fail lock" in both directions
(not one of each direction)
*Fail Open is strongly recommended. This means that the door spins freely in the event of power loss.
INSTALLATION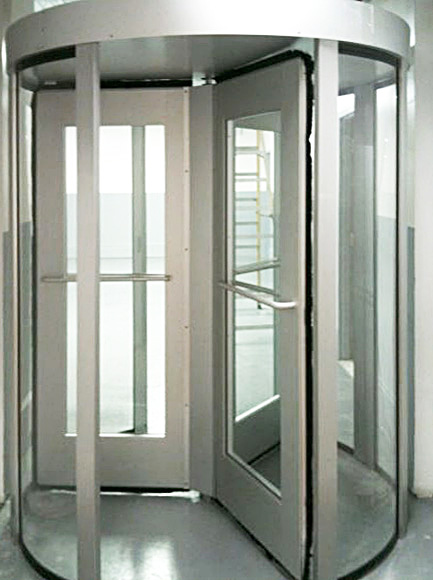 Above: RD70 Monitor Turnstile Installation at American Bank Note ABCorp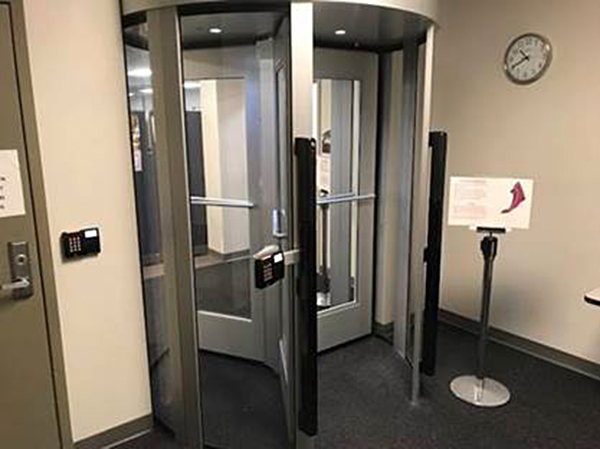 Above: RD70 with Optical Anti-Tailgating System and Readers on Turnstile and Door
This turnstile operates with the durable 6500 Series Control Head (Included with RD-70).
This flexible, easy-to-service modular control system allows for our units to be configured to meet your unique security needs.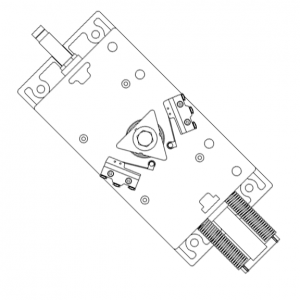 *Please note the price listed is equipment cost. Shipping is charged separately. Contact us for a freight quote.