Description
The powerful 6500 Series Control Head electronically operates a wide variety of turnstiles and gates.
Factory configurations include:
Electronically controlled in one direction, manual (free passage) in the other direction
Electronically controlled in one direction, locked in the other direction
Electronically controlled in both directions
In case of power failure, control heads may be configured to be fail-lock (secure), fail-open (safe), or any combination of the two for no additional charge.
A key-override option is also available to give you the ability to unlock your turnstile with a simple key turn.
DRAWINGS & DOCUMENTATION
Data Sheet – 6500 Control Head
Installation Manual – 6500 Control Head
Home Position Switch Diagram – 6500 Control Head
MECHANICAL OVERVIEW
Auto indexing to the home position (self-centering)
Adjustable hydraulic shock suppression
Permanently lubricated sealed bearings
Oil impregnated bronze bushings
Hardened steel locking bars, cams, and rollers
Stainless steel pistons
Cast aluminum housing
Modular design – removable as an assembly for easy maintenance
ELECTRICAL OVERVIEW
Bidirectional access control inputs
Integrated fire alarm inputs
Fail lock or fail open configurations (direction independent)
Adjustable re-lock timers for swipes with no passage
Adjustable swipe queue for quicker traffic flow
Integrated "one-shot" inputs for simplified access control integration
Additional outputs for options integration
Auto-selecting 100-240 VAC voltage input for easy international installation
Text-based user interface with onboard testing buttons
Over-voltage/over-current protection adds resistance to electrical issues
Expandable PLC allows for solutions to customized applications
Electrical Specifications
Input Voltage: 100-240 VAC
Input Current: 1.3-.55 A
Frequency: 50/60 Hz
Storage Temperature: -40°-158° F
Operating Temperature: -4°-131° F
(Cold weather package available)
Operating Voltage: 24 VDC
Operating Current: 1.2 A (typical)
Directional Inputs
Normally open contact closure
(Form C relay, 1-second pulse)
Fire Alarm Input
Normally open contact closure
(Form C relay, closed for duration)
OPTIONS & ADD-ONS
Bidirectional key overrides
Direction status indicator lights (daylight visible or LED graphic array)
8 digit key resettable digital counter with 7-year lithium battery
Cold weather upgrade: insulated mainframe with thermostat-controlled heater
Contactless proximity sensor upgrade (replaces limit switches to re-lock unit)
Home position switch for access control integration
12 Ah battery system (2x 12VDC batteries with 2 amp 24VDC charger)
Additional options available upon request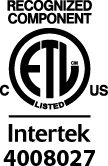 The 6500 Series Control Head is certified by Intertek to conform to the following standards:
UL 294, UL 325, UL Subject 2593, CAN/ULC S319 and CSA C22.2#247.

*Contact us for a freight quote.