Description
The T36-ADA is a solution for projects requiring an aesthetically pleasing interior security door. This self-closing unit provides wheelchair accessible 36″ passage width (OD 40″). It is a "heavy-duty" stile and rail door that can withstand high traffic and abuse. Its low voltage strike lock can be used mechanically or electronically depending on your needs.
The T36-ADA Aluminum and Glass Door is frequently paired with the Tiffany Series T80-Single, T80-Tandem, P60, and RD70 aluminum-polycarbonate clear turnstile portals.
DRAWING & DIMENSIONS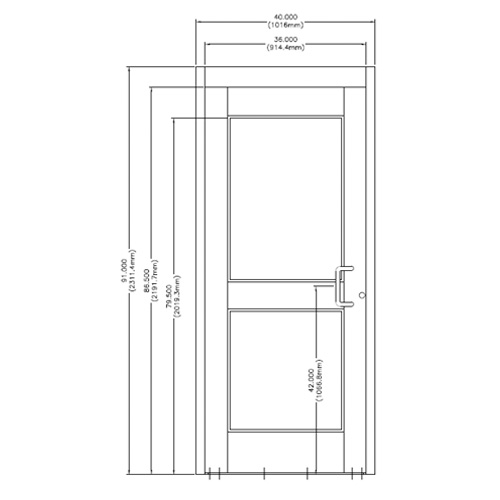 APPLICATION/USE
Interior Use
Reversible electronic strike can be set to lock or open on power failure
Gate can also be unlocked with no power by configuring the strike to fail lock by using a key
Gate automatically swings closed with standard hydraulic door closer
Voltage for electronic strike can be taken from nearby turnstile power supply
OPTIONS FOR THE T36-ADA ALUMINUM AND GLASS DOOR
Reach prevention mesh
Panic Bar Hardware – Latch Paddle – Adds a latch paddle to the exit side of the gate for free passage (mesh models only)
Panic Bar Hardware – Full Panic Bar – Adds a panic bar to the exit side of the gate for free passage (mesh models only)
Panic Bar Upgrade – Signal Monitoring Switch – Adds a SPDT switch to mirror panic bar status with wire transfer kit to feed wires from door to frame
Panic Bar Upgrade – Battery Powered Alarm
Motorized Door Opener – Adds 3" to overall height of door
Magnetic Lock – Can replace the strike lock if requested
Card Reader Mounting Plate/Enclosure (1 per electronic direction) – For mounting most standard card readers
Request to Exit ADA Placard Button with Plastic Surface Mount Enclosure – Rectangular or round
Single Push Button (installed on-site)
One Channel 900 MHz Wireless Receiver (one per direction) – Must be mounted remotely
Wireless Key Fob Transmitter (1 button)
24 Volt Power Supply (if being used electronically and not purchased with a turnstile)

*Contact us for a freight quote.