Description
Turnstar's range of physical access control products includes durable special needs gates and wheelchair gates, available with automatic and manual opening configurations. We offer full-height security gates and waist-height 90° and 180° opening gates. They provide controlled access and unassisted closing for all needs, whether for a cart, wheelchair, or baby buggy. Our automatic special needs gates offer a great solution for high-volume installations that require unassisted automatic opening and closing. We'll make sure you are supplied with a state-of-the-art product designed by professional engineers, which will provide years of fault-free performance.
The PAG180 PULSE Automatic Gate is a tastefully designed waist height semi-automatic 180° opening gate – fitted with a solenoid locking mechanism and door closer. The standard walkway is 850mm, and the width is 1219mm. Operation is smooth, reliable, low-maintenance, and ready to integrate with card scanners, temperature detection, intercom, or other access control devices. Its stainless steel pedestal houses a sturdy locking mechanism built for long-term performance. These swing gate entrances are used in locations requiring nice-looking, intelligent management of pedestrian passage such as in a nursing home, daycare, spa, medical office, lobby, hotel, museum, casino, etc.
Data Sheet – PULSE Automatic Gate
FEATURES
Waist-high automatic 180° opening special needs gate
Suited for applications requiring medium volume access and low levels of security
Provides controlled access and unassisted opening and closing
8mm toughened frameless glass
304 Brushed Stainless Steel Finish
OPTIONS
Stainless Steel frame Option
Matching Post and Glass Filler Panels
Access Control Terminal Posts
Integrated Readers/Scanners/Credential Access
DRAWINGS & DIMENSIONS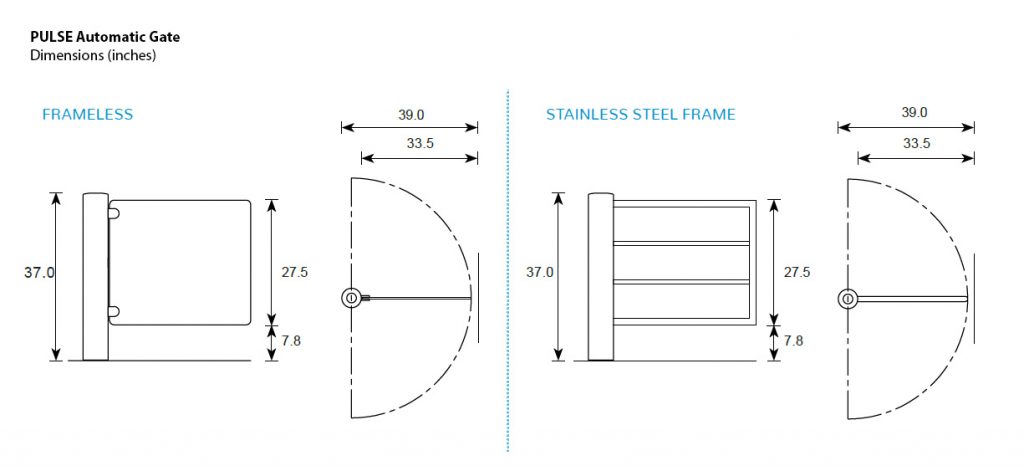 Installation Services Available
See our Portfolio of Work Here

*Please note that freight is not included and will be charged separately. Worldwide freight is available by sea/air/ground. Contact TURNSTILES.us for a personalized quote.