Description
The Brute Series units operate reliably with high traffic volumes where cost is an important consideration. The BR5500-ADA is an ADA-compliant swing gate with this series. The BR5500-AA-HD Heavy-Duty waist ADA swing gate (heavy 7-gauge carbon steel cabinet) is built to last and designed specifically for ADA applications in demanding retail and commercial environments.  The standard color is black powder coat baked polyester enamel with Stainless Steel Top — custom colors are available and can be quoted upon request.
These turnstile cabinets can be interfaced with optional LCD counters, card readers, push-button, and wireless remotes.
Data Sheet – Brute Series Turnstiles
More Documents
Data Sheet – BR5500 Brute Series Portable Turnstile
Installation Manual – BR5500 Brute Series
Drawing – BR5500-S Tripod
Drawing – BR5500-P Portable
APPLICATION/USE
Interior or exterior use
Ideal for high traffic volume areas (ex. schools, stadiums, retail, or anywhere else you need reliable, basic control) where cost is an important consideration
Can be interfaced with optional LCD counters, computer attendance systems, card readers, push-button and wireless remote controls
Integration to existing or our EntraPASS Access Control System
OPTIONS FOR BRUTE SERIES
Home Position Switch – Additional limit switch provides an SPDT output while at home for security integration
Proximity Sensor Upgrade – Replaces limit switches with proximity sensors for part longevity
Bidirectional Key Override Set for Manual or Electric 2-Way Units – Allows the turnstile to be locked independently in each direction with a turn of a key
Daylight Visible Indicator Lights – A tri-color (R/G/Y) indicator light. Most models only use R/G.
Request to Exit ADA Placard Button with Plastic Surface Mount Enclosure – Rectangular or round
Custom Arm Lengths (up to 40" for ADA models only)
8 Digit Key Resettable LCD counter with 7 year Lithium Battery
Single or Double Push Button (installed on-site)
One Channel 900 MHz Wireless Receiver (one per direction)
One or Two Button Wireless Key Fob Transmitter
Battery Back-Up – 12ah battery kit with 2x 12VDC batteries & 2 amp 24VDC charger
Straight Arm Instead of U-Arm (BR5000-ADA model only)
BR5000-ADA-P models feature a base plate, wheels for easy movement, and a curved bar for lane creation
BR5500-ADA-HD model is a super heavy-duty design
CONTROLS
Manual Both Ways
Manual One Way / No Passage in Opposite Direction
Electronic One Way / Free Exit
Electronic One Way / No Exit
Electronic Both Ways
*Each electronically controlled direction can be configured as FAIL LOCK (fail secure) or FAIL OPEN (fail-safe) upon power loss
INSTALLATION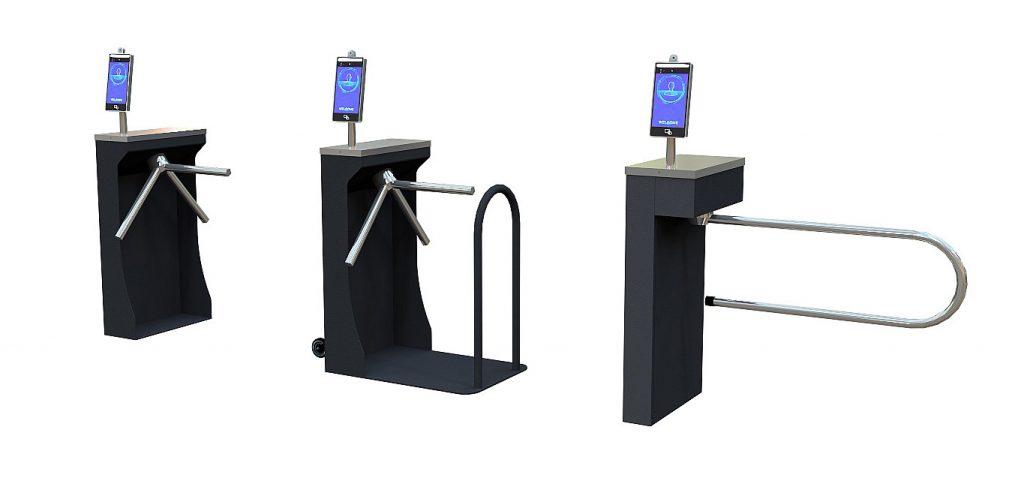 Shown here with an access control reader mounted on top
BR5500 turnstile installation is available – see our Portfolio of Work

*Contact us for a freight quote.