Description
The IX Series is a network-based communication and security system featuring video entry security, internal communication, internal communication, and paging. All units and apps in the systems can unlock doors remotely on a network, assist onsite visitors from an offsite location, broadcast emergency announcements, and communicate using a PoE network. The IX-MV is an IP addressable video master station with a 3.5″ color LCD monitor. It can be wall or desk mounted (desk stand included). The IX-MV offers handset (duplex) and hands-free (VOX/PTT) communication and calls up to 500 other IX units. It connects directly to a network using CAT-5e/6 cable. This station requires an 802.3af compliant power-over-ethernet network.
Data Sheet – IX Series Audio & Video Intercom Systems
Literature – IX Series Audio & Video Intercom Systems
Operation Manual – IX MV Audio & Video Intercom Master Station
Web Setting Manual – IX MV Audio & Video Intercom Master Station
IX-MV MASTER STATION
IX-MV Original IX Series Video Master Station
PoE Connection
500 station address book capacity (Scalable over 500)
Hands-free communication with handset for privacy
Wall or desk mount
One of the most powerful intercom systems in the security industry
The IX Series integrates some features controllable through Modules including:
Programmed Alerts

Automatic intercom call-in to security following failed card swipe
Video + Audio Streaming

Monitor activity at IX Series video stations on an OnGuard display
Intercom Station Status

Perform system health checks and easily identify offline stations
View which stations are idle, queued, or in communication

Event logging
Review station event history
Review error logs
Companion IX-DA DOOR STATIONS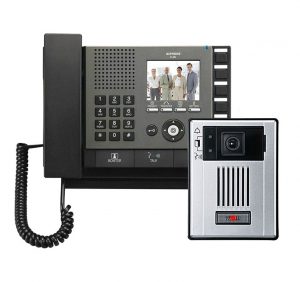 The IX-DA Door Station is an IP audio/video terminal for your secured door or entry. It communicates by intercom with the IX Series Master Station. This surface mount unit connects to a PoE network using CAT-5e/6 cable. The IX-DA will call up to 20 IX-MV masters or Instances of the IX MOBILE. The door station features a form C contact for door release, a 600-ohm output for paging or an amplified speaker, and a contact input.
Product  – IX-DA Audio & Video Door Station
Data Sheet – IX-DA Audio & Video Door Station
Installation Manual – IX-DA Door Stations
TURNSTILES.us INCLUDES
Programming and Video Systems Integration with selected options from Turnstiles.us and EntraPASS.us
1 Year of Telephone and Scheduled Remote Desktop Support