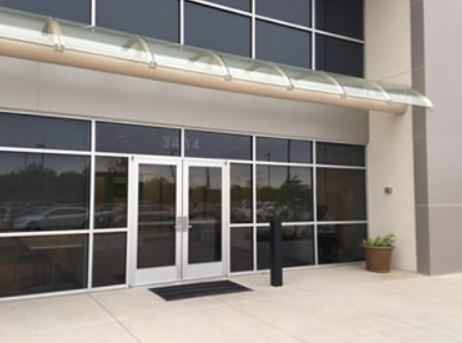 Our client had us modify their entryway using a set of our refurbished sliding glass barrier Optical Turnstiles.
This project allowed us to take photos but the client does not want their name used.
You can see the process of our work here in ACD Dallas, Texas and at their other locations. 
Start Date: 02-17-17 – End Date: 02-24-17
Optical Turnstile Entrance Installation Locations:
L1 – ACD Dallas TX
L2 – CBD Dallas TX
L3 – Clark NJ
L4 – McCalla AL
L5 – Monmouth Junction NJ
L6 – Manchester PA
Complete Custom Entrance Solution with Optical Turnstiles
Scope of Work Agreement
— Remove the existing tile flooring and dispose in owner-provided dumpster
— Place your Turnstiles in the location as shown on the signed AutoCAD Drawing
— Trench the flooring and place conduit in the trench for your Electrician and Low Voltage Contractors
— Wire the cabinet controllers from the Main Cabinet to the Slave Cabinet
— Replace the tile flooring with tile provided by client
— Build a partition wall at the Turnstiles with aluminum fencing provided by client
— Measure for glass and provide your glass contractor the dimensions of the new glass to install
— Relocate your existing aluminum, glass and door as shown on the signed AutoCAD Drawing
— Build new walls, frame, drywall, mud, tape, and paint
— Install new carpet tiles provided by client
— Test the system to show operability
Completed Work - February 24th, 2017
Automatic Systems Optical Turnstiles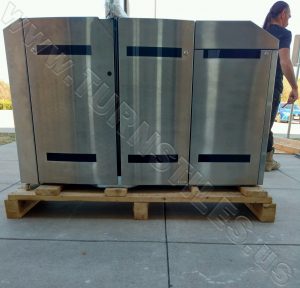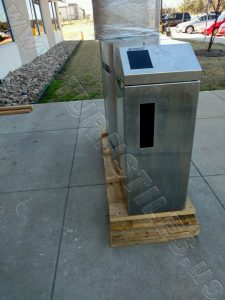 – Previously owned units from UsedTurnstiles.com
– Automatic bidirectional security entrance lane with one extension, equipped with retractable tempered glass barriers
– Throughput: Up to 60 people/minute
– Stainless Steel Cabinets
– Clear Tempered Glass
– Compatible with EntraPass Access Control System
Thank You to Everyone in Texas
"Hello Patrick! The turnstiles are beautiful… and they work!
The Moses are on their way back to Colorado…. And I miss them already!
Unfortunately the alarm folks never showed up to hook up the fire alarm into the system so for now I have to leave the turnstile open. The glass guys are coming with the tempered glass and the film sometime in the next two weeks.
Thank you again for taking such good care of us."