Description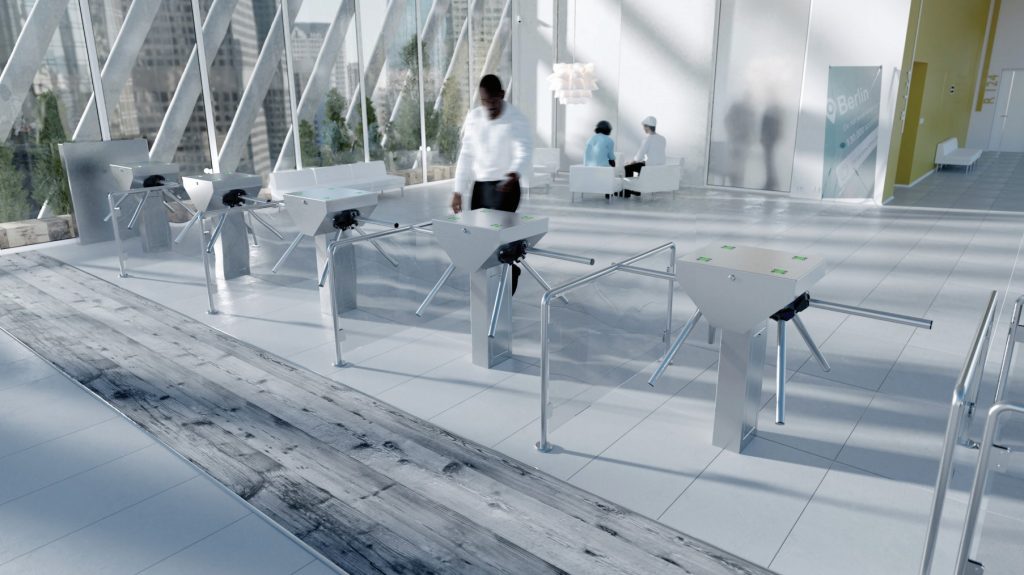 The BR2-STI2 waist-high double tripod turnstile assists pedestrian access control at guarded passageways inside of buildings. It features an arch-style body with rounded ends and smooth three-arm rotation with an optional drop-arm function. Examples of use: points of ticket control and access control for passenger traffic, airports/seaports, passages for authorized personnel, directing passenger traffic, points of access control in secured buildings (e.g. state offices such as border crossing points, other services), points of ticket control and fees at museums, theatres, cinemas, exhibitions, fair areas, show facilities, paid toilets, points of ticket control at sports facilities, e.g. swimming pools, stadiums, other sports and show facilities, access and time attendance control points in working places, e.g. offices, dedicated areas in factories.
APPLICATION
Ideal for hospitals, schools, shops, airports, seaports, travel stations
Passages for authorized service personnel, directing passenger traffic
Control points for permission to enter protected buildings (e.g. government offices, border crossings, ministries, other services)
Ticket sales and control points in museums, sports facilities (e.g. stadiums, swimming pools, etc.) theaters, cinemas,
exhibitions, fairs, entertainment venues, other sports and entertainment facilities, and where applicable, pay toilets
Access control and work time registration in workplaces, e.g. offices, factories, separate zones in workplaces, etc.
FEATURES
Three-arm arch-shaped turnstile is impressively built and has a strong, modern aesthetic.
EASY SETUP: A control panel equipped with a display and a multi-function selector allows easy setup of functions and operating modes.
LED PICTOGRAMS: Led pictograms show active/inactive traffic directions in the passage. The red color shows the inactive/blocked traffic direction (the device blocks the passage). The green color shows an active/unblocked traffic direction.
WORK MODES: The device has a number of operating modes, e.g. uni or bi-directional traffic control.
PRECISE MEASUREMENT SYSTEM: The device is equipped with an electronic rotor position detection system that allows the control unit to precisely control the locking system as well as smooth motion of
the arms (available in the model with an electro-mechanical arm movement booster).
ARM-DROP SYSTEM (OPTIONAL): The automatic arm-drop system in case of a power failure is available for models with the drop-arm module.
ARM MOTION BOOSTER: The device is equipped with an electromechanical arm rotation booster. It consists of a motor drive, safety clutch, and speed transmission. The motion speed can be varied for smooth operation depending on the rotor position.
FINISH CHOICES
Standard in Stainless Steel (INOX)
RAL Powder Coat colors available upon request

DRAWING & DIMENSIONS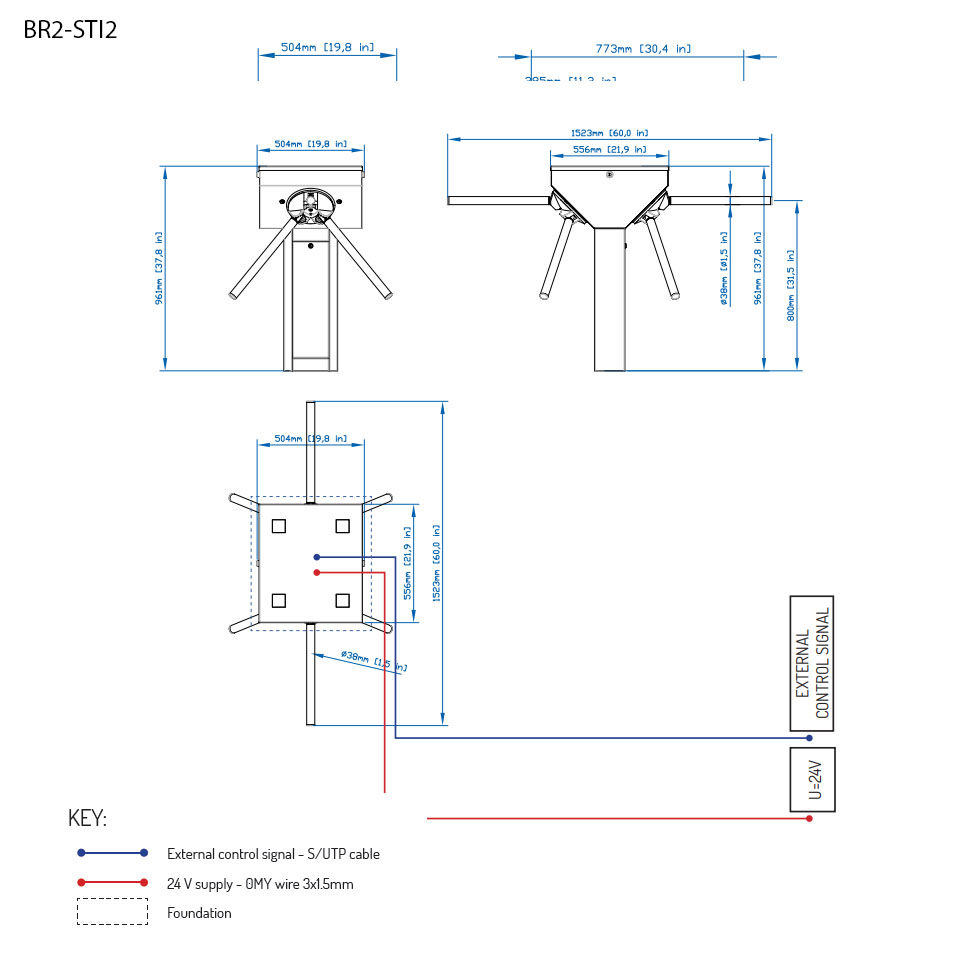 SPECIFICATIONS BR-STI2:
Power supply voltage: 24 V AC
Peak current: 120 W
Minimum power consumption: 5 A
Control signal: max. 1 sec
Feedback signal: 0V
Operating temperature: -20° to +50° C [-4° to 122°F]
Storage temperature: -30° to +60° C [-22° to 140°F]
Relative humidity: 10-80%
Operating environment: inside/outside of buildings
IP protection rate: IP 43
Net weight: ~75kg [65 lb]

*Contact TURNSTILES.us for delivery and freight information.
See our Turnstile Installation Portfolio