Description
The PassThru Series waist-high turnstiles are high traffic volume units crafted in 304 stainless steel. This model is portable and provides the largest passage area (18″ arm) of any of our waist-high units.
Data Sheet – PTS PTR PTZ / PassThru Series
Production Worksheet for Manufacturing – Tripod
APPLICATION/USE
Interior or exterior use
Ideal for managing high traffic volume areas where you want a more "open" look
Fashionable bridge/arch style cabinet
This unit features our longest turnstile arm (18")
Can be interfaced with optional LCD counters, computer attendance systems, card readers, push-button and wireless remote controls
Nearly universal integration to any number of access control systems
OPTIONS FOR THE PASSTHRU SERIES
Home Position Switch – Additional limit switch provides an SPDT output while at home for security integration
Proximity Sensor Upgrade – Replaces limit switches with proximity sensors for part longevity
Bidirectional Key Override Set for Manual or Electric 2-Way Units – Allows the turnstile to be locked independently in each direction with a turn of a key
Daylight Visible Indicator Lights – A tri-color (R/G/Y) indicator light. Most models only use R/G.
8 Digit Key Resettable LCD counter with 7 year Lithium Battery
Single or Double Push Button (installed on-site)
One Channel 900 MHz Wireless Receiver (one per direction)
One or Two Button Wireless Key Fob Transmitter
Battery Back-Up – 12ah battery kit with 2x 12VDC batteries & 2 amp 24VDC charger
Card Reader Mounting Option – Recessed into the lid (per lid, up to 2 readers) – PTR & PTZ models only
Add a Steel Backplate to Turnstile
FINISH
Cabinet: 304 Stainless Steel / Satin Finish
Top: Stainless Steel
Arm: Stainless Steel
DRAWINGS & DIMENSIONS
PTS-P Portable Tripod:
Item weight: 215lbs each
Turnstile

Height: 38.250″ (971.55mm)
Width: 26.625″ (676.275mm)
Depth: 36.625″ (930.275mm)
Base: 8.000″
Arm Length: 18.000″

Portable Base

Slim design with Railing
Two wheels on the back, tilt and roll like a wheelbarrow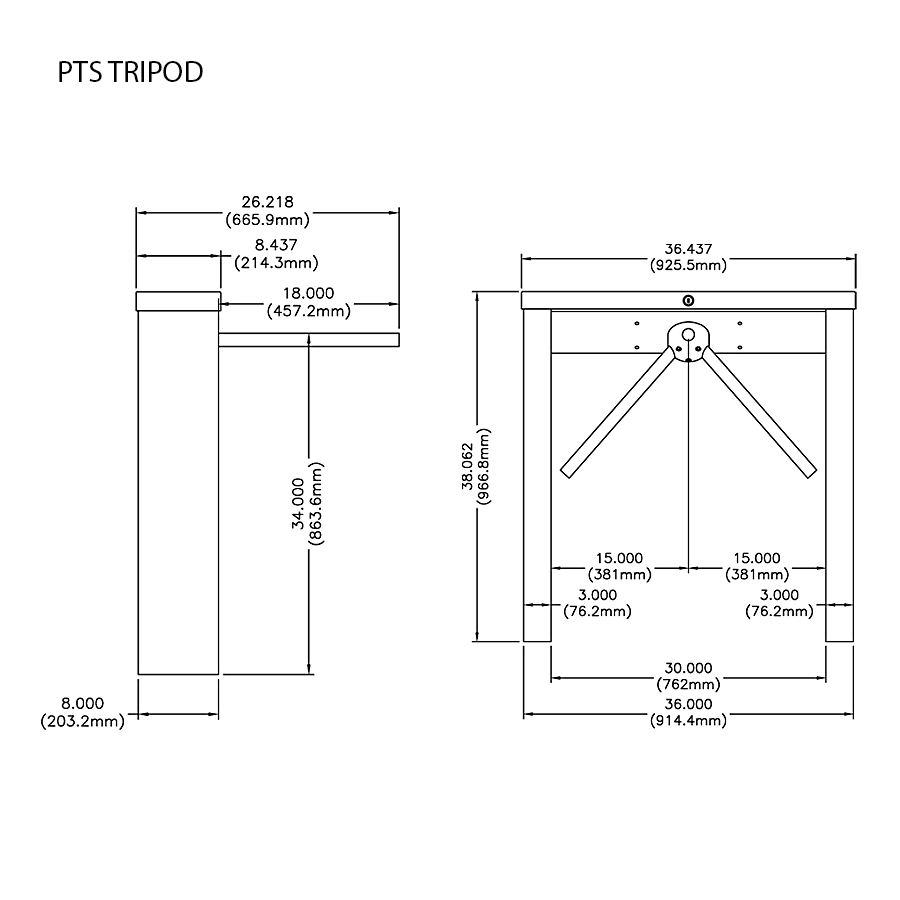 *Please note Freight is not included and will be billed separately. Contact TURNSTILES.us for more information.