Description
The FP-ADA-P FastPASS Portable ADA Swing Gate is made for years of reliable service in high traffic/volume applications like stadiums, convention centers, museums, theatres, stores, schools, student/employee lunch lines, and more. The cabinets are constructed of heavy 14-gauge, 300 series satin stainless steel and feature our 6500 Series Control Head (with auto-indexing and shock suppression technology). This model is conveniently portable, durable, and has an exclusively designed Cable Raceway Platform. The heavy-duty aluminum platform with railing conceals wiring, eliminates the need to drill into the floor, and provides a nonslip walkway surface.
Data Sheet – FP500-ADA Swing Gates
Installation Manual – FP500-ADA Swing Gate
Production sheet for Manufacturing – Portable Swing Gate
FEATURES
FP500-ADA-P Swing Gate Turnstile
Stainless Steel Finish
Can be programmed for entrance and exit
36-39″ Passage Width (36″ arm and 2-3″ gap to the railing)
ADA-Compliant Cable Raceway Platform
2 Wheels on the back (Tilt and roll the unit like a wheelbarrow)
Portable Gate can be moved when necessary (ex. outside during the day, bring in at night)
ADDITIONAL OPTIONS
Home Position Switch – Additional limit switch provides a SPDT output while at home for security integration
Proximity Sensor Upgrade – Replaces limit switches with proximity sensors for part longevity
Bidirectional Key Override Set for Manual or Electric 2-Way Units – Allows the turnstile to be locked independently in each direction with a turn of a key.
Daylight Visible Indicator Lights – A tri-color (R/G/Y) indicator light. Most models only use R/G.
Request to Exit ADA Placard Button with Plastic Surface Mount Enclosure – Rectangular or round
Custom Arm Lengths (up to 40" for ADA models only)
Lexan Arms (FastPass and Executive Series ADA models only)
8 Digit Key Resettable LCD counter with 7 year Lithium Battery
Single or Double Push Button (installed on-site)
One Channel 900 MHz Wireless Receiver (one per direction)
One or Two Button Wireless Key Fob Transmitter
Battery Back-Up – 12ah battery kit with 2x 12VDC batteries & 2 amp 24VDC charger
Variable Speed Self-Opening Motorized Arm (with safety clutch to prevent injury)
ADA Signage Bracketry – Bracketry on the U-arm for mounting your sign to. Sign size 15″ x 10.4″
Wave to Exit sensor – A touch-free sensor that activates the unit with a hand wave motion
Power Receptacle – External power receptacle that allows units to be plugged in w/ extension cord
CONTROLS
Manual Both Ways
Manual One Way / No Exit
Electronic One Way / No Exit
Electronic Both Ways
*Each electronically controlled direction can be configured as FAIL LOCK (fail secure) or FAIL OPEN (fail-safe) upon power loss
DIMENSIONS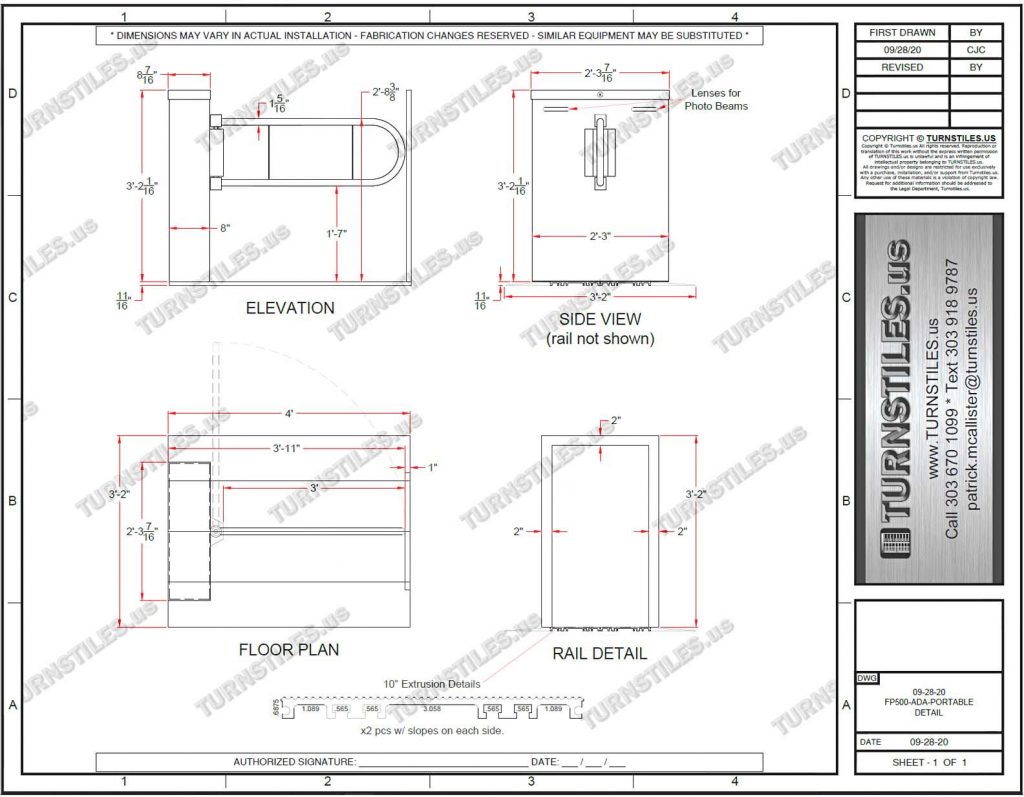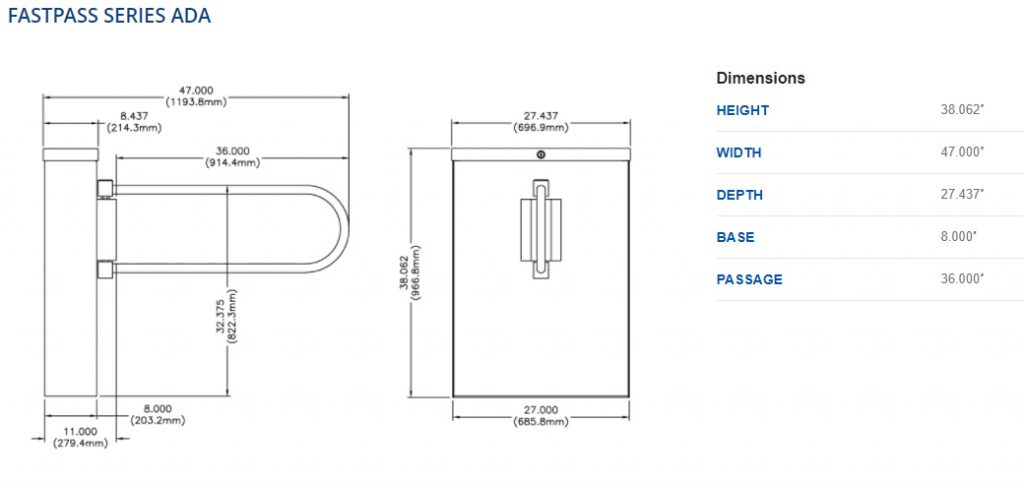 CUSTOMIZATION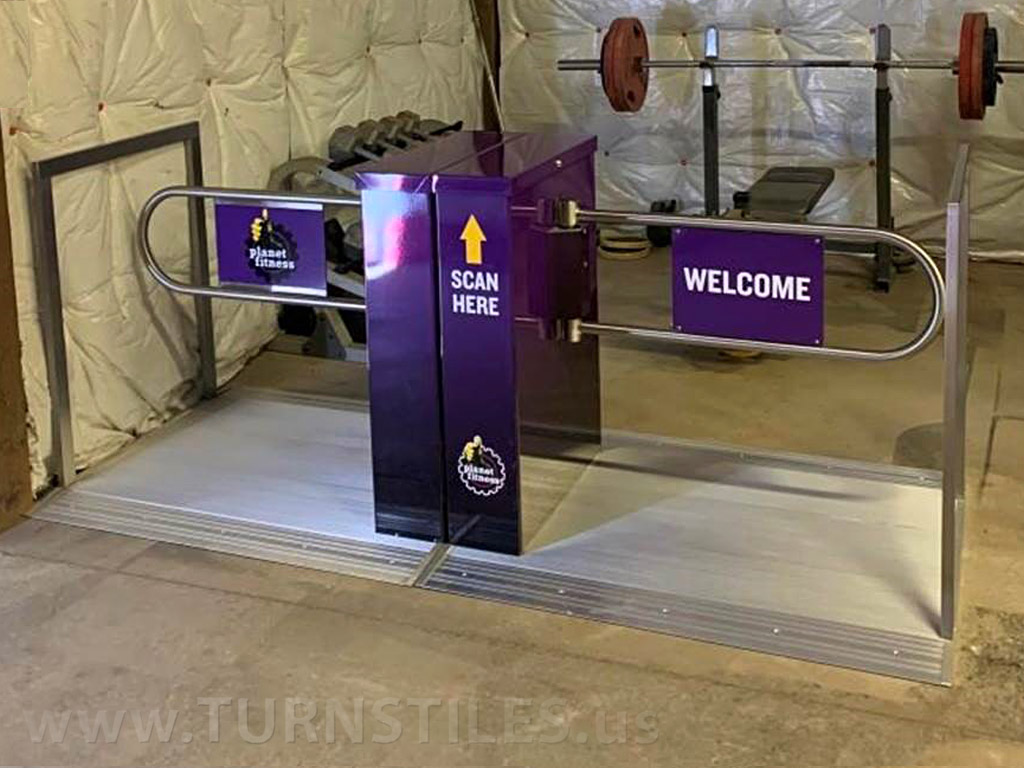 See more pictures from this project: Planet Fitness Portable Swing Gates
*Please note costs listed are for equipment only and freight is charged separately. Contact us for a freight quote.