Description
The SBT1000S single-lane swing barrier turnstile is a compact and elegant, cost-effective entrance control system with a wider lane than traditional turnstiles. The turnstile gate performs a smooth and silent swing and draws very little power. It's made of stainless steel, which makes the unit highly durable. SBT1000S is designed to restrict access to areas for which ADA access is required. The acrylic barrier is normally held in a locked position, denying passage to the secured side. Upon the SBT1000S reader (RFID and/or biometric) positively recognizing a user's valid access card or biometric credential, its barrier swings open automatically, allowing users passage to the secured side. The standard configuration ships with a tempered glass barrier. However, the option for a stainless steel bar (clip gate) is also available.
Data Sheet – SBT1000S Series Swing Barrier Turnstile
FEATURES
Durable: SUS304 Stainless Steel Housing, Choice of Barrier Acrylic or Stainless Steel Bar
Compact: Slim design with smooth and silent operation
Convenient: Easily integrate your access control reader of choice for an easy, secure entrance experience
Bi-directional swinging gate
LED indicator light
Emergency Button Input
High quality at an affordable price
Low power consumption
Wide range of accessories
Easy and simple installation process
Easy to maintain and monitor
SPECIFICATIONS
Operating Temperature: -18 °F to 140 °F
Power Consumption: 16W (starting), 9W (standby), 30W (unlock)
Indoor/Outdoor (when sheltered)
Lane Width: 3 feet (900mm)
Traffic Throughput: 10 passages per minute
Dimensions (H x W x D): 40 x 8 x 43 inches
Gate Weight: 68 lbs
Material: SUS304 Stainless Steel and acrylic or stainless steel barriers

DRAWING & DIMENSIONS
 
INSTALLATION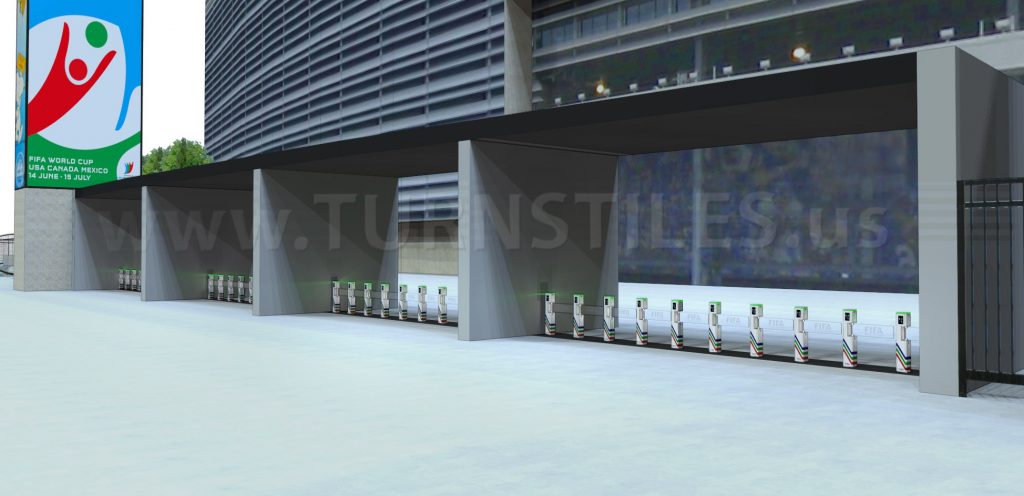 See more photos from this project here.

Fitness Center RFID Entrance – See more photos of this project here.
Installation Services Available
See our Portfolio!
*Please note: Freight is not included and will be billed separately. Contact us for a quote.