Description
The WebRelay Ethernet Protocol Relay is designed for convenient and continuous duty. WebRelay provides reliable remote relay control and discrete signal monitoring over any IP network. It can be useful in numerous applications including turnstile control, gate operation, and door lock systems. In addition to its built-in relay, WebRelay has an optically isolated input that can be used to monitor the state of devices, control the relay, or control a remote relay somewhere else on the network.  This feature is useful to extend the output of a PLC to another building or to allow a switch or sensor to control a device at a distant location. This web-controlled relay, programmed through its desktop software interface will work for countless switching applications.
One relay is required per direction through an entrance doorway (a single turnstile requires two relays with bases, a tandem requires four, etc).
Model: X-WR-1R12-1I-I
Brochure – Web Controlled Relay
Data Sheet – WebRelay Ethernet Protocol Relay
FEATURES
Full control using a standard web browser or text-based XML messages
Can operate as a Modbus/TCP slave
Password protected
12A relay contacts
ON/OFF or Pulsed relay modes
Optically-isolated input uses:
Monitoring
Relay control
Remote relay control (peer-to-peer)
Auto-Reboot controller mode for a remote reboot of network devices
Selectable TCP ports
Removable terminal connectors included
DIN rail or wall-mount
Power supply options: 9-28VDC, POE and/or 9-28VDC
Five-Year Warranty
Perfect switching application for turnstiles and doors
APPLICATIONS
Control devices such as pumps, valves, motors, coils, etc. over the web or a local network.
Turn lights on/off while using IP video cameras.
Control electronic door locks and garage door openers.
Monitor gates, doors, windows, etc.
Home automation
Security applications
Remotely reboot computers, servers, etc.
Connect a digital output of any PLC or industrial controller to the input of WebRelay to control another WebRelay device somewhere else on the network.
Extend buttons and switches to control devices from a remote location.
Connect a WebRelay unit to a door sensor at your office, factory, store, etc.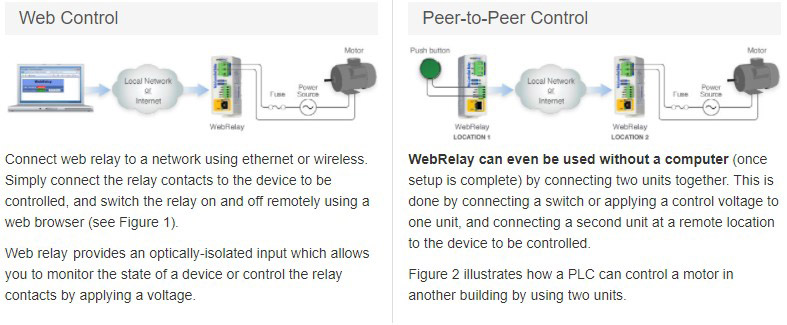 DIMENSIONS
Physical Size:

1.41in (35.7mm) wide
3.88in (98.5mm) tall
3.1in (78mm) deep (not including connector)

Weight:

 5 oz (142 grams)