Description
The Solution for Workplace Security and Wellness
T-Read IXM is powered by the cutting-edge Snapdragon 820 processor to achieve the ultimate processing power, connectivity, graphics, face detection, reliability, and battery efficiency. Engineered for the challenges of today and tomorrow, T-Read is a cut above its competitors with room to scale. To meet modern demands in access control, workforce management, and wellness screening, this solution's features promote workplace wellness and entrance security to give employees and management the peace of mind they need to get back to work.
Relevant features include multi-factor authentication using any combination of multiple biometrics (face recognition, finger vein, fingerprint), mobile credentials (digital card, dynamic QR code), and traditional credentials (card, PIN). An unmatched throughput of up to 15-18 people per helps you reduce crowding and improve convenience. The flawless user experience is rounded out by a 21-megapixel camera for face recognition and vital signs screening, a 5 MP thermal camera for temperature screening (with the Enhancement Kit), a 5" Glass LCD for notifications, instructions, and attestation questions, and advanced connectivity options. It provides advanced security and convenience, all on a single affordable device.
Temperature Reader Module Option
The Enhancement Kit is an accessory with an integrated Thermal Infrared (TIR) Camera for detecting Elevated Body Temperature (EBT) in a person. This add-on enhancement aligns with our core values and enhances an already flawless user experience.
Field upgradeable and easy to install, the Enhancement Kit epitomizes our design principles with its optimal functionality.
Available in 2 colors and suitable for both in-wall and on-wall cabling.
FEATURES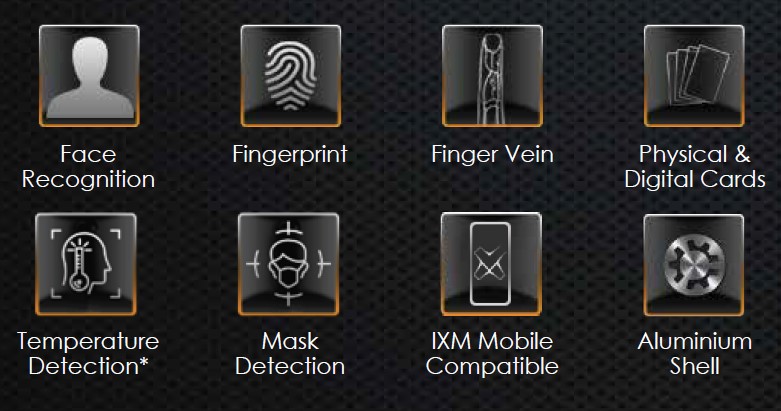 High-Speed Touchless Face Recognition Provides Fast Authentication
Touchless face recognition is a defining feature with a throughput of 15-18 users per minute and a 1:N face recognition capacity of 100,000 individuals. Its signature speed cuts down on the time shift changes or gaining access take, and its touchless functionality helps protect staff and visitors from germs spread by touching common surfaces.
Multimodal Authentication Offers Heightened Security
Why secure your business with one biometric or credential when you can have two? T-READ offers up to 2 biometrics: face recognition and an option of fingerprint or finger vein recognition. Multimodal authentication best suits applications in need of heightened security like financial institutions and data centers.
Mask Detection Allows You To Adhere To Health-Focused Guidelines
In a COVID-19 world, health-conscious managers should do everything they can to eliminate the need for staff and visitors to take their masks off. So, T-READ comes built with functionality to grant or deny access based on if a person is – or isn't – wearing their mask. This feature compounds with T-READ's touchless face recognition to offer face recognition while wearing a mask, allowing for hands-free, mask-on authentication.
Temperature Screening Limits The Spread of Illness Inside Your Building
When paired with the Enhancement Kit, T-READ can perform simultaneous face recognition and elevated body temperature detection at the tear duct – the most accurate location on the body to screen temperature. The Enhancement Kit is an accessory purpose-built with an integrated Thermographic Camera to scan for elevated body temperature during face recognition with a +/- 0.5 ⁰C (0.9 ⁰F) accuracy.
Vital Signs Screening Protects Personnel Health
A feature of our premium software, vital signs screening revolutionizes healthy access by adding multiple new health factors to touchless check-in. Staff and visitors can either use their smartphone or the reader camera to screen heart rate, oxygen saturation, respiratory rate, and more to ensure no one who enters your healthy building shows signs of being unwell.
Custom Attestation Questions Assist With Compliance
T-READ also supports customizable attestation questions for health, safety, and compliance in two ways. First, it can read a QR code generated by the app after attestation questions are remotely completed by your staff and visitors. Second, it can display attestation questions on its LCD to be answered on-site. Ensure your staff is healthy with wellness questions, check to make sure workers are wearing protective gear, and more!
Digital Card Saves Money and Reduces Plastic Waste
To reduce plastic waste and year-over-year (YOY) costs of maintaining a physical-card-based system, T-READ is built to read digital cards.
QR Code Offers a Simple Mobile Access Credential
A simpler alternative to digital cards, T-READ reads QR codes as a credential – either generated by the mobile app for your staff and visitors, or those generated by a third party. Dynamic QR codes will continue to change periodically to protect against credential-sharing, hacking, or theft.
Voice Commands For A Truly Touchless Experience
In our modern, hands-free world, touch screens to gain access, track time, and more are antiquated. To help adhere to modern demands and reduce staff and visitor anxiety over the spread of germs, T-READ supports voice commands to make gaining access or tracking time a breeze.
Rugged Construction Endures The Harshest Work Environments
IP67 and IK10-rated for ingress and impact protection, this solution is ideal for challenging outdoor conditions. Paired with an all-aluminum body for design and effective heat-sink, as well as a 5" Glass LCD, T-READ offers peace of mind that the elements and rugged work environments will not harm your security system.
Software
The companion software is an enterprise-grade, all-in-one solution for easy device and user management. Featuring intuitive workflows and data-driven dashboards that provide a comprehensive summary of the health of your biometric system, it is web-based, user-friendly, and customizable.
DIMENSIONS