Description
The TPW-311BS Semi-Automatic Bridge Style Tripod Turnstile offers security, capability, and sleekness that enhances any entrance. It features a bridge/arch body with three arms that rotate under the cabinet for the widest passage space. Its simple and elegant design features durable stainless steel housing and long-life mechanisms. Low-power consumption and energy conservation. Products are well-researched and each unit goes through strict and careful inspection. This unit is widely used for sites requiring intelligent management for the passage of people – such as in a hotel, airport, school, factory, facility, etc. The equipment is provided with a standard electric interface for integration into a system with write/read facilities such as biometric access control, magnetic card, bar code card, ID card, or IC card.
FEATURES
Tripod Turnstile with Stainless Steel Pedestal
Bi-directional passage, single-file
Semi-automatic (manually push arm allowing one person to pass at a time, then the arms lock)
Rounded Ends with LED indicator lights
The turnstile arm drops to evacuate people in the event of an emergency, such as fire, power failure, etc.
Mechanical anti-clamping functions for safety.
The gate can be pushed slowly when a sudden impact force is applied beyond the safety range so as to protect the machine and the pedestrian effectively.
All electric modules are designed to operate under a low voltage and configured with a residual current protective device for safety.
Main Technical Specifications

1) Power voltage: AC100~240V, 50Hz
2) Operation environment temperature: -15℃~ 60℃
3) Relative humidity: less than 95% not condensed
5) Passing speed: 40-50 person/min
6) Main-board voltage: 24VDC
7) Max current: 5A
8) Working Environment: Indoor/Outdoor
9) Input port: dry contact signal
10) Communications port: RS232/RS485 electric standard, communications range: ≤1200m.
ADDITIONAL OPTIONS
8-Digit Resettable Counter
Built-in Readers (face recognition, fingerprint identification, ID card recognition system, passport scanner, QR code system, etc.)
Integrate with EntraPASS Access Control System, Ticketing, Time and Attendance, Visitor System etc.
More options available upon request
FINISH
304 Stainless Steel
Clear Glass Swing Gate
Green and Red Indicator Lights
Custom Colors available
DRAWINGS & DIMENSIONS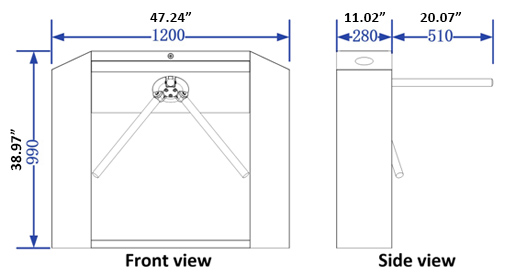 INSTALLATION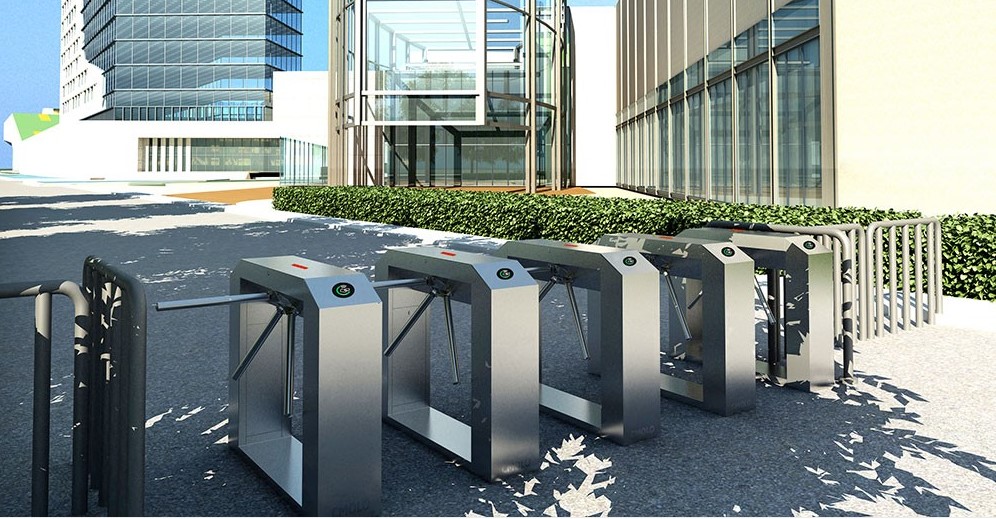 Installation Services Available
See our Portfolio of Work Here

*Please note that freight is not included and is an additional charge. Contact us for a personalized quote.