Description
The housing of super high-panel swing gate turnstile CPW-135Y made of good quality stainless steel is durable; the mechanism modules are imported from international DC brushless motor brand and precise positioning encoder, so as to ensure the gates can move quickly and accurately, stably and quietly, with low-power consumption, energy conservation and environment protection. It is suitable for a commercial building, metro station, airport customs queue, exhibition hall, government building, financial institution, senior clubs and other high-end indoor environments. Contact TURNSTILES.global for more information. Priced per lane.
FEATURES
Extra Tall Glass Panel Swing Gate with Stainless Steel Pedestal
The Turnstile opens automatically to evacuate people in the event of an emergency, such as fire, power failure, etc.
Mechanical anti-clamping functions for protection.
The gate can be pushed slowly when a sudden impact force is applied beyond the safety range so as to protect the machine and the pedestrian effectively.
All electric modules are designed to operate under the safety voltage of 24V, and configured with a residual current protective device to effectively avoid electric shocks.
Main Technical Specifications

1) Power voltage: AC100~240V, 50Hz
2) Operation environment temperature: -15℃~ 60℃
3) Relative humidity: less than 95% not condensed
4) Passage width: 600mm
5) Passing speed: 20-40 person/min
6) Main-board voltage: 24VDC
7) Max current: 5A
8) Working Environment: Indoor
9) Input port: dry contact signal
10) Communications port: RS232/RS485 electric standard, communications range: ≤1200m.

High-panel design: Adopted the high-panel design, it prevents pedestrians from jumping the swing gate, improving the security level greatly; While realizing the anti-crossing, its body is thinner and more beautiful, which can improve the image of the occasion and achieve a smaller occupied space. Starting from mechanical structure optimization and drive control optimization, it successfully solves the problems of operation shaking and mechanism overload that may exist in the common high-panel swing gate turnstile and achieves stable operation, anti-shaking and low noise, which not only ensures the stability and long service life of the turnstile but also provides a good user experience.
All-around Personal Safety Protection

Triple anti-clamping: Super high-panel swing gate turnstile anti-clamping function is advanced technology, including infrared anti-clamping, mechanical anti-clamping and anti-collision by advanced electric current detection, so as to protect personal safety of passengers more comprehensively.
Anti-collision control: When the gates instantaneously encounter an impulse force that is beyond the safety range, the gates can be slowly pushed for some distance to buffer the impact force towards the mechanism and the reversed impact force towards user.
Anti-electric shock: All electric modules are designed to operate under the safety voltage of 24V, and configured with a residual current protective device to prevent pedestrian hurting from avoiding electric shocks.
Turnstile opens under power failures: CMOLO adopts the industry's advanced Power-off Auto-Open Technology. When power is off, the turnstile system will automatically unlock the gates, which can be manually pushed to be open state, so as to evacuate people in the event of an emergency.
Emergency open: Equipped with an emergency escape control device, the turnstile system will automatically open the gates to evacuate people.
Advanced Turnstile Core Technology: Super high-panel swing gate turnstile adopts CMOLO Patent passing detection kernel algorithm and matrix type photoelectric stereoscopic detection technology, it can sensitively detect the behaviors that threaten the passageway safety, such as reversed passing, tail-gating, illegal intrusion and send out audible and visual alarms. The turnstile can be also linked with other security systems.
Strong & Stable Turnstile Control Core: Long Lifespan: CMOLO independent research & development of lossless mechanism structure and high-quality imported DC brushless motor (mechanism core) are configured to ensure turnstile long lifespan.
Turnstile's mechanism & control system has passed a 10 million lifetime test.
Advanced motor control technology: Adopting an advanced servo control system and DSP+ARM motor control technology, combining CMOLO original motor control algorithm, it can truly complete precise control & positioning & stable performance.
CUSTOMIZATIONS
Dimensions, Materials & Finish
Appearance: Proper modifications can be made according to the customer's requirements
Stainless steel thickness of the cabinet: customize within the range of 1.5~3.0mm
Lane width: Customize up to 35 in (900mm) maximum
Material of the cabinet: 304 / 316 grade stainless steel
Surface treatment of the cabinet: satin finish / polishing / dull polish / electroplating / baking finish
Material of the gates: tempered glass
System Integration
Integrate with EntraPASS Access Control System, Ticketing, Time and Attendance, Visitor System, etc.
Built-in Readers appointed by customers (face recognition, fingerprint identification, ID card recognition system, passport scanner, QR code system, etc.)
Integrate with face recognition system, fingerprint identification system, ID card recognition system, passport identification system, etc.
Integrate with card recovery system and customize card recovery equipment.
Direction Indicator
The installation position of the direction indicator can be adjusted.
The shape of the direction indicator can be customized.
Function

Built-in or external counter
TCP / IP communication function
Audible and visual alarm function
DRAWING & DIMENSIONS
Length: 63in / 1600mm
Passage Width: Up to 35in
Height of pedestal: 38.97in / 990mm tall
Height of glass panel: Customize within  3.9 – 5.9 feet / 47.24 – 70.86 inches / 1200 – 1800 mm


INSTALLATION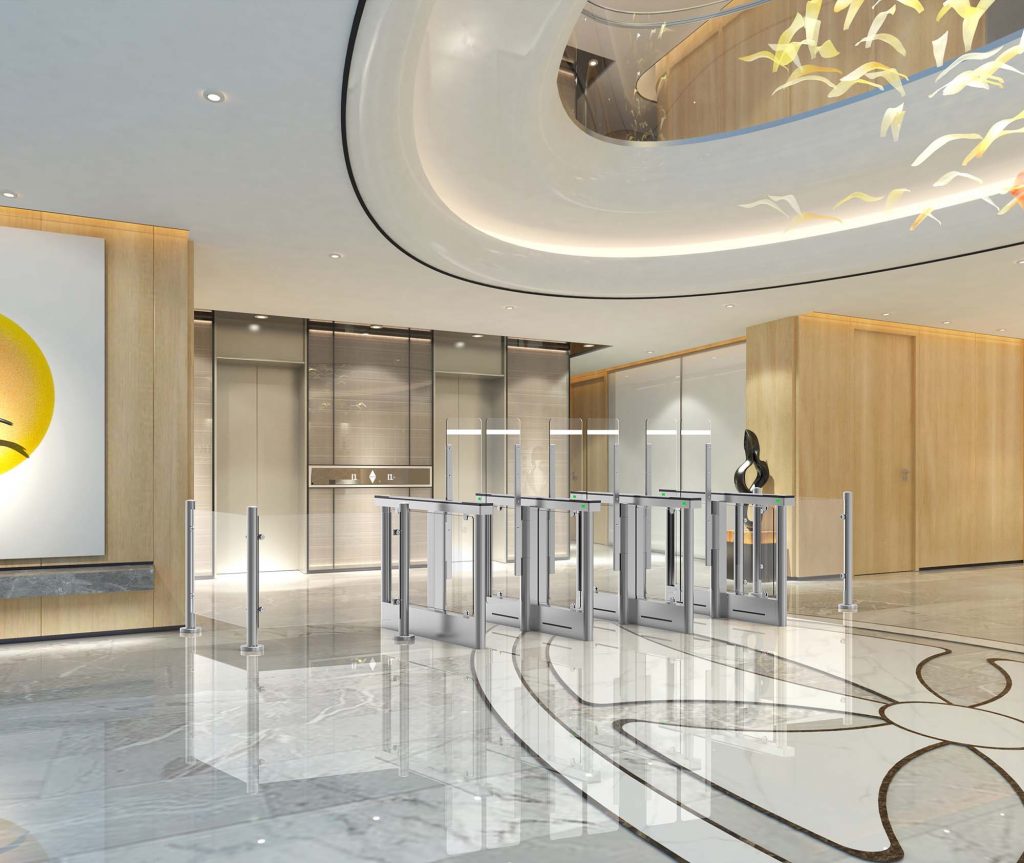 Installation Services Available.