Description
The FastPass Series FP-ADA-PC Portable Gate with Token Acceptor is made for years of reliable service in high traffic/volume applications like stadiums, convention centers, museums, theatres, stores, schools, student/employee lunch lines, and more. The cabinets are constructed of heavy 14-gauge, 300 series satin stainless steel and feature our 6500 Series Control Head (with auto-indexing and shock suppression technology). Thousands are currently in use at leading pro-sports venues, amusement parks, and high-profile attractions worldwide. The FastPass is the ticket to managing large crowds with reliability and speed. This model is special because it is Portable, Motorized, ADA Width, and has a double-tray coin collection box built-in with 5,000 custom tokens.
Data Sheet – FastPass FP500-ADA-PC Portable Swing Gate with Coin/Token Acceptor
Data Sheet – Tokens for Coin Acceptor
Installation Manual – FP500-ADA Swing Gate
Installation Manual – FP500-C Coin Accepting
Production Worksheet for Manufacturing – Swing Gate
FEATURES
FP500-ADA Swing Gate Turnstile
Stainless Steel Finish
Motorized rotation for no-contact passage
Can be programmed for entrance and exit
Coin/Token Acceptor controls the gate
Double removable trays hold up to 500 coins
ADA Accessible 36-39″ Passage
Non-Slip Portable Base Plate on 2 Wheels
BONUS: Includes 5,000 Custom Tokens!
BENEFITS/APPLICATION
This Portable Gate on wheels can be moved when necessary (ex. outside during the day, bring inside at night)
Generous width, easy accessibility for everyone (36″ arm and 2-3″ gap to the railing)
Motorized swing gate with sensors moves automatically
Collect payment for entry system, deter theft and vandalism
Benefits of Tokens:

Re-usable – purchase once, use them for years
Increased profits through "walkaway" tokens that are sold and not redeemed
Permanently imprinted with your business name, logo and contact information
Choose from stock design or use your own design
Switching to tokens from quarters is easy
Our tokens are antimicrobial
ADDITIONAL OPTIONS
Upgrade to Bill Collector, Card Reader, or Ticket Machine
Home Position Switch – Additional limit switch provides an SPDT output while at home for security integration
Bidirectional Key Override Set for Manual or Electric 2-Way Units – Available only as electronic 2-way fail-open
Daylight Visible Indicator Lights – A tri-color (R/G/Y) indicator light. Most models only use R/G.
Request to Exit ADA Placard Button with Plastic Surface Mount Enclosure – Rectangular or round
Custom Arm Lengths (up to 40" for ADA models only)
Lexan Arms (FastPass and Executive Series ADA models only)
8 Digit Key Resettable LCD counter with 7 year Lithium Battery
Single or Double Push Button (installed on-site)
One Channel 900 MHz Wireless Receiver (one per direction)
One or Two Button Wireless Key Fob Transmitter
Battery Back-Up – 12ah battery kit with 2x 12VDC batteries & 2 amp 24VDC charger
CONTROLS
Manual Both Ways
Manual One Way / No Passage in Opposite Direction
Electronic One Way / Free Exit
Electronic One Way / No Exit
Electronic Both Ways
*Each electronically controlled direction can be configured as FAIL LOCK (fail secure) or FAIL OPEN (fail-safe) upon power loss
DIMENSIONS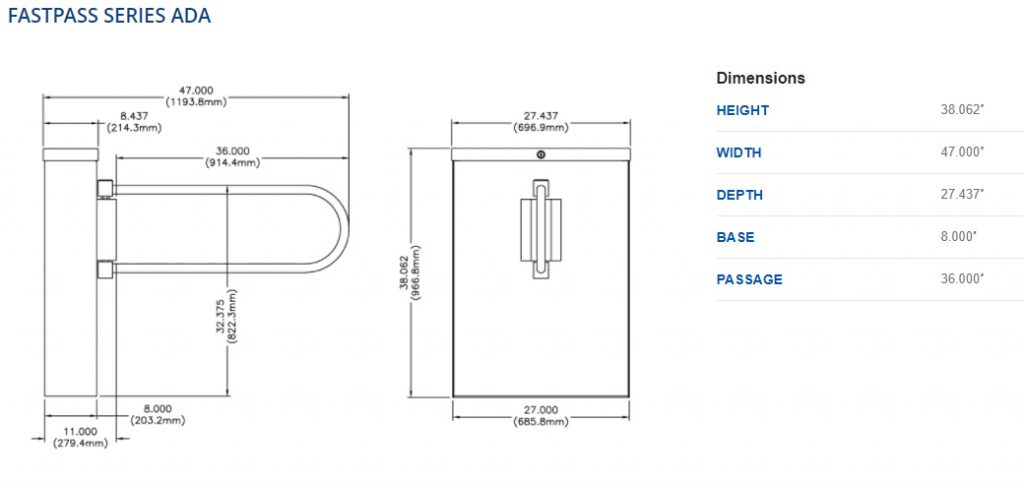 Above: FastPass ADA Gate *Portable Base Not Shown.
*Contact us for a freight quote.