Brakebush Irving, Inc. –
Irving, TX
We are pleased to present our custom Turnstile Canopy Entrance Solutions for Brakebush Irving, Inc. Please find equipment information listed below. Thank you for choosing TURNSTILES.us.
Outlaw Industries Full Height AG30-T Single Turnstiles
Outlaw Industries Full Height AG-36-ADA Gate
Custom Canopy and Guard Shack
Various Finish Options
Proximity Card Access Control
Documentation
Made in the U.S.A.
Turnstile Canopy Entrance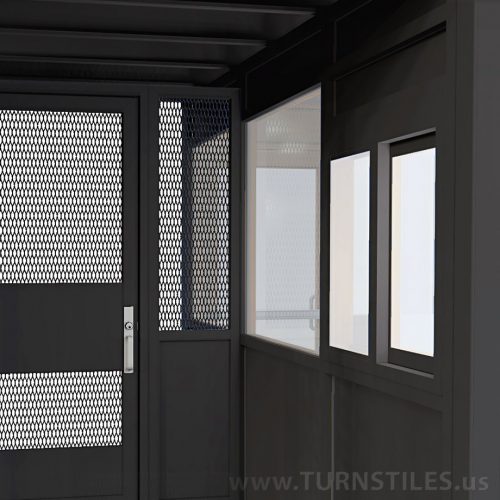 AG SERIES TURNSTILES,
ADA SWING GATE, & CANOPY
WITH GUARD SHACK
(4) AG-30 Full Height Turnstiles, Powder Coated
(1) AG-36 ADA Powder Coated over Galvanized Gate
(1) Powder Coated Anti-Reach Barrier
(1) 12′ Wide x 36′ Deep Canopy
(10) LED Canopy Lighting
(1) Equipment Rental
(10) HID MiniProx 5365 Card Readers
* Guard Shack
(1) 36″ Storefront Door with Deadbolt and Pushbar
(1) Transaction Window 36″ x 36″ with Sliding Drawer
(1) HVAC AC and Heat Pump
(4) LED Lighting for Canopy
(1) Custom Counter Top
(1) Electrical Supplies for Guard Office
(1) HID MiniProx 5365 Card Reader
(1) Insulated Panels around the Bottom Half
(1) 1/4″ Tinted Glass around the Top Half
Concept 4:
~ 20′ x 16′ Enclosed Glass Canopy

~ 8′ x 18′ Guard Shack

8″ Brick Style Columns
Storefront Glass
 2 Automatic Glass Doors
 HVAC Mini-Split System
Two Single Turnstiles and One ADA Gate
Temperature Scan Verification / Facial Recognition Terminals
HID Prox Pro II 5455 Card Readers
We appreciate the opportunity to work with you on this project.
Please feel free to contact us with any questions.