Description
The IPW-EG1000 Customs Intelligent E-Gate serves entrances with heavy pedestrian traffic flow and the need for strict security. Brushless DC motors and precise positioning encoder ensures the swing gates move quickly and accurately, stably and quietly, with low-power consumption and energy conservation. The IPW-EG1000 is developed to be reliable, precise, low-maintenance, and aesthetically pleasing. Products are well-researched, and each unit goes through strict and careful inspection. These units operate in sites requiring intelligent management for the passage of people – such as in a hotel, airport, school, factory, facility, etc. The equipment is provided with a standard electric interface for integration into a system with write/read facilities such as biometric access control, magnetic card, bar code card, ID card, or IC card.
FEATURES
High Glass Dual Swing Gates (Man Trap Cubicle) with Stainless Steel Pedestals
The Turnstile can be programmed to stay locked or to open automatically to evacuate people in the event of an emergency, such as fire, power failure, etc.
Mechanical anti-clamping functions for safety.
The gate can be pushed slowly when a sudden impact force is applied beyond the safety range so as to protect the machine and the pedestrian effectively.
All electric modules are designed to operate under a low voltage and configured with a residual current protective device to avoid electric shocks effectively.
Main Technical Specifications

1) Power voltage: AC100~240V, 50Hz
2) Operation environment temperature: -15℃~ 60℃
3) Relative humidity: less than 95% not condensed
4) Passage width: 600mm
5) Passing speed: 20-40 person/min
6) Main-board voltage: 24VDC
7) Max current: 5A
8) Working Environment: Indoor/Outdoor
9) Input port: dry contact signal
10) Communications port: RS232/RS485 electric standard, communications range: ≤1200m.
ADDITIONAL OPTIONS
Green and Red Indicator Lights
Custom lane width
Built-in Readers (face recognition, fingerprint identification, ID card recognition system, passport scanner, QR code system, etc.)
Integrate with EntraPASS Access Control System, Ticketing, Time and Attendance, Visitor System etc.
More options available upon request
FINISH
304 Stainless Steel
Clear or Tinted Glass Swing Gates
Custom Gate Materials and Colors available

INSTALLATION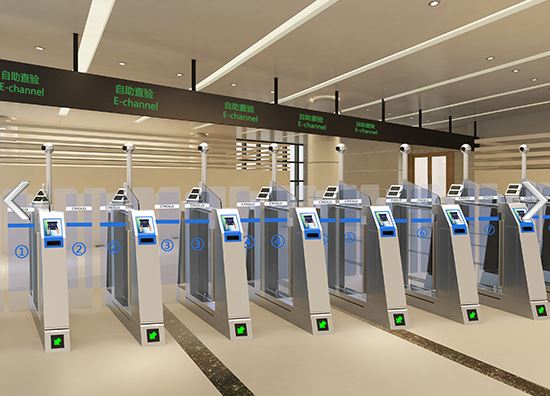 Installation Services Available
See our Portfolio of Work Here

*Please note Freight is Additional Charge. Ships Worldwide.