Description
Intelligent pedestrian swing gate turnstile
Ambilight CPW-134Y is specially designed for the high-end intelligent building. Designed with concepts of simplicity, science fiction, and asymmetry, it looks very unique, not only meeting functional requirements but also bringing a new futuristic style to any lobby.
FEATURES
Striking Appearance
With a double color combination & double-sided splendor, side A is shining, and side B is profound, letting the user have different experiences for in / out.
The cabinet and swing gates' outline is trapezoidal, with a new geometric aesthetic.
Dividing the cabinet into red and black, the red part slightly overlaps the black part for a multi-layer effect.
Smooth sharp lines extend from top to bottom, and the downward part is not parallel to the line around the turnstile, showing a free and unrestrained attitude.
The whole turnstile is illuminated by blue light, creating a strong sense of technology.
The corners are designed with arcs to avoid sharp corner injuries to ensure the safety of users.
In addition to red & black, we have also designed white & black, blue & black.
Exquisite Performance
Ambilight CPW-134Y is equipped with the original CGL assembly technology, which is a method suitable for the connection of the cabinet created by engineers according to the tenon-and-mortise structure of ancient buildings.
Using the original 5th generation mechanism technology, the heart 'mechanism' of the turnstile has been optimized and upgraded, and the gates have no outside screws.
Strong & Stable Turnstile Control Core brings smooth and exquisite technology.
Advanced motor control technology: Adopting advanced servo control system and DSP+ARM motor control technology, with motor control algorithm, it can complete precise control positioning & stable performance.
Long Lifespan: Independent research & development of lossless mechanism structure and high-quality imported DC brushless motor (mechanism core) are configured to ensure the swing gate turnstile a long lifespan. Turnstile's mechanism & control system has passed a 10 million lifetime test.
Enhanced Safety
Triple anti-clamping: Ambilight is advanced, including infrared anti-clamping, mechanical anti-clamping, and anti-collision by advanced electric current detection.
Anti-collision control: When the gates instantaneously encounter an impulse force that is beyond the safety range, the gates can be slowly pushed for some distance to buffer the impact force towards the mechanism and the reversed impact force towards the user.
Anti-electric shock: All electric modules are designed to operate under a low voltage and configured with a residual current protective device to avoid electric shocks effectively.
Power-off Auto-Open Technology: When power is off, the turnstile system will automatically disarm the gates.
Emergency open: Equipped with a fire alarm setting control device.
ADDITIONAL OPTIONS
Choice of color (Red/Black, Blue/Black, White/Black)
Standard or Wide Lane
Built-in Readers (face recognition, fingerprint identification, ID card recognition system, passport scanner, QR code system, etc.)
Integrate with EntraPASS Access Control System, Ticketing, Time and Attendance, Visitor System etc.
Custom Gate Materials and Colors available

INSTALLATION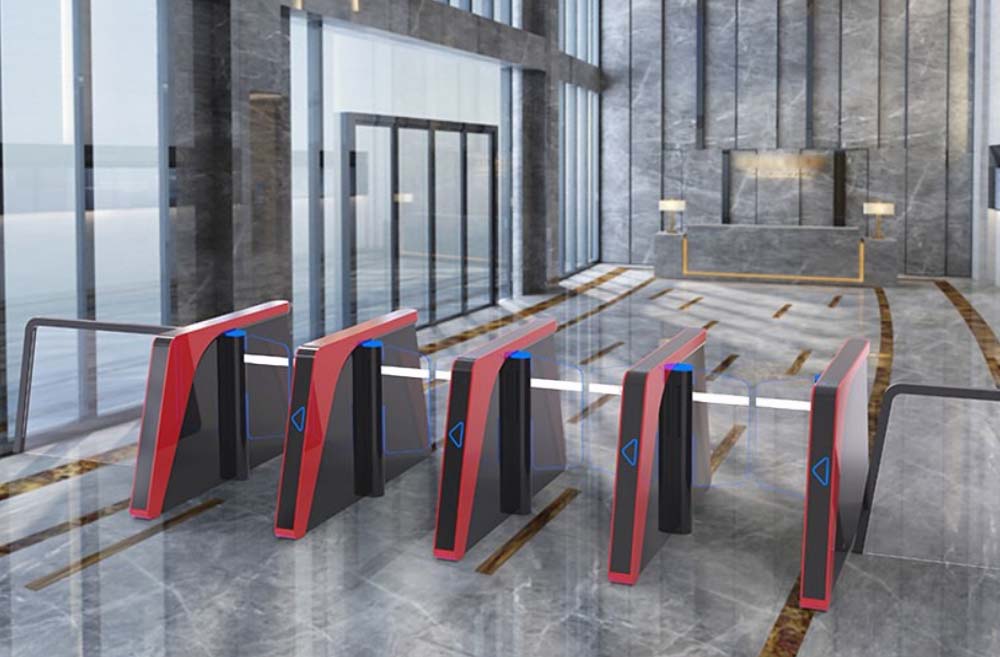 Installation Services Available
See our Portfolio of Work Here

*Please note Freight is an Additional Charge. Ships Worldwide.