Description
The APW-LM800 Lomas Aesthetic Glass Swing Gate is reliable, low-maintenance, and visually stunning with its glowing blue-stone top. Its round stainless steel pedestal houses a sturdy locking mechanism built for long-term performance. The equipment is provided with a standard electric interface and is easily integrated into a system with write/read facilities such as magnetic card, bar code card, ID card, and IC card. These swing gate entrances are used in locations requiring intelligent management for the passage of people such as in a hotel, museum, casino, formal lobby, etc.
FEATURES
Aesthetics
The top piece of the turnstile glows blue with modern stone-textured ornamentation.
The round pedestal is made of stainless steel and has a flared base.
The wing design is uniquely rounded on the bottom and rectangular on top.
Custom Gate Materials and Colors available upon request
Performance
ADA Passage Width, Bi-Directional Swing, Embedded Readers Optional.
By using more than 10 pairs of high-performance infrared sensors and exact algorithms, it can accurately detect the pedestrian's passing position to achieve functions, such as anti-tailgating and anti-reverse passing.
Independent research & development of lossless mechanism structure and high-quality imported DC brushless motor (mechanism core) are configured to ensure the swing gate turnstile a long lifespan.
Turnstile's mechanism & control system has passed a 10 million turn lifetime test.
Equipped with a dry contact signal input interface, RS485/RS232 interface, TCP/IP interface (optional), compatible with all kinds of access controllers.
Safety
The corners are designed with arcs to avoid sharp corner injuries to ensure the safety of users.
Triple anti-clamping: Infrared anti-clamping, mechanical anti-clamping, and anti-collision by advanced electric current detection.
Anti-collision control: When the gates instantaneously encounter an impulse force that is beyond the safety range, the gates can be slowly pushed for some distance to buffer the impact force towards the mechanism and the reversed impact force towards the user.
Anti-shock: All electric modules are designed to operate under a low voltage and configured with a residual current protective device.
Power-off Auto-Open Technology: When power is off, the turnstile system will automatically disarm the gates.
Emergency open: Equipped with a fire alarm setting control device.
Standard Swing Gate Technical Information

1) Power voltage: AC100~240V, 50Hz
2) Operation environment temperature: -15℃~ 60℃
3) Relative humidity: less than 95% not condensed
4) Passage width: 600mm
5) Passing speed: 20-40 person/min
6) Mainboard voltage: 24VDC
7) Max current: 5A
8) Working Environment: Indoor
9) Input port: dry contact signal
10) Communications port: RS232/RS485 electric standard, communications range: ≤1200m.
OPTIONS
Matching Post and Glass Filler Panels
Matching Access Control Terminal Posts
EntraPASS Access Control Management
Integrated Readers/Scanners/Credential Access
INSTALLATION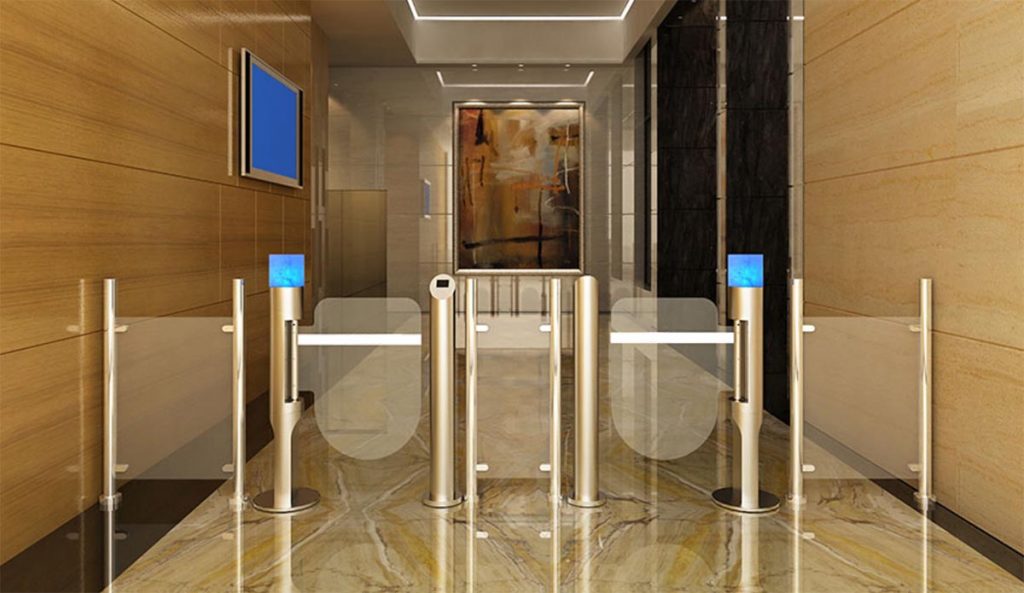 Installation Services Available
See our Portfolio of Work Here

*Please note that freight is not included and will be charged separately. Worldwide freight is available by sea/air/ground. Contact TURNSTILES.us for a personalized quote.