Description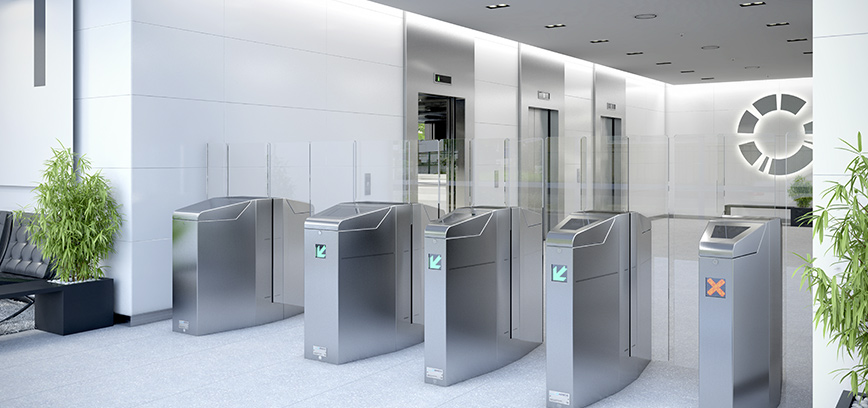 For medium and high-security requirements
For access control, steering visitors, and passage into secured areas – MPH wing gates are the ideal solution for the rapid separation of persons when high security is required. Variants with enlarged passage widths also make the MPH suitable for wheelchairs, carts, and the transport of materials. Contactless passage. Photoelectric switches reliably detect users and open the wings before they come into contact with them. The barriers close automatically after passage. The sensitive impact detection of the drive mechanism ensures maximum personal safety. In addition, the photoelectric switches contribute towards security: they register the passage of persons attempting to follow through, passage in the wrong direction, or the lack of authorization and trigger an alarm. The gates can be used bi-directionally and can be regulated with all common access control systems. The barrier elements are available with toughened or laminated safety glass.
Data Sheet –  MPH High Sliding Glass Turnstile
FEATURES
USA Product – Turnstile qualifies for the BUY AMERICAN ACT
Short opening times for a high throughflow frequency
Automatic opening if power fails
Wider variants suitable for wheelchairs and bicycles
Optional high barriers for maximum security requirements in monitored and unmonitored areas
Safe and secure with light-touch, auto-reverse barrier impact detection
Designed for 10 million opening and closing cycles
Simple integration of access control system – See EntraPASS
Priced per piece to build your array
Base Module: This is the 'first' piece of equipment in your set of optical turnstiles. It sends a signal and has one gate wing.
End Module: This is the last piece of equipment in line and closes off the set of turnstiles. It receives a signal and has one gate wing.
Center/Transition Module: This goes in between the Base and End module to create two or more 'lanes', like driving lanes or bowling lanes – but for people to walk through. These send and receive signals, and have two gate wings (one on each side).
SPECIFICATIONS
| | | |
| --- | --- | --- |
| Technical data | | |
| | MPH 112 (Standard) | MPH 112 (Wide Lane) |
| Passage width | 20.5 in | 36 in |
| Opening/closing time | 0.6 s 1.2 s | 1.0 s 1.4 s |
| Drive technology | MHTM | MHTM |
| Voltage | 110 – 240 VAC, 50/60 Hz | 110 – 240 VAC, 50/60 Hz |
| Power consumption |  Maximum 100 |  Maximum 300 |
| Housing dimensions | (L x W x H) 51.2 x 11.8 x 40.75 | (L x W x H) 51.2 x 20.5 x 40.75 |
| Housing material | Stainless steel 304 | Stainless steel 304 |
| Enclosure rating | IP 32 | IP 32 |
| Temperature range | 0 to +45° C | 0 to +45° C |
| Weight (approximate) | 440 lbs | 600 lbs |
DIMENSIONS

INSTALLATION
Installation Services Available
See our portfolio of work Here
*Please note costs listed are for equipment only and freight is charged separately. Contact us for a freight quote.