Description
The Supermarket Tripod Turnstile is a waist-high uni-directional turnstile for one-way passage. It has a very slim profile and is sturdy. The screen piece is optional when your layout calls for it – this is a post that sits opposite the tripod to create a passageway. Often, many tripods will be installed in a line, with the end unit requiring a screen or coming up to a wall. Note that in the USA, ADA Access is required within 10 feet of a turnstile – ask about our matching swing gates.
These units are frequently used in supermarkets, gyms, universities, and warehouses.
APPLICATION
Used extensively in supermarkets and retail stores
Suited for applications requiring one-way free rotating access
Interior use
FEATURES
Mechanical turnstile for one-way free rotating access
Clockwise or anti-clockwise rotation
Turnstile Screen is designed to prevent pedestrians from passing through the wrong way
The Screen is available in a matching finish
The Center rotor can be swung out of the way to allow for uninhibited delivery access
Can be integrated with EntraPASS Access Control System
FINISH CHOICES
Mild steel with UV resistant polyester exterior powder coat finish (standard white)
304 grade brushed stainless steel
316 grade brushed stainless steel
Other colors are available upon request
DRAWING & DIMENSIONS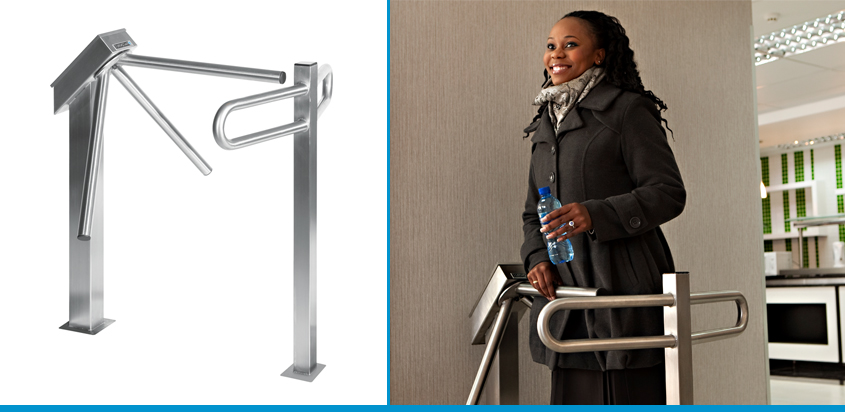 *Contact TURNSTILES.us for delivery and freight information.