Description
In a world where security is more and more important every day, turnstiles integrated with access control are becoming an industry-standard all around the globe. Great preliminary work is key to a proper turnstile installation. It all starts with a drawing that brings our concepts to reality. This work is performed by our highly skilled in-house Draftsman, who creates brilliant architectural mapping and 2D/3D renderings. Plans are drawn for a variety of environments and types of turnstiles. See samples of our AutoCAD Documentation.
*Estimated AutoCAD Drafting, Engineering & Documentation
Number of Hours Required: You may imagine the number of hours your project could take based on the complexity of your needs. Consider the number of turnstiles being installed, type/size of turnstile, environment, how much construction or demolition is needed, electrical, Access Control System hookup, canopies, shelters, architectural requirements, accessories, etc.
Process
Contact Us! Let us know what you're envisioning.
Send Photos. We'll evaluate your current site and help you select the right products.
Receive a proposal. Review products, services, scope, and discuss your engineering requirements.
Sign the finished proposal and submit payment. Finalize drawings, production sheets, and timeline. A 50% Deposit is due upon order, 50% due upon shipping. Products will typically ship to your site before installation day.
Installation. Our technicians complete installation and ensure that you are comfortable operating your new system.
Support. Enjoy One Year of Telephone Support with Remote Desktop and Updates.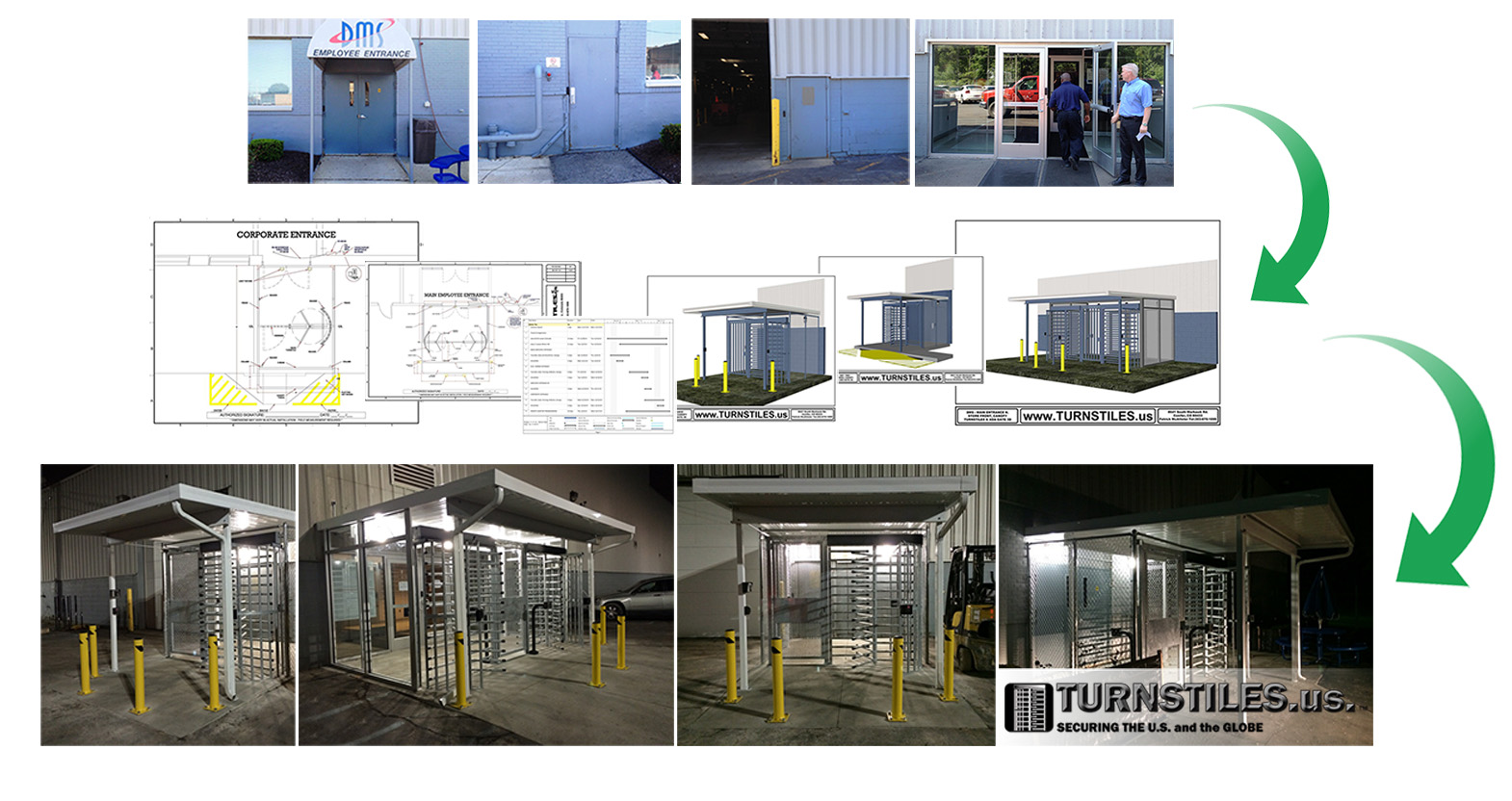 Click to enlarge. Shows original client photos of four facility entrances, planning stages, drafting, 3D modeling, and the finished work.