Description
The XRM6000 is an X-ray baggage inspection scanner that has a tunnel size of 24in by 16.6in and can provide effective inspection of mail, hand-held baggage, luggage, and other items. Plus it allows identification of weapons, liquids, explosives, drugs, knives, fire guns, bombs, toxic substances, flammable substances, ammunition, and dangerous objects, which are a safety hazard by identification of substances with effective atomic number. High image quality in combination with automatic identification of suspicious objects allows the operator to quickly and effectively evaluate any luggage content.
FEATURES
Real-time detection to aid operators in identifying suspicions
High performance – typical penetration up to 1.8 " of steel
Startup with fingerprint
Four layers of lead curtain
Uninterruptible power supply
Equipped with input & output rollers
Adjustable conveyor speed
Real-time remote monitoring system
Luggage image and walk through metal detector status display on the same screen
Threat image projection (TIP)
OPTIONS
Operator desk
Video surveillance
Gray paint
Guard plate rollers (two layers of lead curtains)
Eyes on function (eye-tracking technology to follow the user's eye as they operate X-ray inspections.
There will be a prompt when the operator's eyes leave the screen)
SPECIFICATIONS
Tunnel Dimensions (W*H): 24in x 16.6in
Conveyor Speed: 0.008in/sec – 0.02in/sec
Load on Conveyer: Max 200kg / 441lb (evenly distributed)
Space Definition: horizontal O.04in vertical O.08in
Steel Penetration: 1.5″ guaranteed; 1.6in typical Wire
Resolution: 38AWG guaranteed; 40AWG typical
Dual-Energy Protector: yes
Number of Colors in X-ray Image: 3
Dimensions (L*W*H): 142.4in x 41in x 51.8in
Package Dimensions (L*W*H): 82.7in x 47.2in x 63in
Package Weight: 750kg / 1654 lb
Film Safety: ASA/ISO 1600 standard of film safety
Single Inspection Dosage Rate: <1.0uGyv
DRAWING & DIMENSIONS (in)

INSTALLATION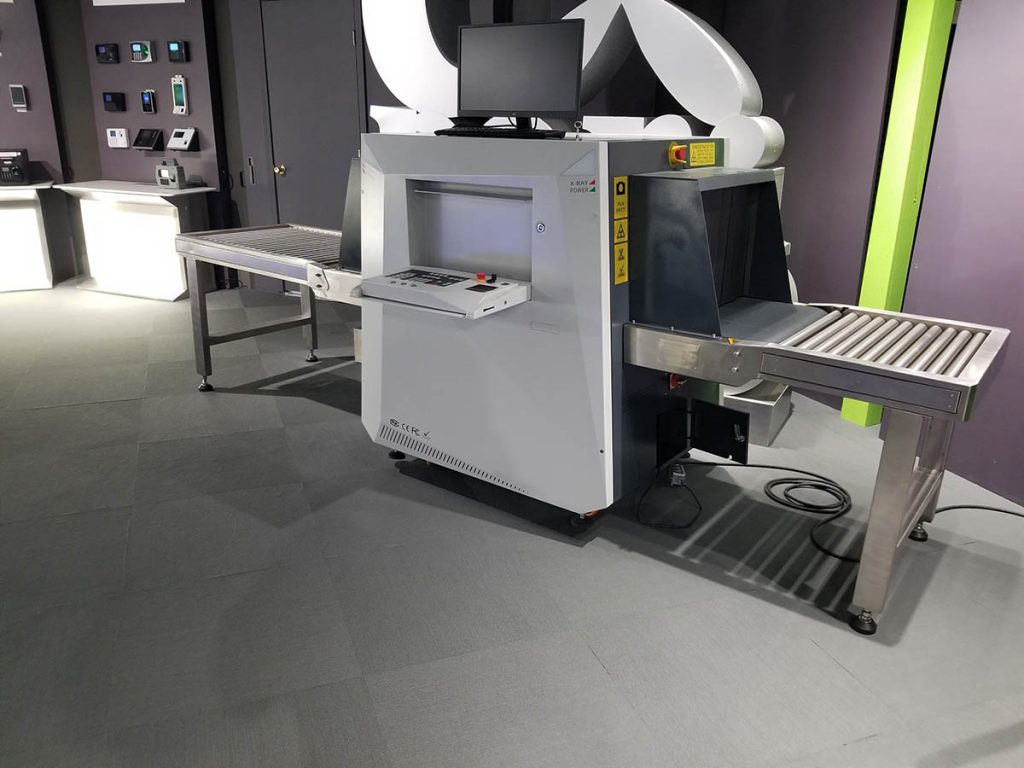 Unpack, Plug-In, and It's Ready To Use
*Please note that freight is not included and will be charged separately. Worldwide freight is available by sea/air/ground. Contact TURNSTILES.us for a personalized quote.