Description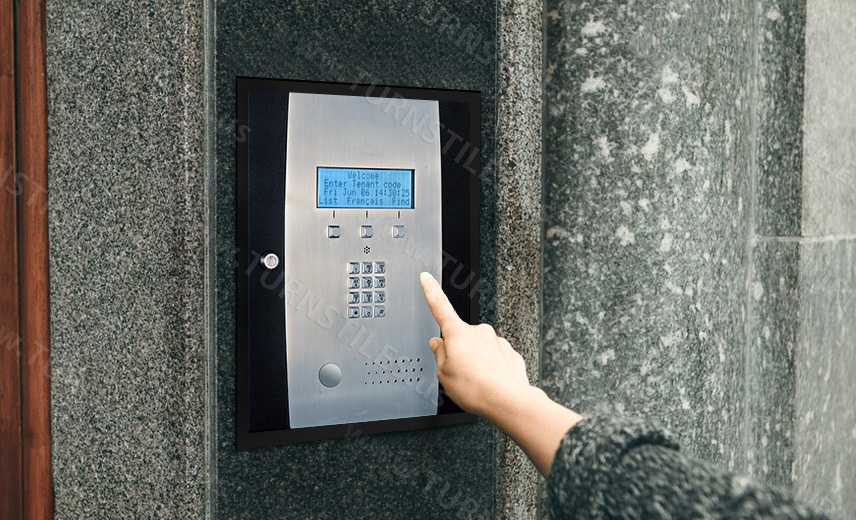 Data Sheet – KTES Telephone Enty System
Resident and Visitor Management System
Apartment, condominium and office buildings are just a few of the applications where a combination of security and communications are required for controlling resident and visitor traffic. The Telephone Entry System (KTES) delivers a fully integrated telephone entry and access control solution. The KTES provides visitor / resident registration, tracking and reporting. It uses a touch tone phone style keypad that offers familiarity and ease of use. Two-way audio is built-in and video verification can be integrated to enhance the solution.
Built-In Versatility
An attractive vandal- and weather-resistant metal enclosure houses a keypad with both audible and visual confirmation of user actions. The large, 4-line, 20-character backlit LCD provides easy-to-understand multi-lingual user prompts that allow visitors to scroll through an electronic directory which includes tenants' names, apartment/ suite numbers, or calling codes. Three contextual function buttons make it easy to navigate through the interface quickly. Two-way audio is built-in and video verification (via a covert camera) can be integrated to enhance the security solution.
Stand-Alone or Integrated Access Control
Designed as a stand-alone or integrated unit, the KTES controls one door, three auxiliary relays, and supports postal lock and request-to-exit access. For larger commercial installations, the KTES integrates with EntraPASS Security Management Software and KT door controllers to provide a complete access control system. The KTES features onboard 128-bit encrypted, IP communication with EntraPASS. A simplified version of the EntraPASS software is included with the KTES which allows for fast configuration and firmware upgrades, live transaction monitoring, modification and addition of tenant list, and system backup. The system also provides Wiegand inputs and outputs so that it can be connected to external door controllers. All programming of the system can be done directly on the keypad or remotely from a PC via a modem, Ethernet connection, or RS-485 interface.
Event Reporting
For added convenience, the KTES maintains a local event log which can be viewed directly on the LCD. If a more detailed event log is needed, the system also reports all events directly to EntraPASS.
FEATURES
Stand-alone or integrates with an access control system
Convenient remote programming and management with EntraPASS security management software
Electronic directory with a capacity of up to 3,000 tenants
4-line, 20-character backlit LCD
Vandal and weather-resistant stainless steel housing
Onboard 128-bit encrypted, protected IP communication
One telephone line supports up to five units
SPECIFICATIONS
Standard Unit Weight: 15.4lbs
Dimensions (HWD): 14.75 x 11.5 x 3.9 in
Mounting: Surface, flush, or goose-neck mount
For More Information and Services Contact us