Description
The BR2-TM-DH Tripod Turnstile with Hand Sanitizer Dispenser is a waist-high turnstile that dispenses hand sanitizer to allow entry. These units are especially great for use in supermarkets, gyms, universities, warehouses, food events, merchandising shows, conventions, sports stadiums and more. This turnstile is equipped with a disinfectant dispenser that allows passage only after use. The dispenser mechanism is available with your choice of turnstile. Let us help you figure out what configuration is best for you.
Data Sheet – BR2-TM-DH Hand Sanitizer Dispenser Tripod Turnstiles

APPLICATION
Portable BR2-TM-DH or Stationary BR2-TM
Ideal for hospitals, schools, shops, airports, seaports, travel stations
Passages for authorized service personnel, directing passenger traffic
Control points for permission to enter protected buildings (e.g. government offices, border crossings, ministries, other services)
Ticket sales and control points in museums, sports facilities (e.g. stadiums, swimming pools, etc.) theaters, cinemas,
exhibitions, fairs, entertainment venues, other sports and entertainment facilities, and where applicable, pay toilets
Access control and work time registration in workplaces, e.g. offices, factories, separate zones in workplaces, etc.
FEATURES
Steering input (0V signal) for each traffic direction individually
Feedback signal output (0V signal) informing about a passage of a person based on an authorizing signal
A higher priority input for excluding the section from operation (e.g. from the building management system)
The highest priority input for clearing/opening the passage section (e.g. from the firefighting system)
Functions: remembering steering signals during the working cycle, sound signaling, diode signaling, automatic calibration
FINISH CHOICES
Standard is Stainless Steel
RAL Powder Coat colors available upon request
DRAWING & DIMENSIONS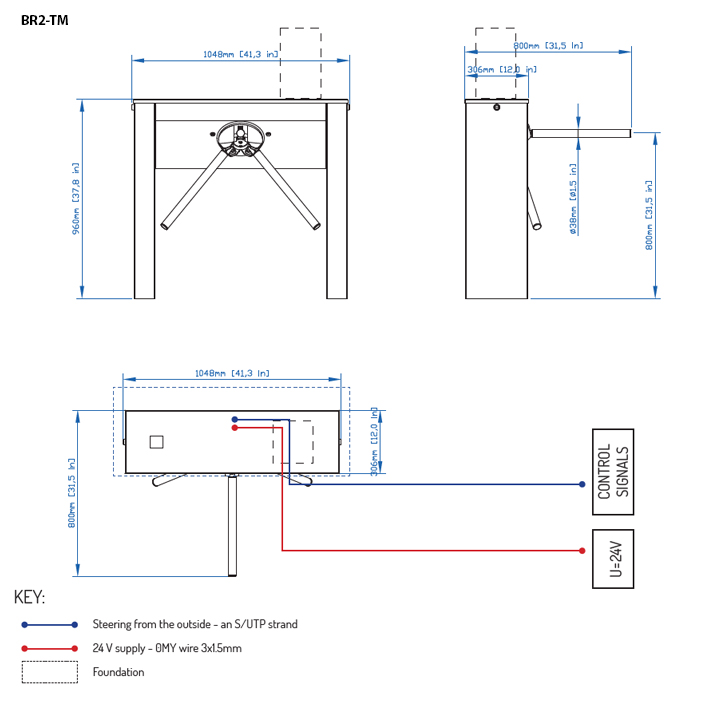 INSTALLATION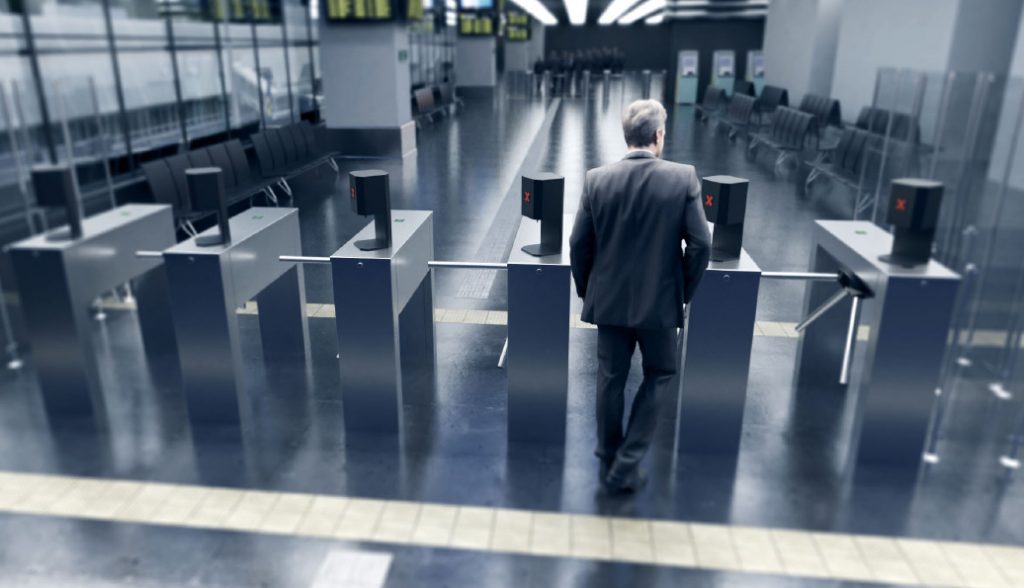 *Contact TURNSTILES.us for delivery and freight information.
See our Turnstile Installation Portfolio