Description
Elegance for demanding surroundings
With an inviting see-through design, quick opening times, and no-contact passage – mWing is the pinnacle in both security and elegance. Our fast and thin pedestrian e-gate is rapidly becoming the first choice for architects and building owners where sophisticated design is as important as securing the location. Whether it's an office, cultural venue, or public building, the chic design, the warm comfortable material, and intuitive operation transform the building's access control process into a pleasing, no-hassle activity for patrons. mWing not only advances user acceptance of access gates but also ensures that security levels for the site are achieved. mWing is adaptable and configurable to meet nearly any customer's requirements, thanks to its versatile configuration, options, and accessories. Multiple bi-directional lanes are easily set up to address high patron throughput, and a wide-lane version is available to accommodate groups, material carts, and personal mobility equipment. By selecting waist-high or higher barriers, customers can choose the appropriate security level they wish to enforce. As a result, mWing is equally suited for monitored and non-monitored zones.
Installation & Operation Manual
FEATURES
Innovative, stylish design
High visitor throughput thanks to rapid opening times and preset operation modes
Open-gate mode for extra fast throughput
Optional high barriers for maximum security requirements within monitored and unmonitored areas
Safe and secure with light-touch, auto-reverse barrier impact detection
Free passage on power outages
Designed for 10,000,000 opening and closing cycles
Priced per piece to build your array
Basis Module: This is the 'first' piece of equipment in your set of optical turnstiles. It sends a signal and has one gate wing.
End Module: This is the last piece of equipment in line and closes off the set of turnstiles. It receives a signal and has one gate wing.
Center Module: This goes in between the Basis and End module to create two or more 'lanes', like driving lanes or bowling lanes – but for people to walk through. These send and receive signals, and have two gate wings (one on each side).
OPTIONS
BOLED100: LED Floor Illumination (LED floor illumination is decorative and helps guide passengers through. Can be switched on/off.)
DT100: Push-button with illumination ring; qty 2 (1 each end)
EM01: Ethernet Interface – Parameterization and signal processing of pedestrian gate via a local network or the Internet.
ESU01: Buzzer – Alarm for the optional indication of a forced passage attempt, a random control hit, a functional error, an under crawl or overclimb attempt. Automatic reset after a preset time span.
GED100: Gate End Display (Red-Green), Passage indicator GED, left-hand; mounted on both sides
GED101: Gate End Display (Red-Green), Passage indicator GED, right-hand; mounted on both sides
RLED100: Circular Frame Illumination in red and green with separate activation for entry and exit flank. Can be used for indication of ready for passage state or as permanent design illumination.
SL100: Custom Color (front & back panel only – other elements in Anthracite)
VE100: Power supply unit for DA100, VERH100, and LED lighting (one VE100 will operate all connected items)
Options
Special colors
More than 20 color tones are available
Barrier elements
Glass wing made of single-layer safety glass
(ESG) or acrylic glass, customer-specific barrier
elements
Wide passageway
Wide-lane configuration, 900 mm width
Passage direction indicator
yes
Floor illumination
yes
Frame-edge illumination
yes
Warning on forced entry
yes
Interlock against forced
entry
yes
Ethernet connection
yes
Accessories
Emergency button
For triggering the alarm contacts and
unlocking the barrier elements
Base frame
For integration in new buildings,
height adjustable between 10 and
15 cm
Escape routes and wide passageways
mSwing swing door for escape
routes and wide passageways
Separation of access areas
mGuide railing system for the
separation of controlled and
uncontrolled areas
Adhesive plate
For adhesive mounting on finished
floors
SPECIFICATIONS
Technical data
mWing
Application
Indoor and outdoor
Passage width
Standard: 600 mm / 23 in
Wide Lane: 900 mm / 36 in
(more on request)
Total width for 1 lane
Standard: 960 mm / 38 in
Wide: 1260 mm / 51 in
Height of barrier
elements
Standard: 889 mm / 35 in
High: 1800 mm / 71 in
(more on request)
Opening/closing time
0.6 –1 s, depending on barrier element
dimensions
Drive technology
MHTM
Control system
MGC
Voltage
100–240 VAC,
50/60 Hz
Power consumption
Maximal 45 W
Duty cycle
100 %
Housing material
mDure
Housing dimensions
(L x W x B)
1300 x 1050 x 180 mm / 51.2 x 41 x 7.1 in
Enclosure rating
IP 54
Weight
About 265 lb per module
Temperature range
−30 bis +55 °C
DRAWING & DIMENSIONS of the mWing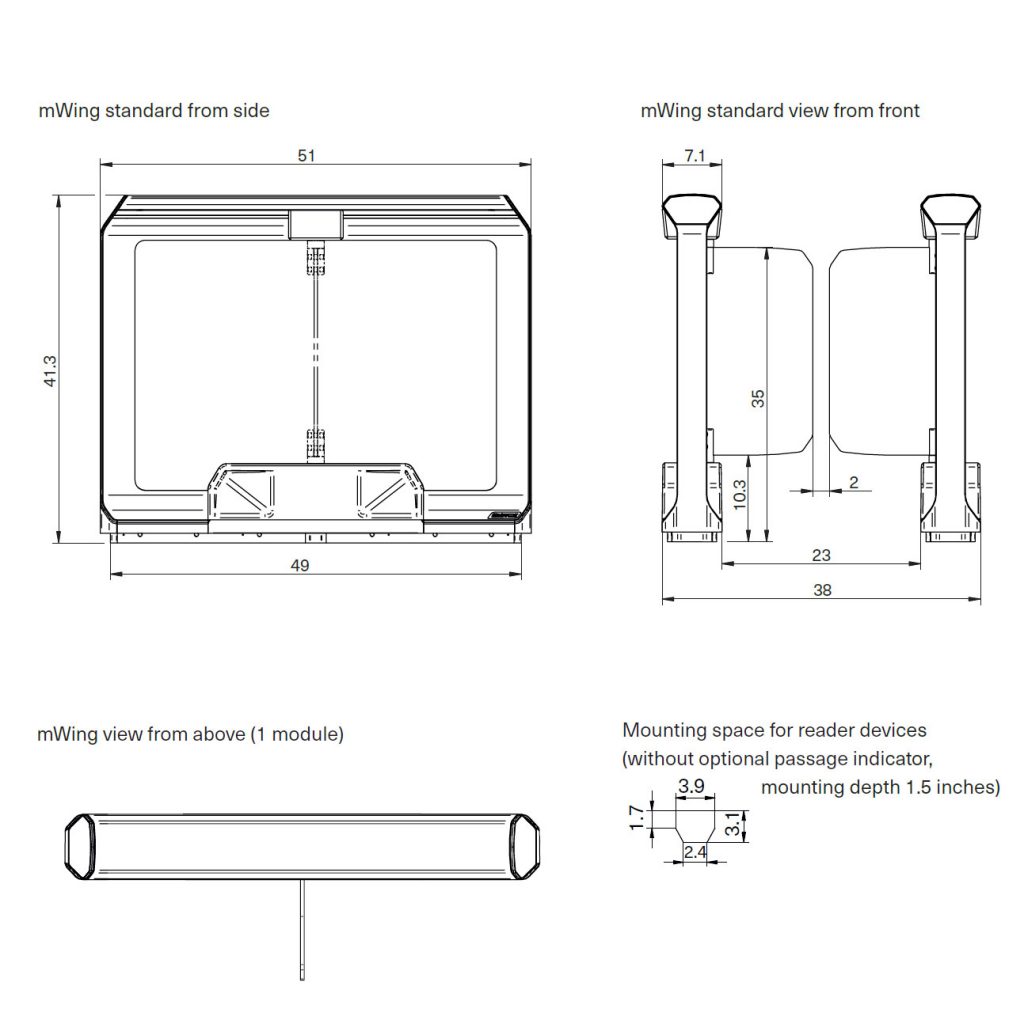 INSTALLATION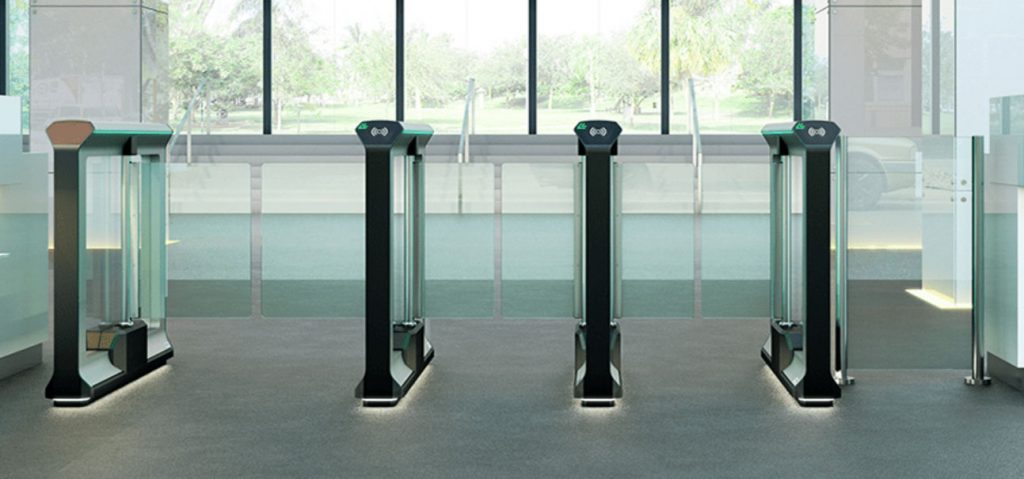 Installation Services Available
See our portfolio of work Here