Description
For sophisticated interiors
Companies, cultural institutions, and public facilities increasingly want to systematically register the presence of employees and visitors in order to automate certain processes and increase the security of their premises. Whereby the design of the access control system plays a central role in more sophisticated work and experience environments. As one of the first stations on the way into the building, it should underline the architectural aspiration and provide those entering with a friendly reception. The mTripod pedestrian gate was designed for precisely these applications. With its extremely slender design, its curved lines, and its unusual illumination at the base and on the frame edges it is ideal for integration in sophisticated architectures whilst, at the same time, the one-of-a-kind material makes a unique impression on first contact. Instead of cold and hard like stainless steel, the surface feels soft and comfortable, emphasizing the open character of the new generation of products. Standards, however, are also set beneath the smart outer skin.
With its intuitive control system, an extraordinary range of functions, and future-oriented connectivity, the mTripod redefines access control systems.
FEATURES of the mTripod
Innovative design, part of the FlowMotion Series
Revolutionary design, won German Design Award 2018
Extensive functions and intuitive operation
Drop-arm mechanism (optional) permits passage during power outages or alarms
Ethernet plug-in module for IP connection (optional)
Designed for 10,000,000 opening and closing cycles
Available mTripod Short model has a shorter lane length perfect for smaller environments
OPTIONS
Options
mTripod and mTripod Short
Special colors
More than 20 color tones available
Barrier elements
Three Arm Turnstile
Wide passageway
Wide-lane configuration
Passage direction indicator
yes
Floor illumination
yes
Frame-edge illumination
yes
Warning on forced entry
yes
Interlock against forced entry
Climb-over protection
Crawl-under protection
yes
Ethernet connection
yes
BOLED100: LED Floor Illumination (LED floor illumination is decorative and helps guide passengers through. Can be switched on/off.
CS100: Carbon-fiber tripod arm option (add to base model mTripod)
CS100-E: Carbon-fiber tripod arm option (spare part – uninstalled)
DA100: Drop-Arm function for mTripod. Upper bar swings down in case of an alarm signal or power outage. Automatic restoring of bar position upon reset of alarm signal or power return. Must also add power supply unit – VE100!
DT100: Push button with illumination ring; qty 2 (1 each end)
EM01: Ethernet Interface – Parameterization and signal processing of pedestrian gate via a local network or the Internet.
ESU01: Buzzer – Alarm for the optional indication of a forced passage attempt, a random control hit, a functional error, an undercrawl or overclimb attempt. Automatic reset after preset time span.
GED100: Gate End Display (Red-Green), Passage indicator GED, left-hand; mounted on both sides
GED101: Gate End Display (Red-Green), Passage indicator GED, right-hand; mounted on both sides
RLED100: Circular Frame Illumination in red and green with separate activation for entry and exit flank. Can be used for indication of ready for passage state or as permanent design illumination.
SL100: mTripod Custom Color (front & back panel only – other elements in Anthracite)
VE100: Power supply unit for DA100, VERH100, and LED lighting (one VE100 will operate all connected items)
VERH100: Locking unit mTripod – Mechanical locking unit against forced passage without passage release signal. Automatic reset and return to closed position after preset time span. Requires at least one VE100 power supply unit per gate.
DRAWING & DIMENSIONS of the mTripod Turnstile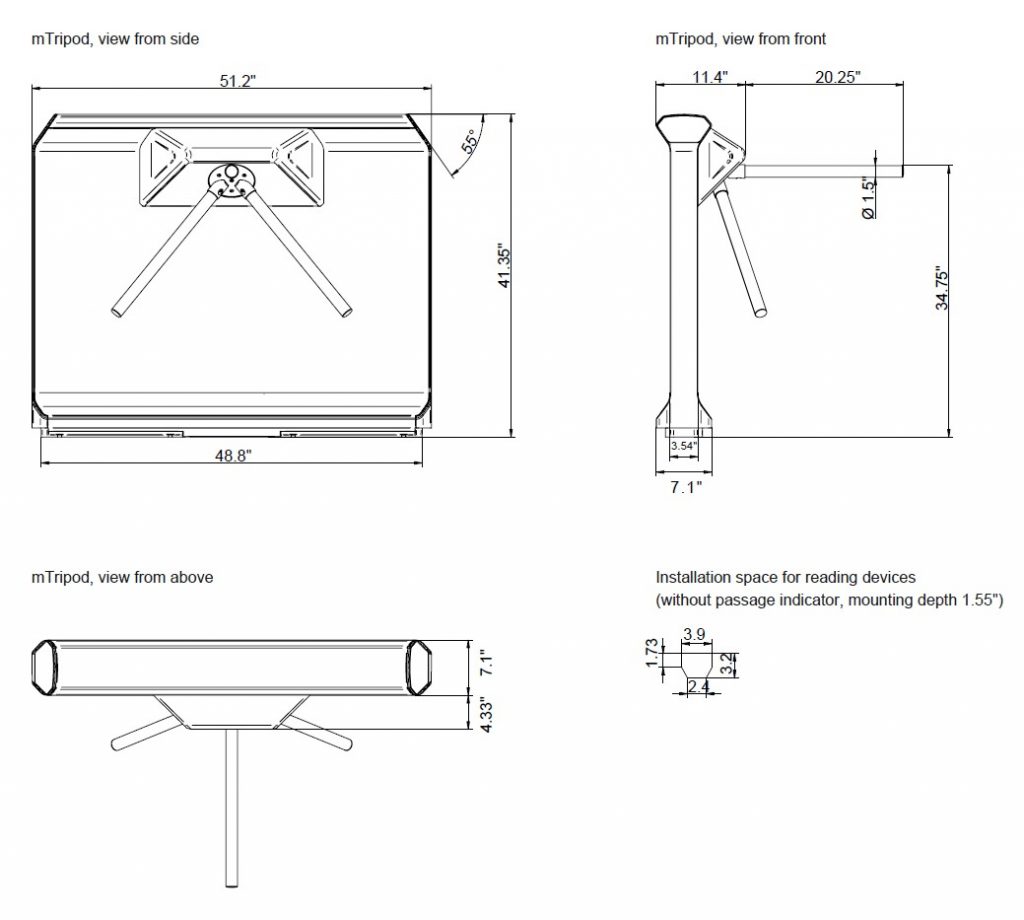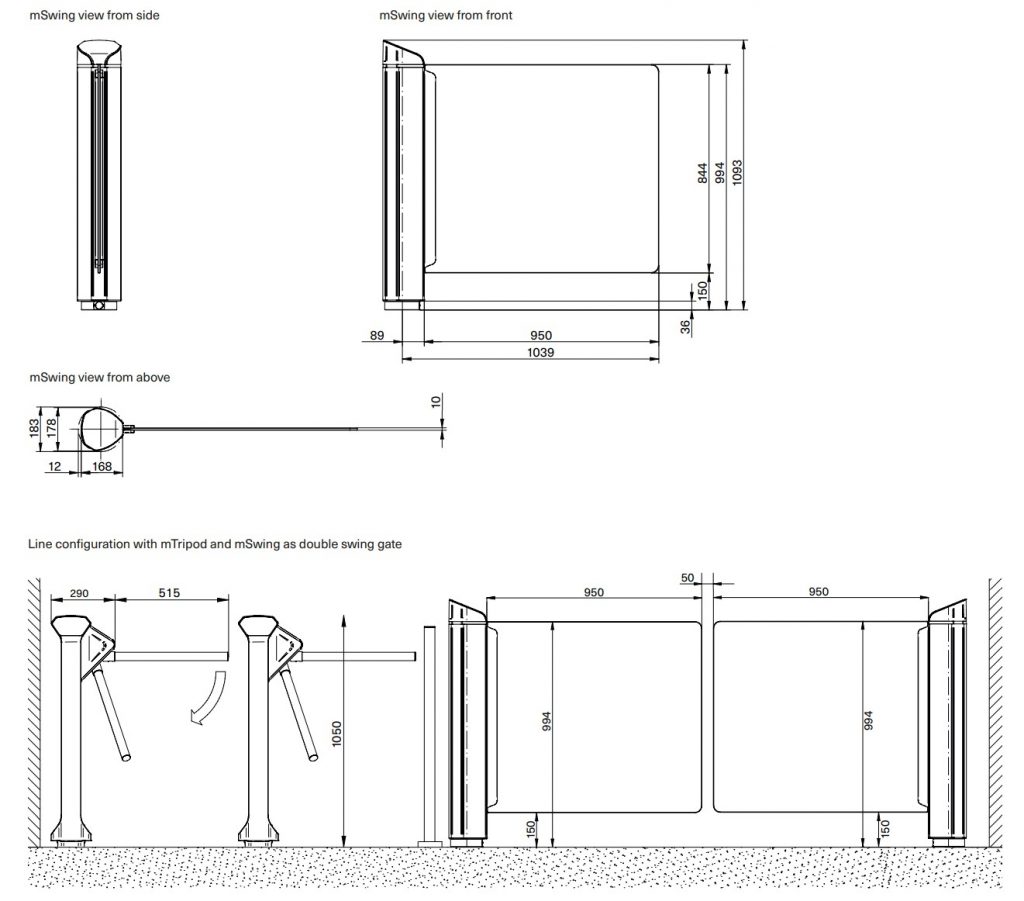 INSTALLATION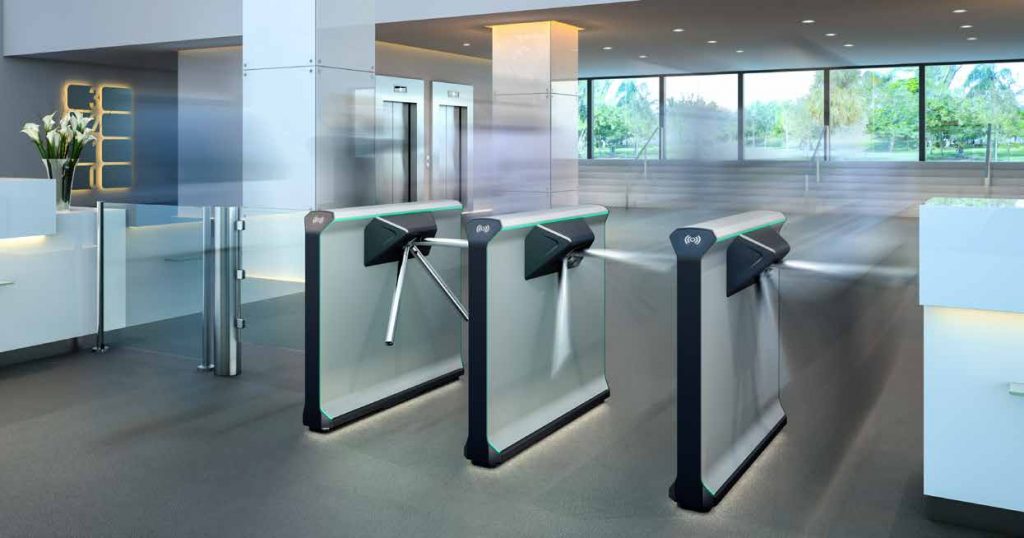 TURNSTILES.us Installation Services are Available! Contact us. > See our portfolio of work Here
*Please note: Freight is an additional charge.