Description
Our Drop-Arm Optical Turnstiles operate quickly, stably, and smoothly while consuming little power.
The JDS-DA2 Drop-Arm Turnstile has a single arm that quickly pivots into the cabinet to allow entry. Its housing is made of #304 stainless steel with a minimal footprint, convenient for installations with limited floor space. Multiple optical sensors embedded into the cabinet prevent the gate from closing while someone is in the lane and trigger audible/visual alerts to deter unauthorized entry. It has a sleek and stylish look in any location thanks to the compact design, brushed finish stainless steel finish, and unique faceted cabinet shape.
The turnstile may connect to the fire alarm system to instantly open the gate in the case of a fire. The lane opens entirely when the arm retracts into the cabinet, providing easy passage for carts, wheelchairs, and luggage. Increase the security standpoint of your facility in style with JDSeries Drop-Arm Turnstiles.
FEATURES
Drop-Arm Turnstiles with Optical Sensors
For Interior Use or Outdoor use under a shelter
Ideal for a range of locations, modern appearance
Helps you manage the flow of people into and out of a building
Strong and Durable
Audio and Visual Alerts
Superior unauthorized passage detection
Safety beams ensure proper access clearings
Optical sensors prevent unauthorized crawling
Standard or ADA-compliant passage width
Integrates with access control systems
Uni-directional and bi-directional operation
Arms automatically drop during a power outage
Slim cabinet design fits in smaller spaces
SPECIFICATIONS
| | |
| --- | --- |
|  Housing Material |  #304 stainless steel |
|  Dimension |  47.2 x 6.5 x 39.4 in |
|  Power Supply |  AC220V / AC110V, 50/ 60 Hz |
|  Passage Width |  23.6 in |
|  Drive Motor |  DC 24V brush motor |
|  Pass Speed |  ~40 persons per minute |
|  Input Interface |  Dry contact, +12V signal, or DC12V pulse |
|  Rotating Direction |  Bi-directional programmable |
|  Communication Interface |  RS485 |
|  Rest Time after Power On |  3 seconds |
|  Open Time |  0.2 second |
|  Life Cycle |  3 million times |
|  Working Temperature |  -22°F~+158°F |
|  Working Environments |  Indoor, outdoor with shelter |
OPTIONS
Card Reader Mounting
Matching Post/Rail and Glass Barriers
Custom Wraps/Branding
INSTALLATIONS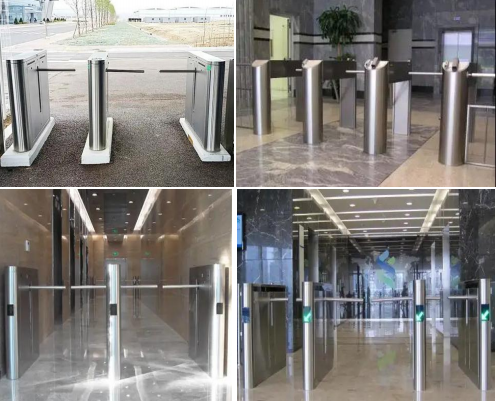 Contact us for installation information and to get a quote!!