Description
With its built-in metal detection, Cronus dual technology enhances both the physical security and the throughput of any security entrance. Reliable and easy to operate, Cronus will reduce your security personnel requirements while adding an extra layer of protection. It is commonly used at the entrance of a manufacturing facility, warehouse, distribution center, corporate office, or any building that requires credentialed entry and security inspection.
The integrated metal detector and turnstile check for metal items hidden on the body – and control the gate accordingly. When the passengers pass through the device, if they aren't carrying metals, the indicator light turns green, the gate opens automatically, and the passengers can pass. If they are carrying more metals than the preset parameter's value, the device would alarm immediately, the indicator light turns red, the gate will not open, and the passenger can't pass.
Data Sheet
User Manual
Installation Guide

FEATURES
Integrated design of a metal detector and turnstile.
No overhead module design.
Stylish yet durable, easy to maintain.
15-zone metal detector – Sensitivity is adjustable for each zone.
Built-in LED display, easy to configure
Audio/visual alarms and passing indicators.
Servomotor with high transmission efficiency and control precision
Restricts pedestrian access
Provides safety & security
Prevents employee theft
Double Verification: Card/Phone/Biometric authentication and Metal Detection
Small 5 ft. x 6 ft. footprint
Can be ordered with integrated RFID or biometric access control readers
Brushless DC motor (MCBF 10 million)
SUS304 stainless steel case ensures long-lasting operation
Multiple LEDs help security personnel quickly and precisely locate concealed metal objects from pedestrians, thus reducing pedestrian wait time standing in line to be screened
Excellent anti-interference performance using digital signal processing and filtering system
Option of increasing the glass door height up to 71.5″
SPECIFICATIONS
Input Voltage: 110V to 240V, 50/60 Hz
Metal Detection: 15 overlapping zones
Sensitivity: 250+ levels
Motor: Brushless DC Motor
MCBF: 10 million
Infrared Sensors: Turnstile Gate has 7 Pairs, Walk-Through Metal Detector has 2 pairs
Gross Weight: 743 lbs (337 kg)
Working Frequency: 5.7 kHz to 9.6 kHz
Working Environment: Indoors ONLY
Working Temperature: 32°F to 113°F (0°C to 45°C
Working Humidity: <93% (non-condensing)
External Dimensions (LxWxH): 67 x 48 7/8 x 711/2 in. (1703 x 1164 x 1816 mm.)
Lane Dimensions (LxWxH): 67 x 28 x 711/2 in. (1703 x 711 x 1816 mm.)

DRAWING & DIMENSIONS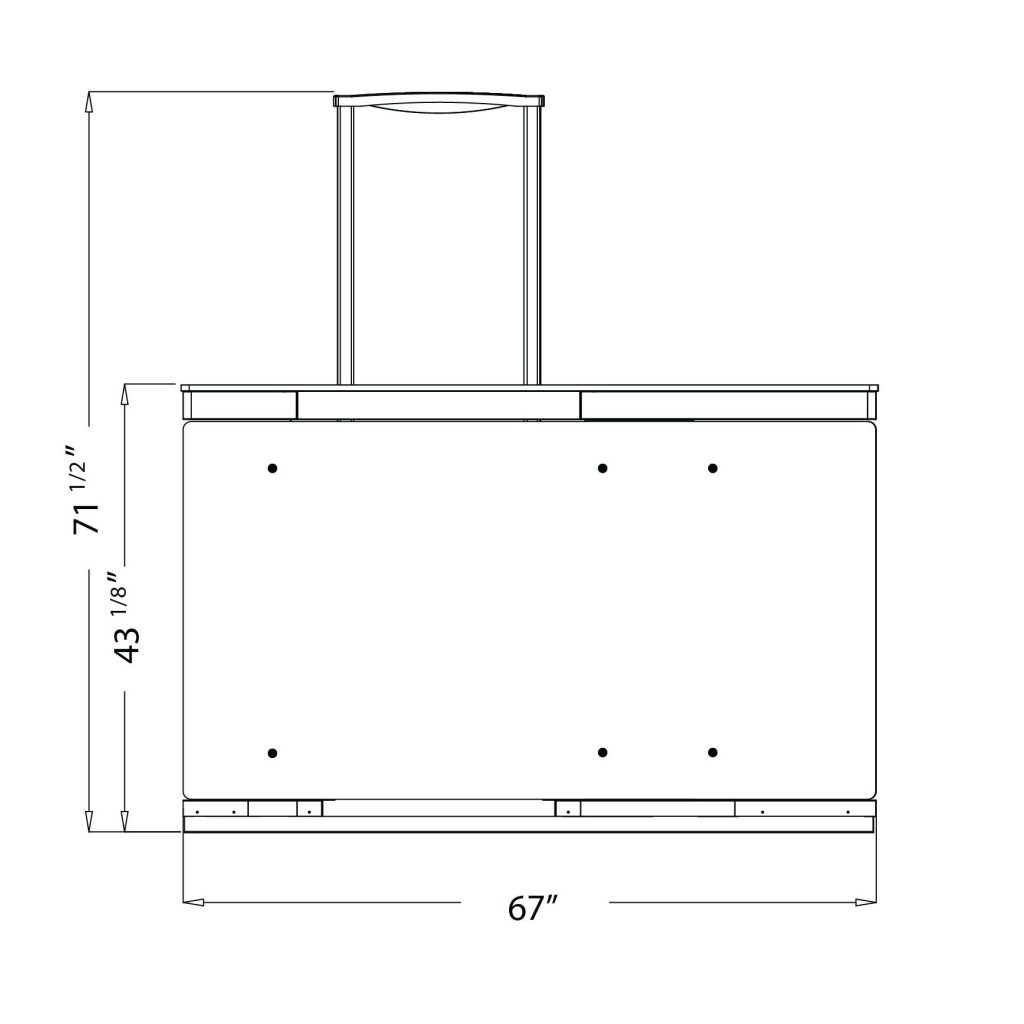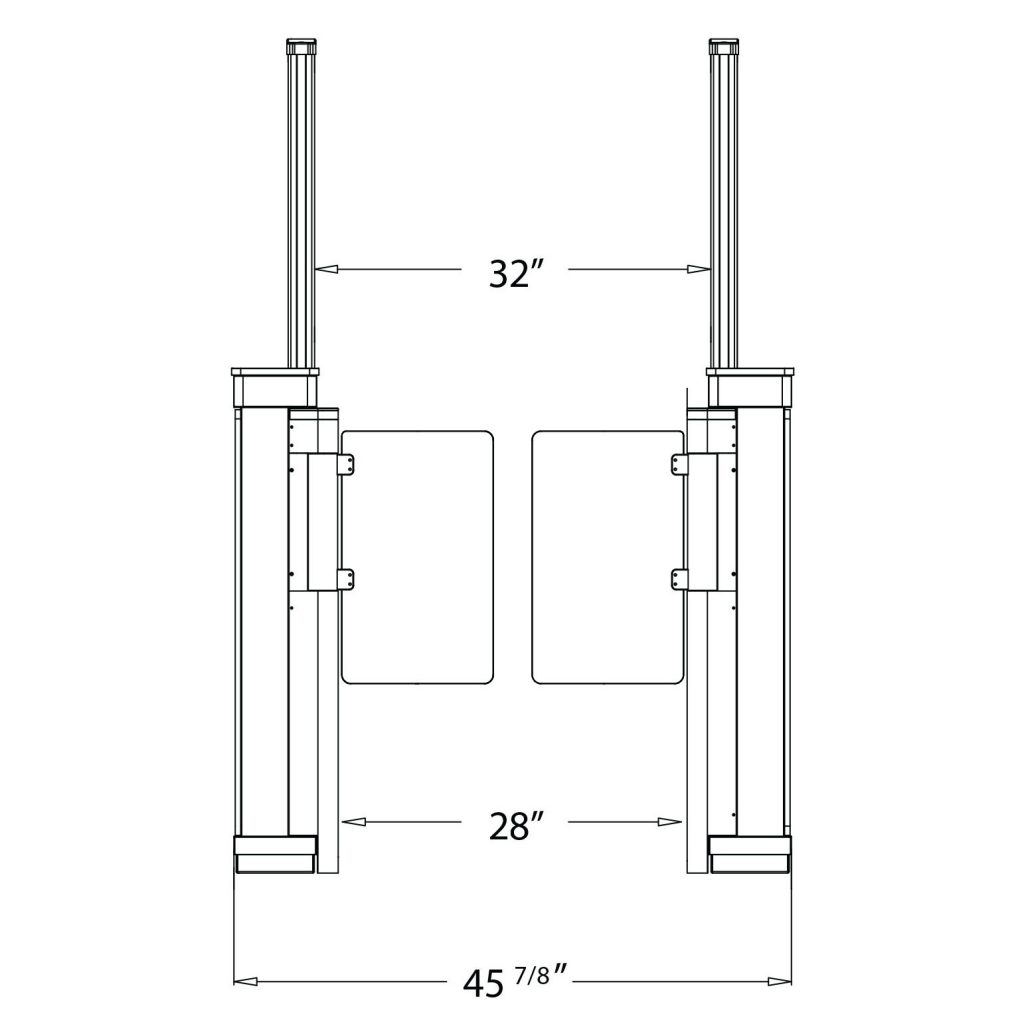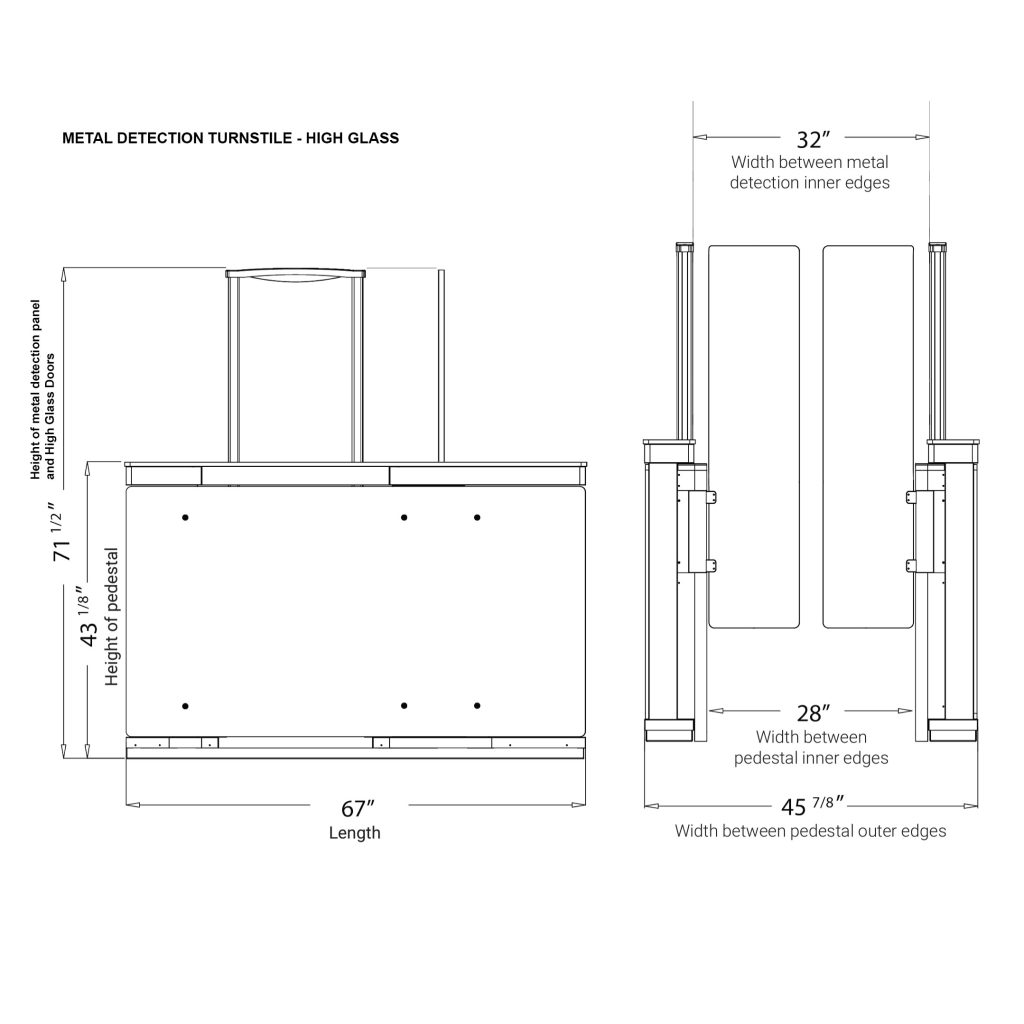 INSTALLATION
Installation Services Available
See our portfolio of work Here.
*Please note: Freight is not included and will be billed separately. Contact us for a quote.