Description
Providing highly secure access control solutions that can be used by everyone – to protect premises or the restricted areas of a building – is an increasing issue for many organizations. To meet that need, we have the first access control terminal to combine finger vein and fingerprint biometrics in a single unit: MorphoAccess VP.
This advanced hybrid technology provides unrivaled accuracy and enhanced resistance to spoofing. The False Rejection Rate (FRR) of MorphoAccess VP is 10 times lower than the best rate obtained with finger vein or fingerprint data when processed alone. In addition, this multimodal reader is universal and easy-to-adopt: it is well suited to individuals who may experience difficulties with single-mode devices while offering the same ease of use as for fingerprints alone. MorphoAccess VP delivers both one-to-many identification (up to 1:10,000) and one-to-one authentication (reading MIFARE/DESFire contactless cards).
Data Sheet – MorphoAccess Sigma Fingerprint and Finger Vein Reader
FEATURES
Configure Access Control to your needs with versatile Terminals
Live Finger Vein and Finger Print Reader
Contactless Proximity Card Reader options: Prox, iClass or MIFARE/DESFire/NFC
Groundbreaking and universal biometric technology
Enhanced anti-spoofing capabilities
Weatherproof design
Unrivaled accuracy, security and performance
Identification up to 10,000 users
Easy installation and connection: PoE, Wi-Fi option
FBI PIV IQS certified
Fast recognition:
– One-to-one authentication in 1s average (card swiping not included)
– One-to-many identification in 1s average (1 to 500), 1.5s average (1 to 5,000)
Large storage capacity:
– 5,000 users on standard version, upgradable to 10,000 users with license
– 1 Million transaction logs
Adjustable FAR from 10-2 down to 10-8
Accuracy maintained regardless of number of users in database
SPECIFICATIONS
Optical Sensor
CPU: ARM Cortex-A9 core 1GHz
Card Reader Options: MIFARE®/DESFire® contactless smartcard reader
Network/Communication: Ethernet, RS485, USB port
Inputs/Outputs: Wiegand In & Out (customizable up to 512
bits), OSDP, Door Relay, 3 GPI (including Door monitoring), 3
GPO
Security features: SSL/TLS on TCP/IP, anti-tamper & antipulling switches
Power supply: External 12V to 24V DC (1A at 12V min) or
Power over Ethernet (PoE)
Physical characteristics: WxHxD = 90x160x125mm
(3.54"x6.3"x4.92"); Weight = 700g
Software: MorphoManager and EntraPASS Access Control Software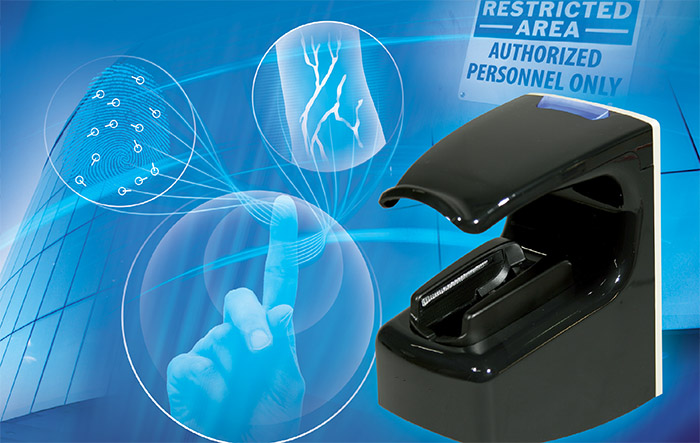 **Programming is performed by www.TURNSTILES.us, Inc. technicians and includes integrating access control devices and selected options purchased from www.TURNSTILES.us and www.EntraPass.us.