Description
A man trap, or a security booth, is a security device that monitors and controls two interlocking doors. Interlocking doors are doors that can never be open simultaneously. Either one of the doors can be unlocked and opened, as long as the other door is locked and closed. Between these interlocking doors is a small, secure space, which only admits one person at a time. These access control booths effectively separate a non-secured area from a secured area. Man traps are ideal in high-value or critical security areas, like cash handling depots, sensitive data processing areas, security control rooms, critical research labs, jewelry stores, and vaults.
Motorized automatic cubicles have all the same features as a regular man trap (referred to as manual or semi-automatic) but do not have a hydraulic door closer or a magnetic lock. The door is operated by means of a motor drive system that has built-in safety. The door will not injure a pedestrian. If a pedestrian is encountered, the door reopens/closes and then tries again after a second or two. The doors are fitted with a magnetic bolt lock in the bulkhead. The lock is available in either fail-safe or fail-secure. The average transaction time through an automatic mantrap is 8 seconds. In the event of a power failure, the doors will operate like normal hydraulic door closers, the locks and beam systems can be powered by a battery.
Data Sheet – Man-Trap Cubicle Automatic
Technical Manual – Man Trap Cubicles
APPLICATION
Ideal in high value or critical security areas
Single and Double configurations
Three sizes in consideration of space and comfort (A, B, and C)
Provides a durable and aesthetic access control solution
Exported worldwide
FEATURES
Automatic door operators with built-in safety
Monitored strike pin locks
440lb/200kg Magnetic lock
Mortice lock for night locking
Standard glazing of 6.38mm PVB laminated glass (bullet-resistant glass available on request)
Direct pivot design ensures true door alignment and removes the need for clumsy, noisy hinges
Steel frame structure and door, preventing sagging and door warping unlike aluminum doors which can warp with use
Stainless steel base bearings for longevity and corrosion resistance
304 grade brushed stainless steel pull handle
LED indicator lights
Low voltage ceiling downlighter
Manufactured to last

ADDITIONAL OPTIONS
Battery backup
Infrared beam, dual occupancy presence sensors
Card / proximity reader mounting brackets
Biometric / fingerprint reader mounting brackets
Single pushbutton mounted in frame of cubicle or in plastic box
Random search device
Video Intercom
Breathalyzer Access Control
Matching Glass ADA Door
Integrate with EntraPASS Access Control Software System
More options are available upon request
FINISH CHOICES
Mild steel with UV resistant polyester exterior powder coat finish (Grey, Black, or Specify Other Color)
304 grade brushed stainless steel
316 grade brushed stainless steel
MODEL SPECIFICATIONS
Automatic man-trap cubicle
Single: Fitted with 2 x magnetic locks and 2 x heavy duty door motors – excluding controller.
Double: Fitted with 4 x magnetic locks and 4 x heavy door motors – excluding controller.
A note on double cubicles: The double man-trap cubicle is effectively two single cubicles installed side-by-side. Both cubicles in a double configuration are controlled separately by their own controller. It is also possible that the customer may choose to designate one side for entry only and the other side for exit only. This may be a preferred configuration as it enables higher speed throughput.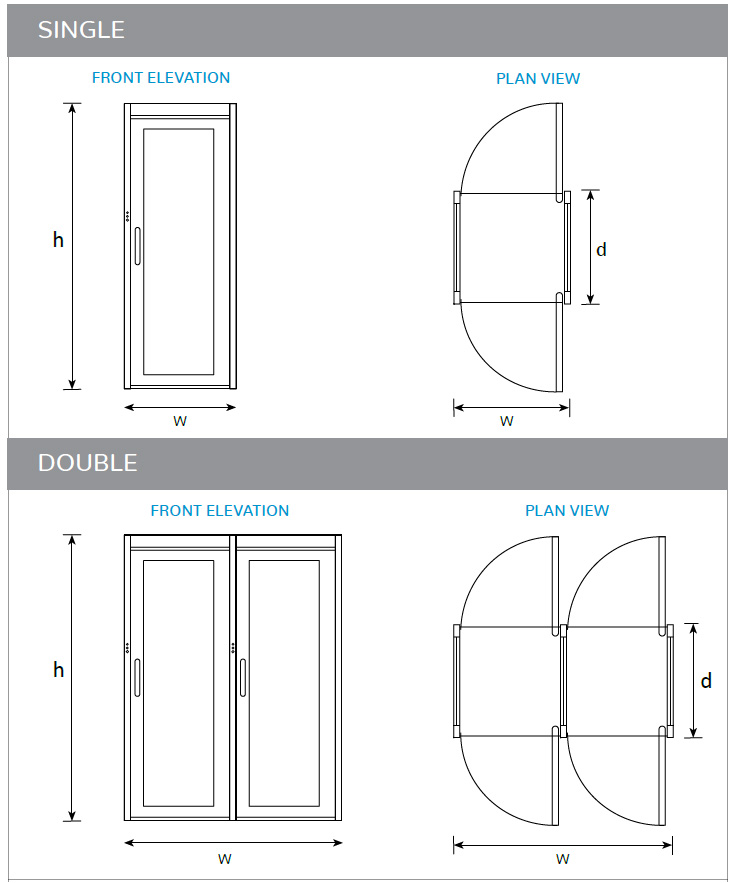 MAN TRAP CUBICLE – AUTOMATIC
inches
millimeters
pounds
Single
TSMTA-SA
31.5w – 27.5d – 90.5h
800w – 700d – 2300h
617
TSMTA-SB
35.4w – 35.4d – 90.5h
900w – 900d – 2300h
684
TSMTA-SC
39.4w – 55.1d – 90.5h
1000w – 1400d – 2300h
926
Double
TSMTA-DA
61.0w – 27.5d – 90.5h
1550w -700d – 2300h
1124
TSMTA-DB
68.9w – 35.4d – 90.5h
1750w-900d – 2300h
1213
TSMTA-DC
76.8w – 55.1d – 90.5h
1950w -1400d – 2300h
1609
Controller Options (Please note: Two controllers required for a double cubicle)
CBL01: Bi-directional two reader locking controller c/w internal emergency pushbutton, (excluding presence sensors)
CBL02: Bi-directional two reader locking controller c/w presence sensors (excluding internal emergency pushbutton)
CBL03: Bi-directional single reader locking controller c/w two external cycle start pushbuttons (excluding presence sensors)
CBL04: Bi-directional single reader locking controller c/w two external cycle start pushbuttons and presence sensors
CBL05: Uni-directional bank locking controller
CBL06: Bi-directional bank locking controller c/w one external pushbutton for exit operation and presence sensors
CBL07S: High-security bank locking controller c/w status control panel and presence sensors (single cubicle)
CBL07D: High-security bank locking controller c/w status control panel and presence sensors (double cubicle)
CBL07T: High-security bank locking controller c/w status control panel and presence sensors (triple cubicle) – pricing on request
Battery backup (Please note: Two batteries are required for a double cubicle)
CBL-BBU: Battery Backup 12V 7aH with connection leads
INSTALLATION