Description
StoneLock GO is a next-generation biometric reader redefining security and authentication. This opt-in "faceless" recognition technology solution was intentionally designed to protect users by safeguarding their privacy without the use of photographs and eliminating the need to physically touch the reader. While an access card or password can be misplaced, shared or cloned, the inherent properties used to authenticate users through StoneLock GO ensure that the only people accessing your facility are the ones who have been granted permission.
FEATURES
Completely contactless technology
Faceless recognition protects user privacy without a picture or video matching
Universally compatible with all users regardless of gender, race, age, or nationality
Industry-leading security, speed, and accuracy
Biometrics simplified: significantly reducing operational e ort to deploy, operate and use
Unparalleled anti-spoofing, near-infrared technology
Best-in-class False Acceptance Rate (FAR)
Seamless integration with EntraPass security management software
Extremely simple QR-based reader programming, enrollment, and two-factor authentication process
Trusted, Defensible Authentication
Combine StoneLock GO with EntraPASS security management software and you have a solution that even satisfies companies with the most stringent security protocols. This solution helps thwart common security vulnerabilities such as weak PINs, code sharing, propping doors open, etc.
Consistent and Proven Accuracy
Using state-of-the-art, near-infrared sensors, StoneLock GO
readers scan and store unique templates of enrolled users that are unrecognizable outside of the StoneLock system. Since StoneLock GO scans thousands of points on the face several times per second, false rejections become barely noticeable making the integrated EntraPASS/ StoneLock GO solution perfect for high-security access control where reliable identity confirmation of user access is required.
True Integration for Better Security
Built directly into EntraPass using the StoneLock Gateway, this solution provides biometric-centric credentialing and user management that supports a highly available, fully secure seamless movement of biometric templates. It's also a convenient way to manage all personnel – whether StoneLock GO users or EntraPASS cardholders.
Using the EntraPASS interface, security managers can create a cardholder that will automatically become a StoneLock GO user within a personnel record and capture the facial data remotely from any StoneLock GO device within the network. By simply approaching the device face forward, the authentication process begins instantaneously.
The EntraPASS and StoneLock GO purpose-built integration offer biometric rejections and other events natively available in EntraPASS such as forced door entries, for better situational awareness. Together with the traditional access control events, the EntraPASS/ StoneLock GO solution offers a holistic report of what happens at the door.
SPECIFICATIONS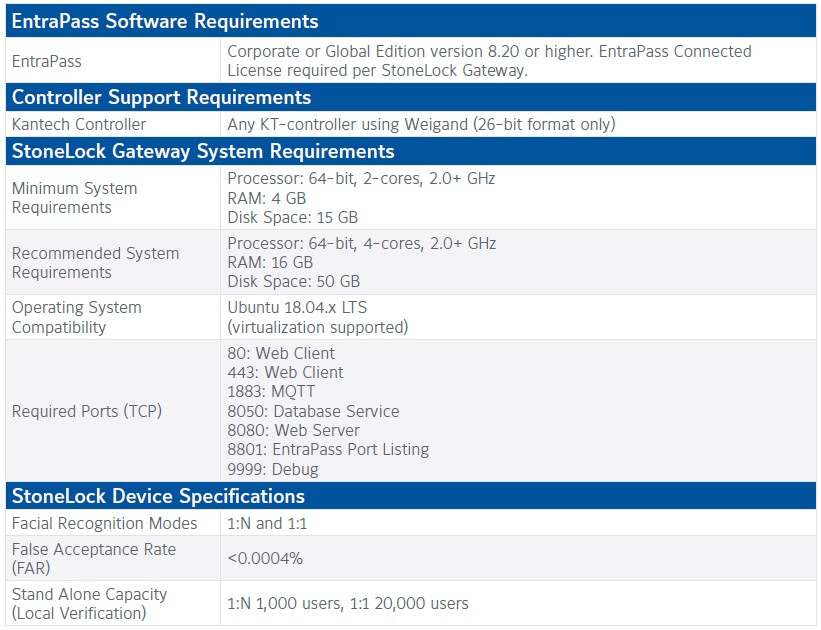 VIDEO DEMO
How does the Identity Heatmap work?
Utilizing proprietary Near Infrared technology, www.TURNSTILES.us offers StoneLock Pro devices to provide a superior way to confidently verify identities, whether used as a standalone solution, or as part of an integrated security system. With a growing customer base, including large international airports, highly secure government agencies, and Fortune 500 global corporations, point to the company's perpetual support and hands-on approach to problem-solving as critical qualities in selecting www.TURNSTILES.us & StoneLock as their technology partner of choice.